Estimated reading time: 7 minutes
Maritime shipping is at a turning point.
The sector has seen an increase in its greenhouse gas emissions of approximately 20% over the past decade, with the majority of shipping activity undertaken by ageing fleets that are almost universally reliant on fossil fuels.
To ensure a cost-effective and, critically, environmentally friendly future for the transportation industry, a difficult balance is faced between environmental sustainability, regulatory compliance, and economic considerations.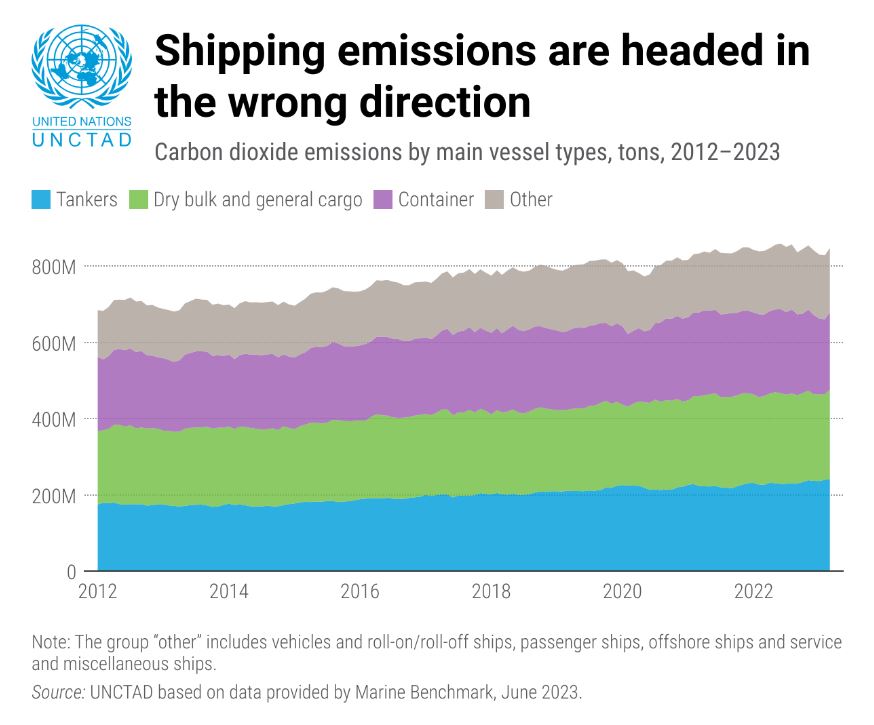 Extensive and necessary investments in reducing the greenhouse gas emissions associated with operations in the sector are likely to raise the costs of maritime logistics. This presents concerns for global trade activity in general, as well as adding significant challenges to vulnerable shipping-reliant countries such as small island developing states (SIDS).
Conversely, research has shown SIDS to be some of the most exposed nations to the effects of climate change, emphasising the imperative of a swift and just decarbonisation programme for the shipping sector.
A key message emerging from the report is that the cost of inaction significantly outweighs those of necessary, but costly investments. This is a welcome insight that is often absent from discussions of decarbonisation.
Stakeholders must proceed from this essential foundation and seek to deploy investment and innovation in a manner that mitigates the challenges faced by the most vulnerable actors whilst ensuring as little disruption as possible to one of the most critical sectors of the global economy.
Importance of shipping for global trade
The importance of shipping to the global economy has been underscored by recent developments. The supply chain shortages and port disruptions experienced as a result of COVID-19; the blockage of the Suez Canal by the Ever Given; as well as the effects on commodity markets – particularly grain and fertiliser – as a result of the war in Ukraine and adverse operating environments for shipping in the Black Sea, have exposed the resilience, centrality, and challenges associated with the shipping sector.
Despite this, UNCTAD expects maritime trade to increase by 2.4% in 2023 as activity rebounds, as well as by over 2% between 2024 and 2028. This is on the back of maritime trade volumes decreasing by 0.4% in 2022. Trade volumes nevertheless remain below pre-pandemic levels.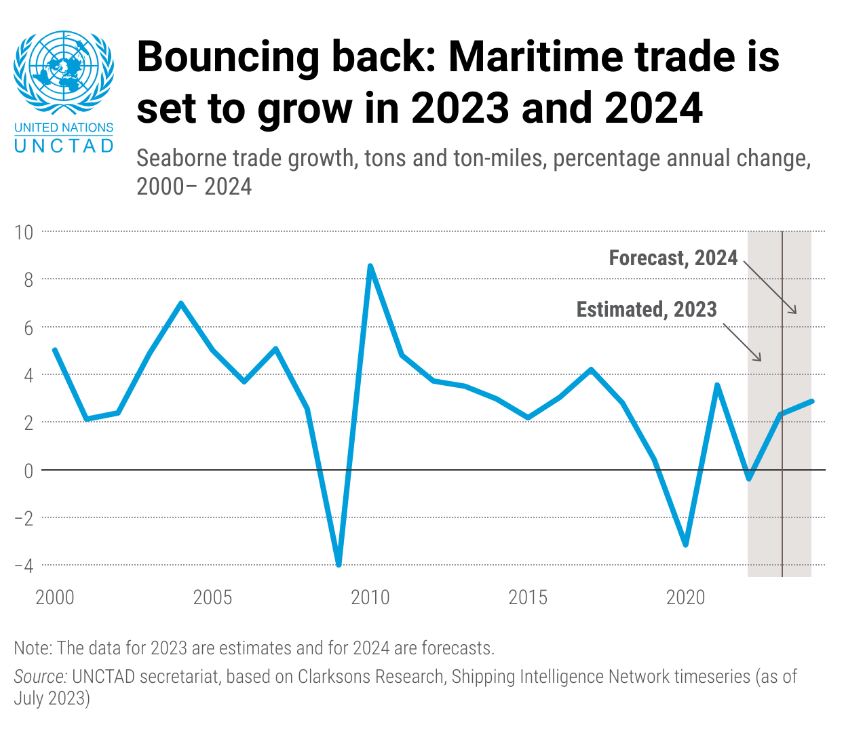 A future-proof maritime transport industry
Developing and deploying widespread use of cleaner fuels across the industry will be critical to achieving current 2050 decarbonisation targets.
However, insufficient progress has been made regarding the rollout of cost-effective and operationally efficient alternatives to fossil fuels.
Other areas of focus beyond fuels include technological adaptation. The report explores the swifter adoption of digital technologies, as well as the incorporation of AI, blockchain, and widespread digitalisation to increase the efficiency and sustainability of shipping operations and port processing procedures.
Decarbonisation challenges
There are a few key barriers to the decarbonisation of shipping that concern the global fleet stock.
Foremost is the aged nature of a large proportion of ships – the average age of operating ships in 2023 is over 20 years old. Furthermore, half of the operational ships are over 15 years old.
This means many ships are too old to retrofit to improve emissions, whilst being too young to scrap. This presents a multi-billion dollar conundrum for the industry that is compounded by the lack, thus far, of an outright best method of transition to serve as an alternative to conventional fuels.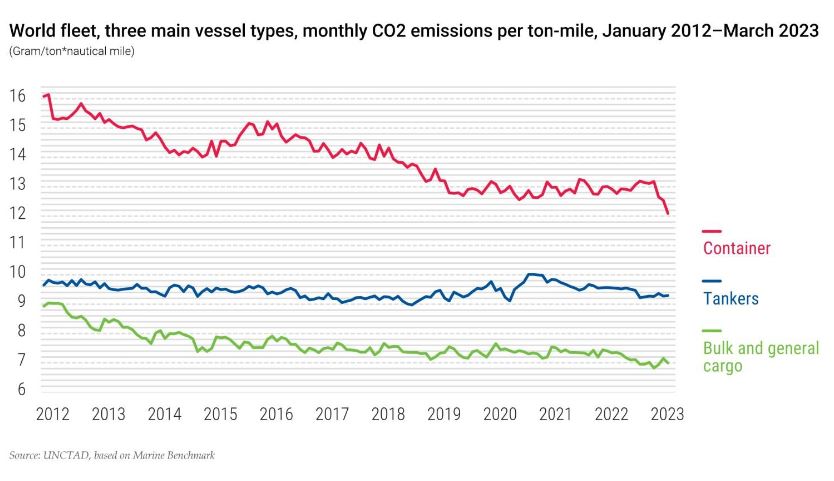 Similar to the car and aviation industries, several alternative fuel sources seem promising, but adoption remains nascent, with close to 99% of maritime shipping continuing to operate on fossil fuels.
This is where the ageing shipping stock may present an opportunity, as 21% of vessels on order are expected to operate on more sustainable alternatives such as hybrid technologies, liquified natural gas (LNG), and methanol.
However, relative to the existing fleet, the order book for new ships is small. This is because ship owners, shipyards, and financial institutions are holding out for more clarity regarding matters such as carbon pricing, as well as associated regulatory frameworks.
Additional uncertainty relates to technological developments and the use of alternative fuels, leading to hesitance.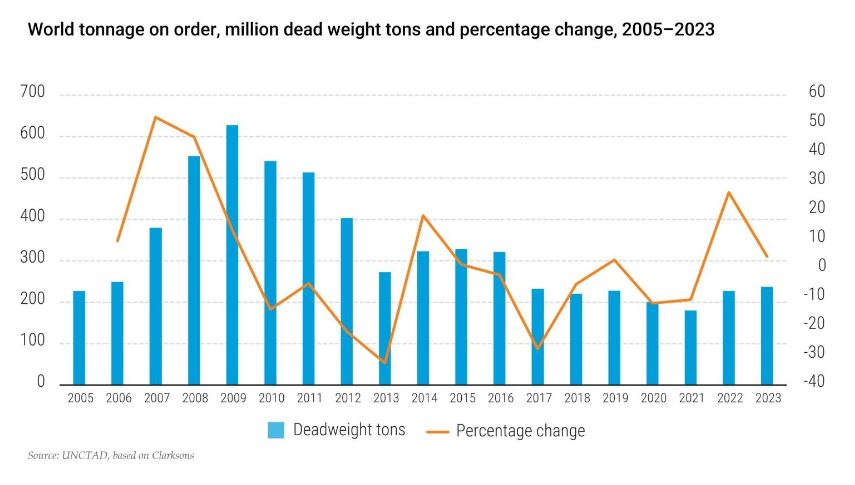 Moreover, as technologies mature and become more efficient and cost-effective, another difficult issue arises concerning responsibility for the transition.
The top three flag states in terms of shipping emissions – Liberia, Panama, and the Marshall Islands – account for a third of maritime shipping's carbon emissions, and are likely to be responsible for enforcing updated environmentally friendly operating standards.
However, the onus for investing in alternative fuel technologies, bunkering facilities, as well as greener shipping, both in terms of construction and operation, rests with ship owners, ports, and energy producers.
This presents a challenging mix of often conflicting economic, environmental, and regulatory imperatives for the industry.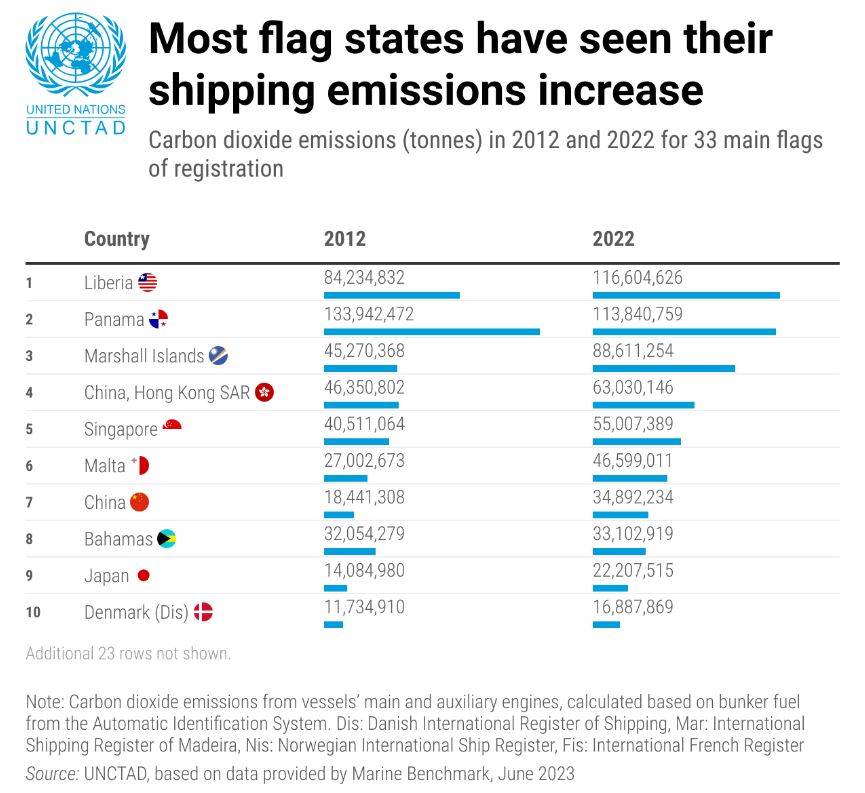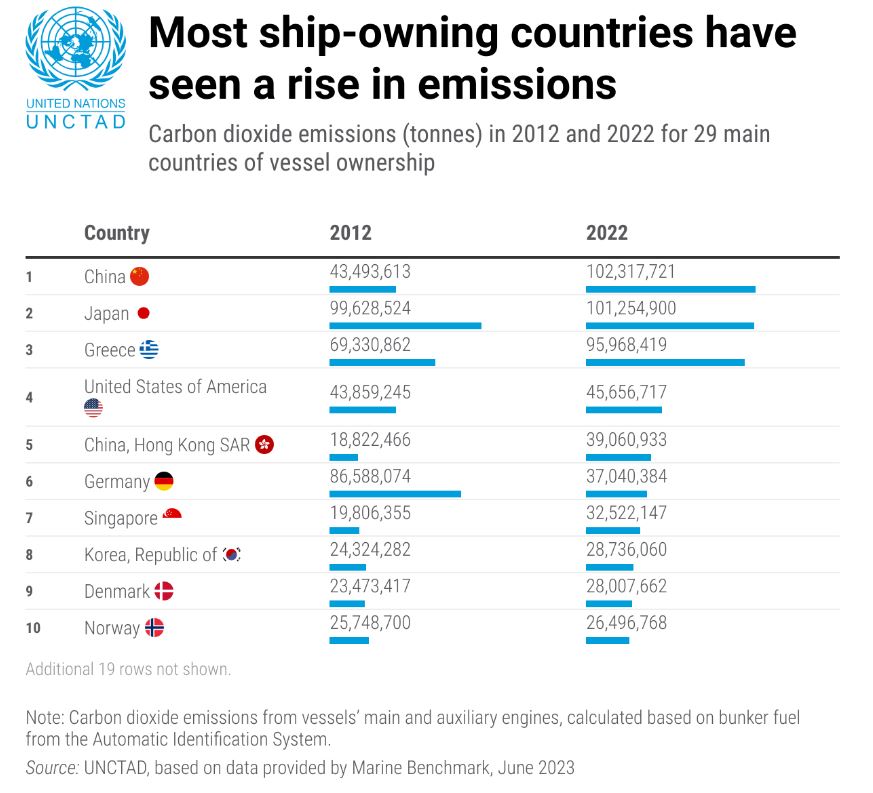 According to the report, it would cost between $8 billion and $28 billion annually to decarbonise the maritime fleet by 2050. Moreover, the required investment in carbon-neutral fuels is estimated to be between $28 billion and $89 billion annually. The report also suggests that if fully achieved, decarbonisation of the industry could double annual fuel costs.
These extensive cost projections will not be achievable through current funding strategies, while the higher shipping costs, as well as associated diminished global trade activity, will disproportionately affect least developed countries (LDCs) and SIDS.
The significance of Least Developed Countries (LDCs) and Small Island Developing States (SIDS) is highlighted due to their heightened vulnerability to climate change impacts. Additionally, these countries frequently depend on maritime transport and trade as key drivers of their economic growth.
Without targeted action and investment, these countries will as a result face a double shock of climate disruptions as well as being affected by the increasing shipping costs.
Increasing operational efficiency of ports
Continuing the theme of just transition in the shipping sector, the report notes the disparity in waiting times at ports in developed countries as a result of quicker clearance times and better infrastructure, with port performance primarily based on levels of automation.
Other best practices show that ports that have implemented the WTO Trade Facilitation Agreement measures regarding electronic payments, risk management, authorised economic operators, and border agency corporations, achieve better results in container port performance indices.
Next steps
To navigate these complex issues, UNCTAD recommends continual assessment of the viability and adoption of green/low-carbon shipping technologies, as well as identification of optimal energy transition pathways.
This requires regulators to formalise a global decarbonisation framework, providing a level playing field to prevent industry fragmentation whilst attending to the needs of vulnerable countries.
Further, the maritime industry must become more involved in funding research and development of low-carbon fuels, infrastructure, and technologies, in collaboration with other transportation sectors. This should also extend to financial and technical support for vulnerable/developing countries most affected by the industry's transition costs.
To assist disproportionately affected LDCs and SIDS, it is suggested to adopt economic measures such as emissions levies or contributions on fuel emissions, allocating the proceeds thereof to fund more climate-friendly shipping infrastructure and operations in these countries.
This should be supplemented by financial and technical support from wealthier nations who enjoy the downstream effects of global shipping. UNCTAD recommends a multi-faceted approach, which includes the use of sustainable fuels, upgrading port infrastructure to be more environmentally friendly, and adopting digital processes to improve efficiency.
Another novel suggestion is the formulation of green shipping corridors to provide exclusive routes for sustainably operating vessels.
Read the full report here.