Almost a year after the COVID-19 pandemic started, the world is still feeling the shock (and after-shock) of disruptions in the global value chain. Many have argued that the pandemic could be a turning point to improve GVC complexity and fragility; and many have turned into technologies for help.
According to a recent World Economic Forum report on TradeTech, which includes a global survey in 2020 with hundreds of respondents who engage in international trade operations, organisations all over the world have had to quickly adjust and adopt digitalisation and emerging technologies to keep the supply chain flowing.


As the figure above shows, the vast majority of survey respondents have opted for some kind of TradeTech adoption: 65 percent have implemented or considered new technologies to reconfigure the value chain, 59 percent have increased the visibility of value chain data, and 48 percent have automated or digitised previously manual or paper-based processes. Only 20 percent did not incorporate any new technologies in their operations.
So what types of technologies are organisations turning to help them improve trade operations? In the same survey, the respondents identified the following technologies to be most transformative for trade.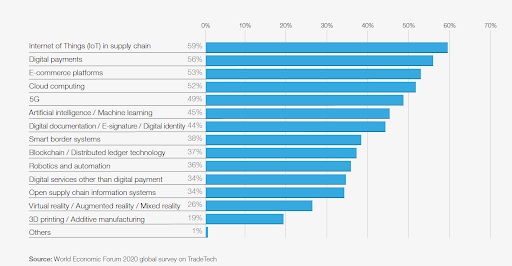 Before we dive into the specific technologies and their benefits for GVC, it is important to note there are two layers of TradeTech: i) a first layer that transforms internal systems and processes from analogue to digital; and ii) a second layer that relies on the data generated from the first layer to optimise trade processes or generate a new class of service. For example, using a blockchain network to ensure data sharing among suppliers would not be possible if the data are still stored on physical documents. As we know, the global trade is still notoriously reliant on paper-based processes. Protective measures for COVID-19 have made clear that operations dependent on physical assets, such as paper, can face serious disruption when physical presence is not a possibility. Digitising is the core component of providing visibility and managing supply chain risk, and the first step towards building a resilient GVC.
Once we pass the first layer of digitisation in TradeTech, here are some examples of how different technologies could help build a shock-proof GVC:
Transparency and visibility:
Internet of Things data, which is collected using large-scale deployment of sensors real-time, such as location, temperature, humidity, and speed, could be leveraged to mitigate supply chain disruption by: i) tracking assets in real-time from departure to final destination, and tracking inventory levels at the point of consumption to help firms to reduce stock-outs; ii) monitoring the conditions of goods, for example perishable goods; historical data can also be used for preventative supply chain management. When combined with 5G networks, the power of IoT could further expand with extensive deployment and low latency.
Visibility across the supply chain is critical to optimise efficiency and agility, especially during major disruptions. Yet obtaining visibility is difficult, many players in the ecosystem are hesitant to share information, either to protect commercially sensitive data, or to gain a competitive advantage. A decentralised technology, such as blockchain, with either private or public permissions, could enable data to be securely distributed to others in the blockchain network without requiring the point-to-point integration as in a centralised system; at the same time, players can manage and audit their data-sharing permissions directly on their own blockchain node. It's a great solution to provide visibility in the supply chain while protecting privacy.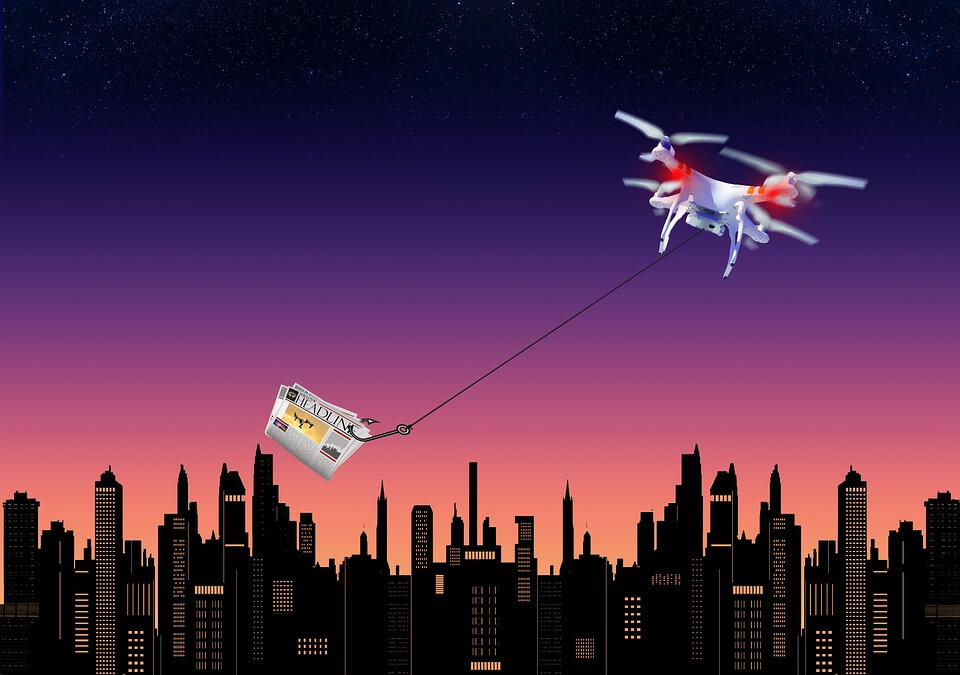 Flexibility and Agility
As contactless trade has become the new norm of the COVID-19 pandemic, the use of autonomous robotics and vehicles, including drones, for warehouse stock counting and goods delivery is gaining traction. Autonomous robotics have the potential to optimise logistics and work processes with predictability and planning to create a more stable, simple and transparent supply chain system for global trade enterprises. For example, warehouse robots have been shown to scan pallets in under 30 minutes with 99.7% accuracy for a task that usually takes 100 minutes. Often relying on artificial intelligence and machine learning, the robots are also equipped to continuously improve from their experiences.
The on-demand agile nature of 3D printing has proved especially helpful to address supply chain shocks during the COVID-19 pandemic, when 3D printing production has surged in personal protective equipment, medical and testing devices, personal accessories, visualisation aids, and even emergency facilities.
However many non-technical barriers exist for these technologies to reach their full potential – from fragmented national regulations, lack of interoperability and data standards, cybersecurity threats, high capital requirements, future of work issues, to digital oligopolies, among others. In particular, the pandemic has highlighted the digital divide between the urban and rural areas, developed and developing countries, one ethic group from another, and large firms and SMEs. We need to take actions to tackle these challenges to unlock the true power of TradeTech.
The global value chain has gone and still is going, through an unusual and massive shock. TradeTech could provide many benefits to help build and strengthen a resilient system. Yet to fully deliver on the promise, we need to build effective public and private partnerships to establish trust, promote regulatory cooperation, close the digital divide, provide skills training, and drive a forward-looking digital agenda to make global trade more efficient, inclusive, and equitable.
Read our latest issue of Trade Finance Talks, Spring 2021, here