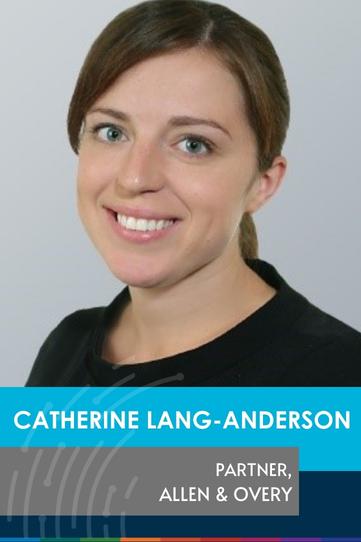 Women in trade, treasury and payments – legal
Sponsored by

What does embracing equity mean to you, and how do you embrace that in your life and career?
Embracing equity means always making sure we are making our decisions and designing our way of working and opportunities to respond to individual needs. It means constantly striving to level the playing field and ensure fair and equal outcomes. It's about taking practical steps to remove barriers and widen opportunities.
These are nice statements but above all, embracing equity is about action not words!
One area I have been particularly focused on is making sure as a firm we support people who choose to work flexibly and treat them equitably. I have worked flexibly since I returned from maternity leave a decade ago. With my own experience as the starting point, I have done a lot of work around making sure we level the playing field for people who do not follow the traditional model. Some of that work has been around making sure we have the right policies in place to ensure fairness (sometimes on matters we have just never had to think about before.) Of course, once the policies are in place, the focus is then on how to ensure these are adopted, rolled out across different offices and above all, celebrated! Another equally powerful way of effecting change has been to connect people with mentors and role models and to share success stories around our global business.
So for me, I think embracing equity has been about speaking up and pushing for practical change where you can see it is needed, and making sure we are always leveraging successes to make wider impact.
It's a great step forward that we now talk so much more about the 'E' in DE&I, but we need to keep this in constant focus and stay energised – there is so much more still to do!
How has the legal industry improved its efforts in promoting equity in recent years, and how can it do better in the future?
A great example of this at A&O that I am really proud of is our new solicitors apprenticeship scheme. We have made a pledge, together with other leading law firms, to recognise legal apprenticeships as an equal pathway into a legal career. Apprentices are treated the same as those pursuing more traditional routes such as training contracts. We are really excited to welcome our solicitor apprentices and to embrace this opportunity to widen our talent pool!
Have you noticed a change in workplace expectations after COVID-19?
Yes, I have noticed a huge shift in workplace expectations. Many people are now working from home one or two days a week. I was an early adopter of this trend, as I've worked from home at least one day a week for the last decade. That arrangement has really helped me balance work and family life over the years and at different stages in my career. I'm pleased that post-COVID, this has become much more normalised, meaning that many more people are getting the opportunity to have these kinds of arrangements. On the flip side, we expect a lot more from our time together in the office these days. Making sure we make the most of face-to-face time is really important. We have recently introduced an anchor day in my team – one day a week everyone is in when we can schedule training, development and social opportunities. There is usually cake available!
At Allen & Overy London, one exciting project we are working on is our move to new offices in early 2027. We are currently busy planning a space that is fit for the demands of new workplace expectations. It will be more sustainable, helping us meet our commitment to a 50% reduction in our absolute carbon emissions, and will need to meet the needs of our agile working model.
---
Legal Category
Niamh Dennehy-Maher, Allen & Overy
Kathrin Marchant, Baker McKenzie
Laura Farhang, Center for International Private Enterprise
Nicole Bivens Collinson, Sandler, Travis, Rosenberg, P.A.
Sarah Green, Law Commission of England and Wales
Tetyana Payosova, Van Bael & Bellis
Maria Chiara Malaguti, UNIDROIT
Molly O'Casey, U.S Court of International Trade
---
Niamh Dennehy-Maher, Allen & Overy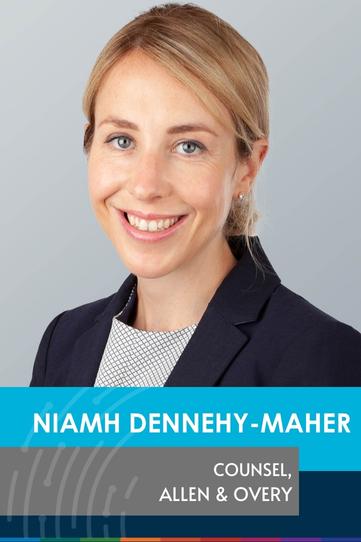 What does embrace equity mean to you?
Embracing equity to me means championing diversity in all its myriad forms. It's about speaking out but also knowing when to simply stay quiet and actively listen. It's about welcoming difference rather than being suspicious of it; being open and curious and putting yourself in the other person's shoes. It means challenging accepted norms, and recognising unconscious bias and privilege in ourselves (which can be the uncomfortable bit). We've come a long way – at least on the gender equality front – but progress is slow and there is always going to be so much more that could be done on an individual and collective level to help build a more representative, inclusive and equitable society. Let's stay focused and continue the work.
---
Kathrin Marchant, Baker McKenzie
What does embrace equity mean to you?
To me #EmbraceEquity encompasses different ways in which I try to be an inclusive leader for my team. #EmbraceEquity means assisting to create the same opportunities for everybody and enabling them to exploit their abilities to thrive, irrespectively of their background and circumstances. I try to live and embrace equity in my day-to-day life by changing the little things that matter to me: I make sure to call out unconscious bias when noticing it and I take the time to explain why it is wrong. I try to identify the individual needs of the members of my team and I make sure to support them according to their needs to give each of them the opportunity to develop according to their individual skills and potential. I endeavour to be truly inclusive and #EmbraceEquity in my behaviour by raising my voice for others when I see that they are being treated unfairly.
---
Laura Farhang, Center for International Private Enterprise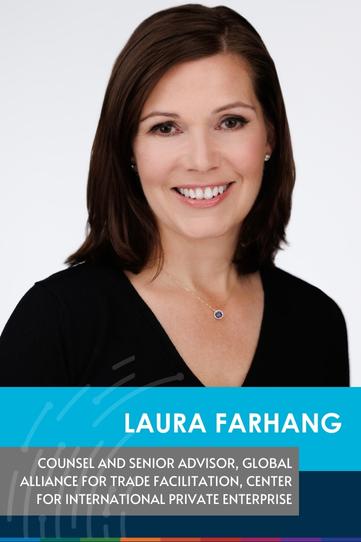 What does embrace equity mean to you?
When I think about Embracing Equity, I think about how important it is to accept people as they are, to value their voices, and to advocate for their right to participate fully in civic and public life. As an international trade attorney, I think especially of how important it is that women be able to participate fully in the global economy and marketplace.
Trade doesn't just move goods. Trade funnels ideas, innovation, and technology around the globe. Trade is also a vehicle we can use to come together to solve some of our biggest collective challenges –whether it's climate change or income inequality. We need women to trade and participate in the global marketplace because we need their perspectives, skills, and talents for economic development and innovation.
This is one of the reasons I'm so proud to work on the Global Alliance for Trade Facilitation team at CIPE, where we're committed to implementing trade facilitation projects in ways that empower women entrepreneurs, traders, and employees. Embracing Equity is a cornerstone of our work.
---
Nicole Bivens Collinson, Sandler, Travis & Rosenberg, P.A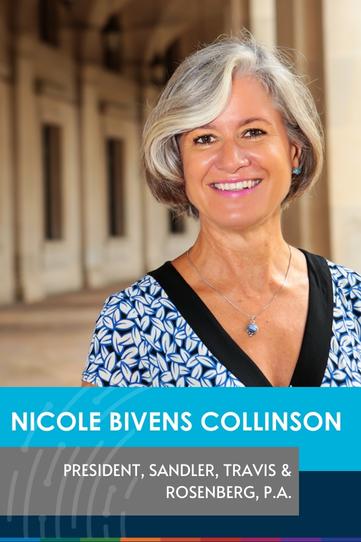 What does embrace equity mean to you?
Embracing equity means ensuring there is justice, fairness, and impartiality — not just that things are equal. Despite sharing the same ultimate Latin root, equity and equality have very different meanings. Equity means "justice" or "rightness" and connotes "fairness" while "equality" means things being "identical" or "equal". On International Women's Day, we must strive not for equality but for equity in all aspects of politics, society, and economics. Embracing this concept means that as we look at employment and financial distribution, there must be a sense of equity applied to women. Wages must be equitable, workloads must be equitable, and support systems must be equitable. Historic injustices, unfairness, and wrongful actions may require more than just leveling the playing field. By embracing equity, we can make a difference so that one day we have true equality for the sexes and races, but until then, we need to focus on equity and not just seek equality.
---
Sarah Green, Law Commission of England and Wales
What does embrace equity mean to you?
"Embrace equity" means complete parity to me in terms of treatment, opportunity, and expectation. It means, for instance, no distinctions made between parents and non-parents, or between carers and non-carers. It means making the necessary technological and logistical modifications to render the current distinctions illusory, and it means a complete evolution of attitude, away from the where and how of work towards the purity of what. It means revolutionary thinking: more firms started by women, and governed by a majority of women, and for this to be a normal, rather than the radical suggestion it sounds like now; working patterns tailored to individual workers; a liberation of productivity from the anachronistic ties of industrial space and time. If we were to design the world of work today, we would not start where we are now. Embracing equity means having the courage to start again.
---
Tetyana Payosova, Van Bael & Bellis
What does embrace equity mean to you?
Embracing equity, in my opinion, requires recognising diversity and understanding first what equity means and how it differs from equality.
At Van Bael & Bellis, I am proud to be part of a very diverse team of talented lawyers and staff from over 20 countries with a shared understanding of the value of and the need to support and promote equity.
Based on my experience and exchanges with colleagues, I would like to share three personal observations on why and how to embrace equity.
First, in professional life, equity is not only about the needs of employees, but also about the benefits for the employer: creating a fair and equitable working environment helps discovering and tapping on hidden potential and talents. Ultimately, an equitable working environment creates a comparative advantage for employers. Embracing equity is thus no longer a question of why or whether but of how to do it most effectively.
Second, an institutional framework to promote equity constitutes an important foundation, but may not have the desirable practical impact unless each of us makes use of that framework. For example, our Social Responsibility and Diversity (SRD) Committee assists in developing diversity and inclusion programmes, but is also a focal point for collecting ideas from the team and translating them into concrete initiatives. Active individual engagement thus creates more awareness of the different individual and collective needs and helps to address those needs more effectively.
And, last but not least, leadership and mentorship at all levels of seniority, vis-à-vis our peers and our junior colleagues, play a very important role in embracing equity. Ultimately, there are few things that are more rewarding than supporting your colleagues in realising their potential and succeeding.
---
Maria Chiara Malaguti, UNIDROIT
What does embrace equity mean to you?
I was appointed by the Italian Minister of Foreign Affairs and Cooperation in 2020 as the first female President of the International Institute for the Unification of Private Law (UNIDROIT) since its foundation in 1926, and feel a duty to also use my role to empower the future generation.
As an independent, intergovernmental organisation, with 63 Member States representing the words main economies, 73.6% of the world population, and 90.7% of global nominal GDP, we see diversity and inclusivity, as a matter of principle, a key tool to develop modern standards for commercial law and internationally harmonised solutions. With a heightened advocacy for female empowerment and inclusion, our governing bodies have fully grasped the need for a female representation in decision making, and this approach has greatly facilitated quite an organic integration process, which can only improve over time.
I invite the future generation of women to strive for excellence in the field of comparative and commercial law, and am proud to lead an intergovernmental organisation where their qualities will be nurtured and shine. We shall continue to strive for diversity and inclusivity in fulfilling our mandate, which can only add to the value of our instruments.
---
Molly O'Casey, U.S. Court of International Trade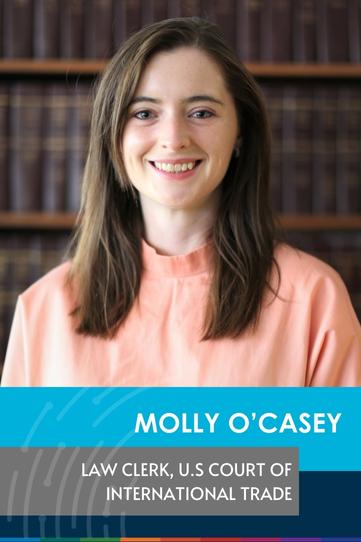 What does embrace equity mean to you?
Embracing equity means giving people the opportunities and resources to balance their definition of "being a professional" with firm culture.
I have thrived the most in environments that empowered me. Given the intersectionality of identity, empowerment looks different to everyone. However, an effective starting point seems to be flexible policies, combined with institutional safeguards. While these are relatively well-established, it's always worth highlighting a few.
Leadership should create space for members to express themselves on the development of the firm, including direction and values. Mentorship programs should provide guidance on daily work and overall career development. Mental and physical health policies should destigmatise, and provide for, as wide a variety of needs as possible. Training programs should include having difficult conversations and managing bias. Perhaps more controversially given the polarised state of politics, I also believe leadership should formally recognise events within society that particularly impact certain members of our professional community.
Ultimately, change requires institutional commitment and real investment. Over the years, I have appreciated examples of leaders who both reflect aspects of my identity and seem to have a life that I'd want to live. I hope that, as the dialogue around equity continues, we will all have more of those examples.
---