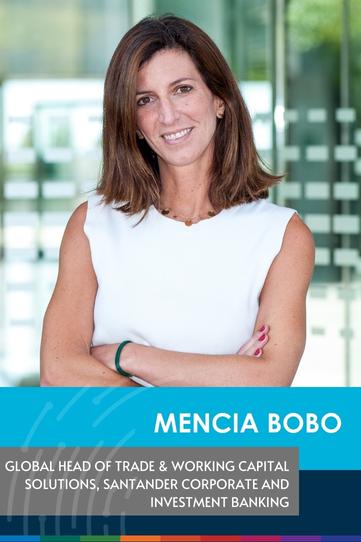 Women in trade, treasury and payments – banking & fi's
Sponsored by


As a leader in trade and working capital, what was the biggest challenge you had to overcome to get to your position?
Finding the right work-life balance and managing unconscious bias have probably been the biggest challenges. A big mistake we women tend to make is thinking that finding that equilibrium can have a negative impact on our career, and this is due to the existing unconscious bias. Sometimes we think we need to overcompensate by working even more while trying to have a personal life as well. As time goes by, you learn that you can give it all you've got, professionally speaking, and still find that work-life balance. To achieve this, you need support from your family and from the people you work with. We don't have to do it alone.
In your opinion, what is the best way to elevate women in the workplace?
I think coaching and training are key. We need to ensure we all have similar skillsets so we can compete on an equal footing. For instance, networking, navigating internal organisations and speaking up are definitely things we all need to master (women and men). Additionally, I think organisations must do their best to identify young talent, monitor their evolution, which helps anticipate potential stoppers in their career, for example, not having the right work-life balance, and then provide them with the right tools to keep them motivated to continue moving forward with their professional career. Finally, I think we need to start seeing more women in leadership positions so that young female talent have a reference and to act as ambassadors who promote diversity (Lead by example)
In recent years, where have you seen the most progress for women in the Banking and FI industry?
The most progress I've seen so far is the increase in the number of women in management positions, which, in turn, can have a multiplier effect and keep promoting diversity across different positions. Secondly, the change in mindset and awareness in organisations of the importance of promoting women's talent and diversity in general, not because of the need to reach quotas but because it can bring real additional value to the business.
What does #EmbraceEquity mean to you?
I believe "Embracing Equity" is about promoting inclusion, recognising what makes each person unique and, by hearing all voices, help drive success for all. For me, it all boils down to surrounding yourself with diverse, hard-working and committed individuals who support each other as one team. I like to give my team the opportunity to speak their mind, challenge the status quo and draw attention to unconscious bias. The way I see it, for teams to truly thrive in a challenging context, you need to give them the space, tools and confidence to excel at the workplace and beyond. Finally, as a mother of three, one girl and two boys, I've always felt I have a big responsibility to lead by example. I always try my best to ensure these values are embedded in their daily behaviour as well.
---
Banking & FI Category
Sheila Hie, ANZ
Maram Al-Jazireh, Arab Bank
Yasemin Erkan, Bank ABC
Vivian Nwachukwu, Bank of China
Eva Rubio, BBVA
Angela Koll, Commerzbank
Marianne Ouzone Hugon, Credit Agricole CIB
Puay Choo Ching, Credit Agricole CIB
Ana Guyatt Del Rio, First Abu Dhabi Bank
Natasha Condon, J.P. Morgan
Rebecca Trotter, Lloyds Bank
Natalia Kasayanova-Erdogan, MUFG Bank Europe
Anna Tryti, Nordea Norway
Lynette Gillen, RBC Royal Bank
---
Sheila Hie, ANZ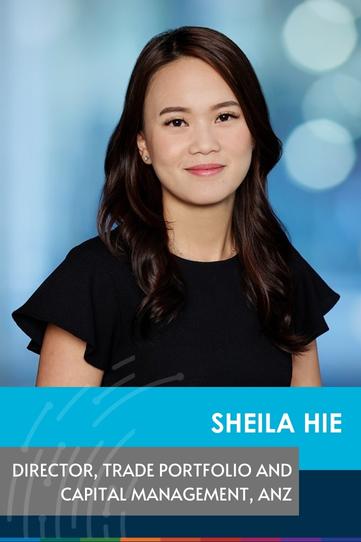 What does embrace equity mean to you?
Personally, #EmbraceEquity means to accept that everyone is different which makes them who they are today. To embrace equity, we must first acknowledge our biases and take active steps to challenge. Only when we remove biases, can we appreciate differences and celebrate diverse perspectives. It is about equal opportunities and equal voices, disregarding stereotypes and solely focusing on the individual.
My favourite part of working in a global role as a trade finance professional is the diversity of people. Regardless of gender, origin, or organisation, everyone is treated with respect and as equals. Unfortunately, this is a privilege many people around the world cannot enjoy. To change this, it starts with ourselves committing to embracing equity. This is something I commit to doing with every interaction.
Born in a conservative family, I realise biases and stereotypes can be passed on through generations, which becomes a systemic barrier. It is hard to break, but not impossible so we need to nurture the concept of equity as early as possible to future generations.
A good friend of mine has a favourite phrase – "man, woman or Martian". I hope in the future everyone will truly #EmbraceEquity, gender should never be a limitation.
---
Maram Al-Jazireh, Arab Bank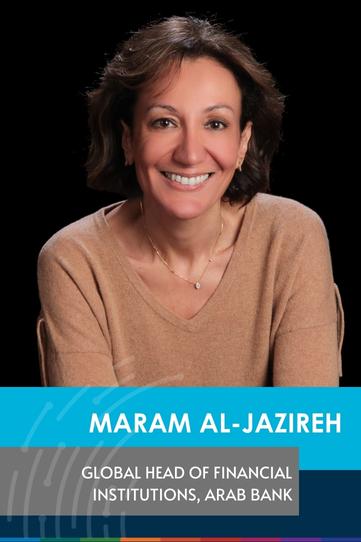 What does embrace equity mean to you?
It means embracing diversity and being fair and impartial to gender, race and faith with meritocracy as the key objective. We need to embrace equity as a mindset in order to listen without bias, engage without prejudice and decide without discrimination. This mindset leads to empowering creativity, ensuring inclusivity and spurring innovation. In a nutshell, embracing equity is great for business and definitely great for the community.
---
Yasemin Erkan, Bank ABC
What does embrace equity mean to you?
Gender equity means to me neutralising gender as a factor in success. Different genders can, of course, be different and I believe in cherishing our differences; a world where we are all the same is not one in which I would like to live. But I hope everyone can agree all genders are equal and in a gender equitable world, our differences will be welcomed and not be a cause for bias or unequal treatment of any form.
---
Vivian Nwachukwu, Bank of China
What does embrace equity mean to you?
We are all different, that means that some start from a place of advantage, others from a place of disadvantage.
Imagine two women fell into a hole and we want to get them out so we send down a ladder to help them climb out.
Same hole, same ladder provided, same opportunity to get out of the hole.
However, while one of the women starts climbing the ladder, the other is unable to not because she doesn't want to but rather because in the fall down the hole, she broke her back and is unable to move.
Equity means that while we provide one woman with the ladder to climb out, we recognise the reality that the other woman would need more/a different type of assistance to get out of the hole. It recognises that, though in the same hole, the circumstances of the two women are different and provides the specific resources needed by each to achieve an equal outcome.
#EmbraceEquity to me means being intentional in realising that we don't all start from the same place in society/life and adopting a mindset that actively works to redress the imbalance and achieve fair and just outcomes for all.
---
Eva Rubio, BBVA
What does embrace equity mean to you?
#EmbraceEquity is about helping to create a world where everyone has the opportunity to succeed and thrive. Equity is a choice, the right thing to do, but also economically equity fosters higher profitability and a more sustainable growth. All of us can do things in this matter. It means challenging stereotypes and biases that hold people back, promoting diversity and inclusion, and advocating for policies that support gender equality. By embracing Equity, we can break down systemic barriers and discrimination that have led to unequal outcomes for people of different genders, races, cultures, backgrounds, skills, education, etc. It's about creating a world where everyone has the same opportunities and access to resources. So let's embrace gender equity and work towards a world where everyone can live and work free from discrimination. By promoting equity, we can create a better world for future generations, where everyone has the opportunity to thrive and reach their full potential.
---
Angela Koll, Commerzbank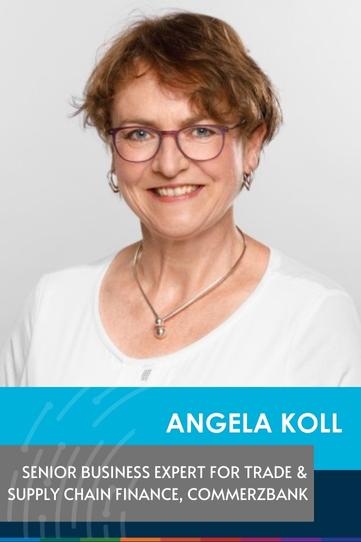 What does embrace equity mean to you?
Trade connects people from all over the globe with various cultures, languages and backgrounds. To be successful in trade, embracing equity is very important and forms part of our day-to-day business. The beauty of trade is the varied business environment, the opportunity to work with people from different countries and cultures and to learn from them. For me embracing equity helps, brings joy to my daily business and is a fundamental requirement.
---
Marianne Ouzone Hugon, Credit Agricole CIB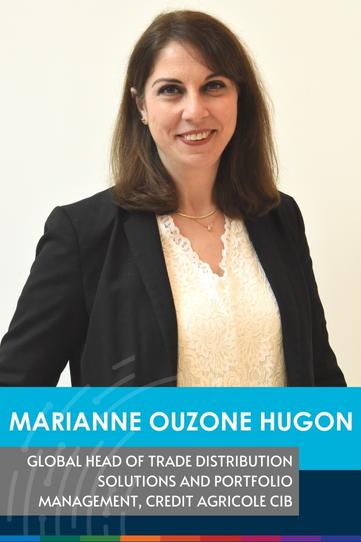 What does embrace equity mean to you?
#EmbraceEquity means for me first and foremost freedom. Our gender or background should not determine a life's choice or a career path. The goal of embracing equity is to make sure that our inner drive and motivation can lead us to the place where we want to be, and we as individuals are free to choose this place and to embrace it.
From a career perspective, it means to provide continuous and appropriate support for each and every person to accompany individual ambitions. I personally consider myself to be very lucky working within Credit Agricole CIB where fairness and inclusivity are major pillars, and having met along my professional journey in Trade Finance industry managers, mentors, co-workers and business partners who trusted and inspired me and who continue to do so every step of the way.
---
Puay Choo Ching, Credit Agricole CIB
For me, embracing equity means respecting all individuals and providing everyone equal opportunities.
To get there, we need to recognise that not everyone starts on a level playing field and some individuals need a helping hand to access the same opportunities. When thinking about equity, we need to identify the barriers hindering these individuals and provide them with the tools they need to be on equal footing.
Embracing equity means that I do what I can to help others access equal opportunities – whether this is through putting people forward for roles they will excel in, coaching them to help reach their goals, or supporting them to be in positions where they too can make a difference.
I've been fortunate to encounter supportive leaders throughout my career. I am happy to do the same, share my experience with others and encourage them to strive for more.
We need to recognise and celebrate diversity as a collective strength – actively involving voices from different backgrounds and considering whether we hold unconscious biases when making decisions help us be impartial.
Together if we all take part in embracing equity, we can work towards achieving a level playing field that is truly fair for all.
---
Ana Guyatt Del Rio, First Abu Dhabi Bank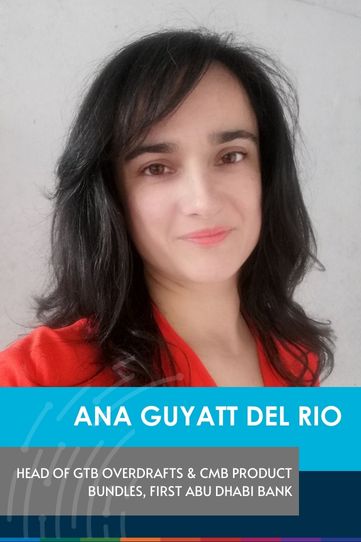 What does embrace equity mean to you?
Equity is value. It is not only financial; it's social, human, environmental… and if we really look, we can see there is much value around us that is yet to be recognised, accepted, nurtured and rewarded. IWD is a day to remind us all to embrace women's equity. As women we should all recognise our own value and strength and come forward with it. It's a day to remind society that embracing women's equity is not a zero sum game. It's a game where we all rise above and win.
---
Natasha Condon, J.P. Morgan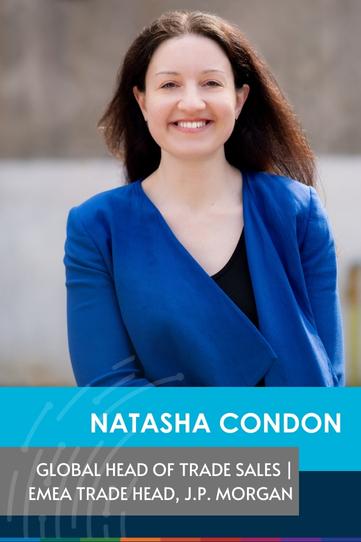 What does embrace equity mean to you?
#EmbraceEquity to me is not just the ethical thing to do, it's a cold hard business imperative. We operate in a fiercely competitive environment, and I want to be out there with the absolute top talent available irrespective of gender or any other category. If we get it right, the industry will see it, and we will attract the best. Our customers will see it, and we will pick up the best business. Our communities will see it, and we will contribute positively everywhere we operate around the world. It's been a while since I started my career as the only woman in the Trade Finance team – now I'm part of a management team that is majority female, is diverse in many other ways, and features some of the most impressive people I've ever met, of any gender! But you only have to look at our industry to see how far we still have to go.
---
Rebecca Trotter, Lloyds Bank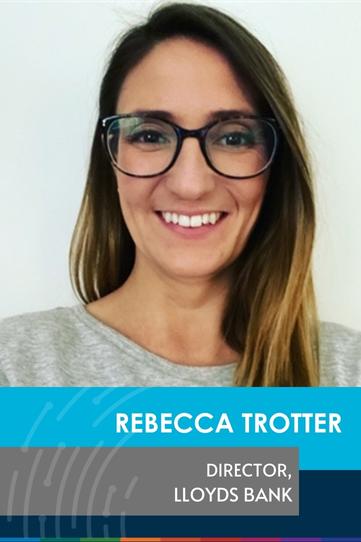 What does embrace equity mean to you?
I'm lucky to be part of a workplace that supports me, values inclusiveness, and gives me access to the tools and resources I need to succeed. Sadly, this isn't the reality for everyone. By recognising my privilege and the work of those who came before me – I want to make a difference for other women. I feel a strong obligation to create positive change and help others reach their full potential. By establishing an inclusive environment where everyone is treated with equality, we create a world where we all can thrive, regardless of gender or any other factors. To me, equality means valuing everyone, no matter what. Let's be bold, embrace our differences, and harness our combined strength to achieve great things!
---
Natalia Kasayanova-Erdogan, MUFG Bank Europe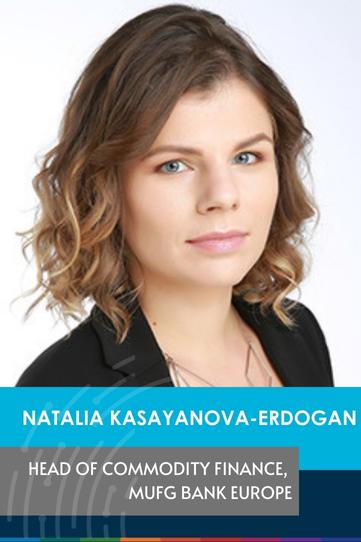 What does embrace equity mean to you?
I have lived, studied and worked in Russia, Brazil, the UK and the Netherlands. Having been exposed to the wide ranges of societies, companies and teams, I regard myself as a cross-cultural professional. Working at MUFG, a global corporate bank with Japanese roots, suits me like a glove, and made me even more aware of the importance of equity and respect on the work floor. Equity has always been an important and obvious value for me. I associate Equity with inclusion, connection and a sense of belonging, all of which help to increase and maintain a positive working environment and engagement. Importantly, they are vital to the success of an organisation and of its clients.
---
Anna Tryti, Nordea Norway
What does embrace equity mean to you?
In 2023, any successful long-term strategy requires that the company fully commits to diversity and inclusion in all aspects of their business. Everyone's preconditions are different, even though one might be at exactly the same place at a given moment. Equity makes sense because it means turning to a wider discussion about what it takes to succeed. Not only scraping the surface by defining gender or nationality. Irrespective of what box one falls into, one person's way to success may be infinitely different, longer or harder than another one's. Providing appropriate tools to enable real individual achievement requires understanding of where people come from and what kind of measures would make the biggest difference to their unique story.
---
Lynette Gillen, RBC Royal Bank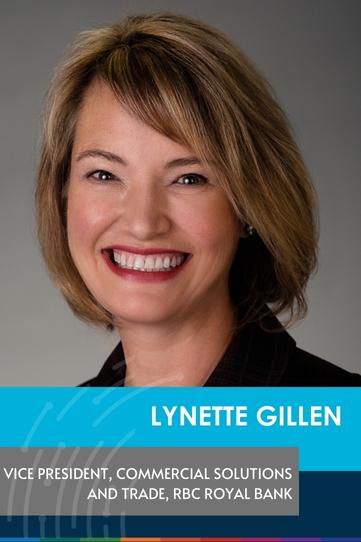 What does embrace equity mean to you?
#EmbraceEquity is believing in yourself; accepting support; and supporting others. My first lesson in believing in myself came from my mother. I grew up in the 1970's, when women were just starting to see themselves as equals. I remember coming home from school, and telling my mother that when I grew up, I wanted to marry a doctor. I had heard this at school from female classmates. My mother replied, "If you think doctors are special, you should be one." I learned at that moment that I had the right to see myself in any role I found interesting. I would not be a leader in Trade Finance if I had not accepted the mentorship and support of leaders who wanted me to exceed. I am grateful to the people who supported my journey. Finally, I feel it is important to be that support and mentor to others. As a leader in Trade Finance at a Global bank, I seek out others – across all diversity spectrums – to say, "You can do this, and I want to help."
---