The magnitude and pressure around climate change and the United Nations (UN) agenda can create an opportunity to transform supply chains and make them more sustainable.
Today, companies' sustainability footprint is driven by the imperative of climate action, and by the governments, regulators, investors, and their customers' pressures. They are, therefore, looking not only at how to make their supply chains more sustainable, but also at how they can incentivise their suppliers to adopt more sustainable and responsible behaviours.
Banks, through innovative trade and supply chain finance solutions, are supporting clients on their sustainability journey. Since "70% of international trade today involves global value chains", how can this represent an opportunity to revolutionise supply chains and achieve both the Paris Agreement climate targets and the UN Sustainable Development Goals (SDGs) and what are the limitations to achieving these goals?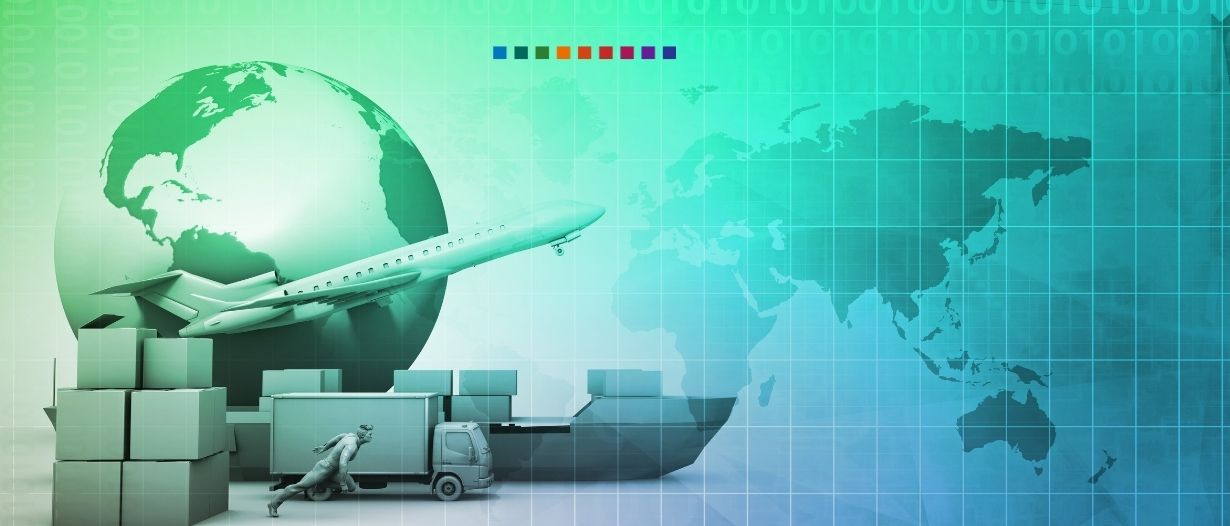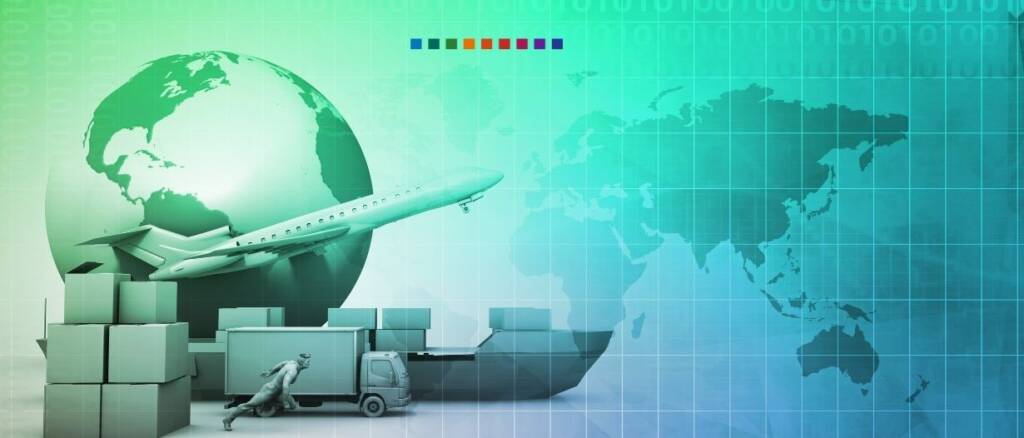 A complex ecosystem to address its carbon footprint … but a critical element to tackle climate change
Global supply chains revolve around an interconnected network of people, corporations, resources, information, legislations and technology, oftentimes including multiple geographies. Along the supply chain, complex patterns of production processes can create waste and greenhouse gas emissions (GHG), which can be generated directly by the company's operations (Scope 1) or indirectly from sources that are purchased (Scope 2) or not controlled in its value chain (Scope 3).
In 2020, supply chain emissions were 11.4 times higher than those produced from direct operations. For example, a consumer-goods company's supply chain creates a 90% higher environmental impact than direct impact and more than 80% of greenhouse gas emissions.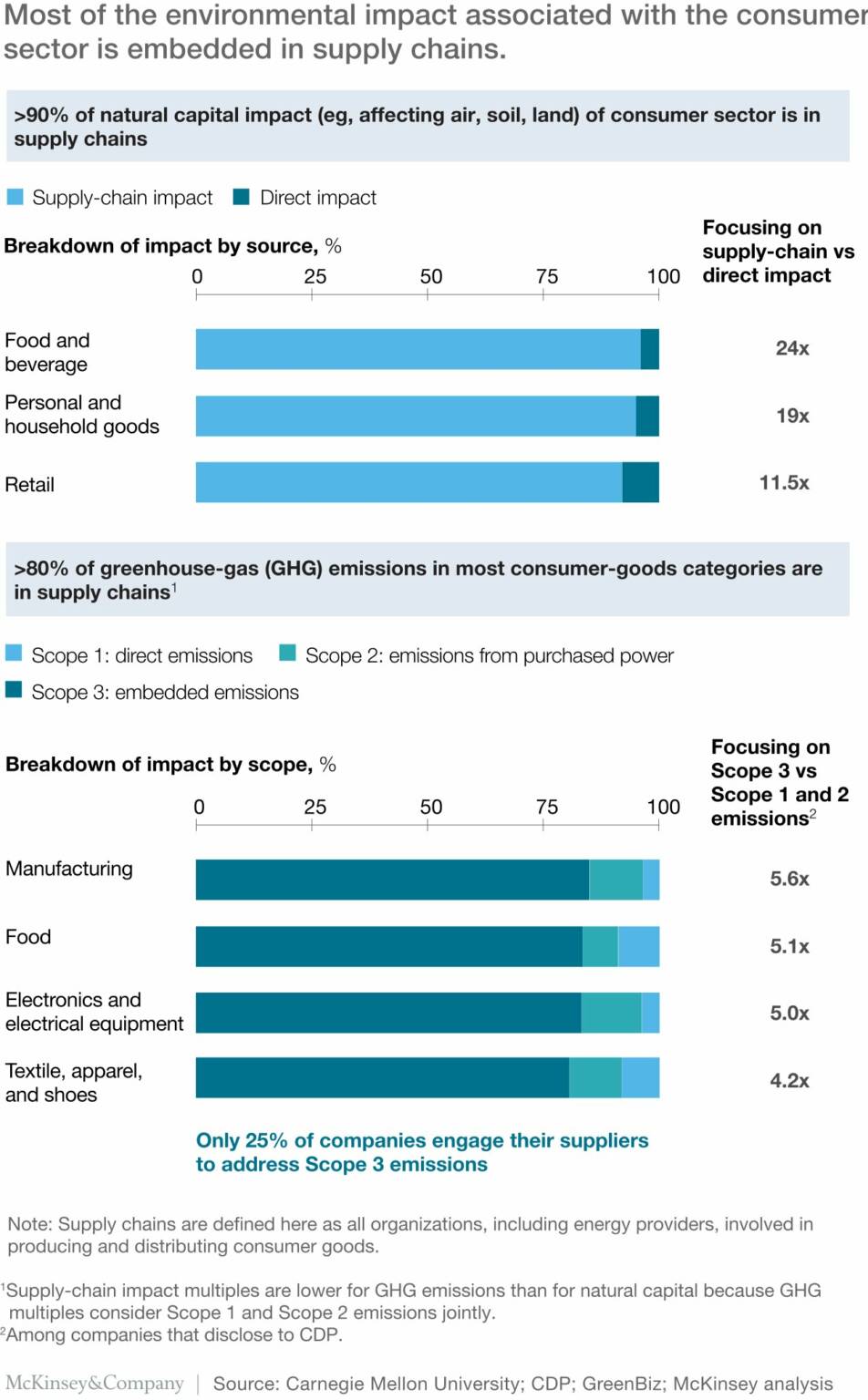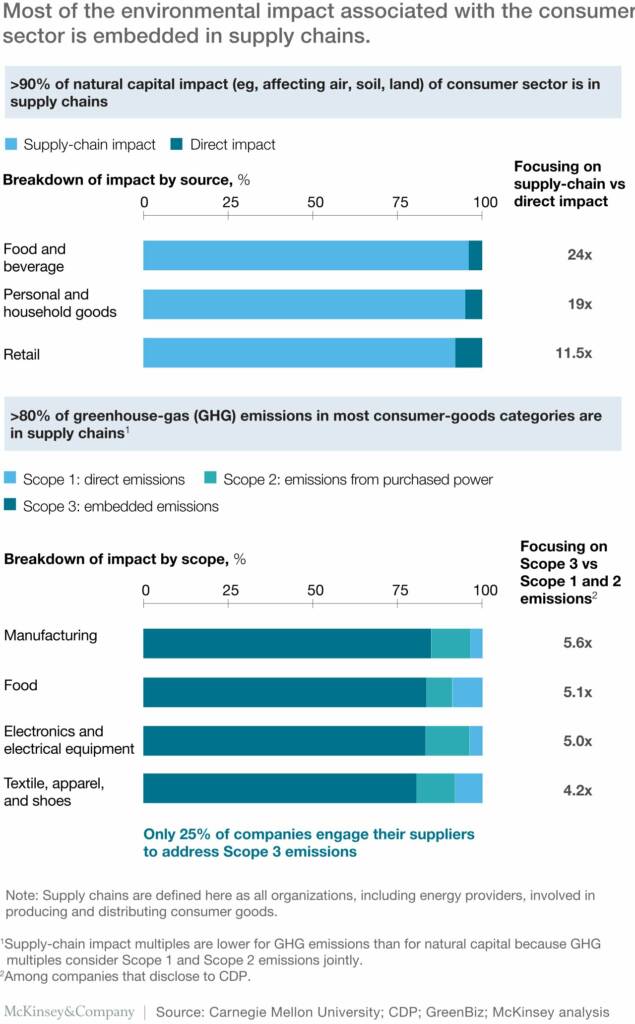 To reach the 1.5o C warming limit stated in the Paris Agreement, the global GHG emissions need to drop by 7.6% each year between 2020 and 2030. Thus, it is critical that companies address not only their direct emissions and risks, but also engage with their entire supply chains to set strategies for climate action.
For instance, a billion metric tons (equal to the total GHG of Brazil and Mexico combined) would be avoided if suppliers of 125 multinationals increased their renewable electricity by 20% each year.
Executives are focusing on how they can mitigate this impact by integrating sustainability as a key pillar in their governance.
Success factors for a more sustainable supply chain
Certifications, Environmental, Social and Governance (ESG) ratings and necessary assessments to create trust, empower sustainable strategies and avoid greenwashing.
Companies can determine their ESG exposure through materiality assessments. ESG risks can have a profound impact on companies' businesses activities. Moreover, certifications (e.g. ISO 20400, ISO 20600) and ESG ratings issued by ESG rating agencies can play a key role on building trust among companies, consumers and suppliers by setting them minimum standards on sustainability performance.
For instance, EcoVadis is supporting Bridgestone to follow up and rate its suppliers' ESG performance by evaluating qualified suppliers and promoting best practices to the industry.
ESG laws and regulations are encouraging decarbonisation strategies
Increased government and regulator concerns on the importance of environmental and social issues have resulted in new laws and regulations, such as mandatory regulatory reporting, which companies must now comply with. For instance, the G20's Taskforce on Climate-related Financial Disclosures (TCFD) released mandatory disclosures on climate-related financial information.
The French "Duty of Vigilence" Law, the German Law "Lieferkettengesetz", and the EU Supply chain due diligence directive are imposing responsibility for human rights, environment and good governance across the entire global supply chain. Additionally, the Sustainability Accounting Board and the EU's Sustainable Finance Disclosure Regulation (SFDR) impose transparency obligations and periodic reporting on sustainability information on firms and products.
Setting decarbonisation strategies based on companies' carbon footprint calculations (GHG protocol-based) and approved science-based targets to reduce Scope 3 emissions are becoming a business norm.
For instance, Schneider Electric through its "Zero carbon project" is collaborating with its suppliers to reduce 50% of their CO2 operations footprint by 2025.
Additionally, corporate initiatives, such as Phillips' Supplier Sustainability Performance programme and Siemens Gamesa's Carbon Disclosure Project, are incentivising suppliers to disclose and reduce carbon emissions along their supply chain.
Moreover, the Carbon Pricing Leadership Coalition is exploring with leaders from both the public and private sector the potential of carbon pricing as part of a sustainable recovery process.
The EU Commission is, also, proposing a new Carbon Border Adjustment Mechanism, which will put a carbon price on imports of targeted products to avoid "carbon leakage" and revising the Energy Taxation Directive, as part of the EU Green Deal.
Supply Chain Finance (SCF) as catalyst for sustainable business practices
Bank initiatives such as the "Principles of Responsible Banking" and the Net-Zero Banking Alliance are encouraging sustainability as a key strategic priority. 66% of banks that responded to an ICC survey, stated already having a trade and supply chain finance sustainability strategy and believing that climate change should be a key priority over the next five years.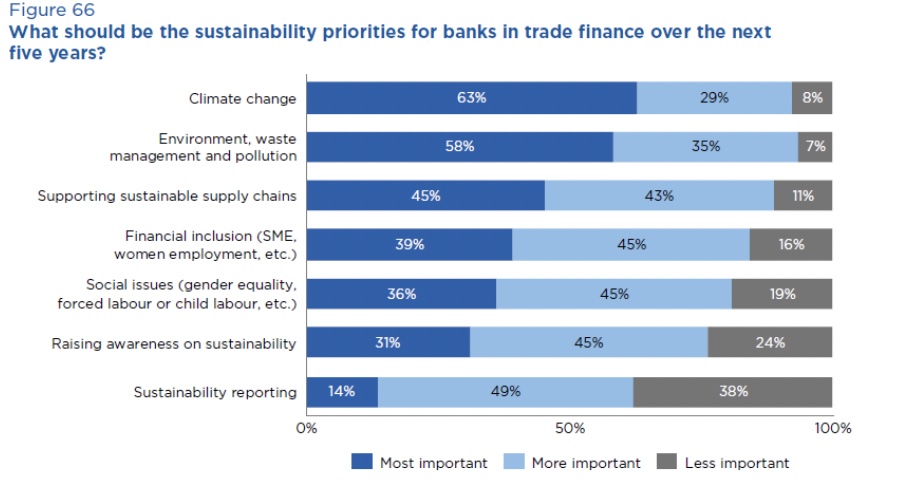 Banks are working on sustainable trade and SCF innovative frameworks to accompany their clients' sustainability journey. These frameworks can be embedded into traditional trade (e.g. guarantees, letters of credit) or SCF finance products by introduing a:
"green" mechanism dedicated to support specific green projects or assets; or
"sustainability-linked loan", a tailor made solution by incorporating a pricing mechanism linked to the clients' sustainability performance (ESG).
As there is no standard definition of sustainable trade or SCF yet, these frameworks are inspired by the EU taxonomy regulation, the sustainable finance "principles" by the International Capital Market Association the Green, Social and Sustainability Linked Loan principles by the Loan Market Association.
"Sustainable bonds and loans are growing steadily but remain a fraction of what is needed to meet the goals of the Paris Agreement. We have to move towards a broader range of solutions, which includes trade finance." says Viktor Ivanov, head of sustainability for transaction banking in Europe Middle East and Africa at BNP Paribas
Sustainable SFC programmes can be a useful tool to engage companies' suppliers to improve their sustainability performance in line with their broader sustainability ambitions.
"I am convinced that embedding sustainable supply chain finance solutions represents the key innovation that will define the future of global trade finance, allowing buyers to draw suppliers down a sustainability path, incentivizing ethical and responsible practice." says Rodolphe Vergeaud, head of Trade and Working Capital Europe Middle East and Africa at BNP Paribas
Puma and Pimkie, both working within the textile industry, are great examples of companies that have focused on increasing sustainability within their supply chains. By rewarding their suppliers' sustainable operations and by integrating ESG criteria as Key Performance Indicators, these companies have been able to strengthen their commercial relationship with their suppliers and generate more sustainable supply chains.
Technology plays a critical role in supply chain reliability and data sourcing
Distributed Ledger Technology and blockchain are appealing for SCF, as they provide working capital to multiple suppliers, enable companies to have a secure trusted sustainable way of verifying the provenance of their products, and give visibility throughout their whole supply chains operations.
For instance, fintechs such as Halotrade, Provenance, or Meridia on "Project Trado", trailed a tea supply chain in Malawi. This project not only increased traceability and transparency across the multiple supply chains but also contributed to the achievement of the SDG 12 focus on Sustainable Consumption and Production.
Blockchain can also enhance climate action by tracking companies' carbon footprint. For instance, Mercedes-Benz is working with the start-up Circulor on a pilot project for transparency of CO2 emissions in the cobalt supply chain.
In other instances, blockchain is supporting other supply chain processes such as procure-to-pay and Know Your Supplier, to manage reconciliations and fraud risks.
Support from Multilateral Development Banks (MDBs) to the supply chain's small players
Large corporates frequently import commodities or raw materials from suppliers in emerging countries – e.g. cocoa beans from West African countries, or outsourcing products and services to places where labor costs are lower – e.g. textiles to China, and auto parts to Mexico. As major players of the economy, SMEs are often constrained on accessing financing or challenged by regulation or compliance.
MDBs' initiatives – the World Bank Group's work, the EBRD's Trade Finance Facilitation programme, the IFC's Global Trade Finance Program (GTFP), and the World Trade Organisation's "Aid for Trade" are playing an important role on supporting SMEs on their road to becoming more sustainable and trustworthy in the global value chains.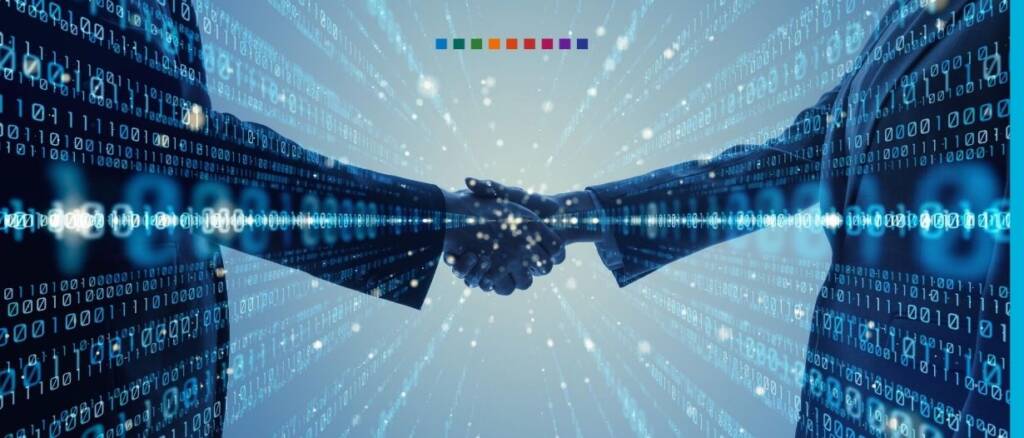 Sustainable supply chains is a joint effort
The United Nations' agenda and the imperative action on climate change are pushing companies to rethink and transform their supply chain business models and to place sustainability as a core pillar in their governance.
A clear shift is required not only in companies' mindset but also on the entire global value chains ecosystem. Strong collaboration among financial institutions, governments, investors, regulators, and corporates is needed to boost global supply chains' sustainability.
However, a large number of the companies included in global value chains are located in countries where sustainability norms and standards are not fully enforced. So, to what extend are sustainable goals impaired by the absence of similar global regulations?
This article was created as part of the International Trade Professionals Programme 2021.
Learn more about this incredible programme here.