Green Finance, Bonds and Renewables
Green finance is a diversified term that typically refers to financial investments flowing into sustainable development initiatives, environmental initiatives and policies that promote the better development of society. Concerning the banking and professional services sector, green finance is defined as financial products, services and decisions that have taken into consideration the environmental influences throughout the risk management process to promote environmentally responsible investments and stimulate low carbon technologies, projects and businesses.
Green financing can be executed through infrastructure and project finance where environmental goods and services such as effective water management, protection of biodiversity etc are incorporated within the initial capital investment. This could also include financing the operational costs of implementing infrastructure to have the ability to adequately mitigate environmental damage.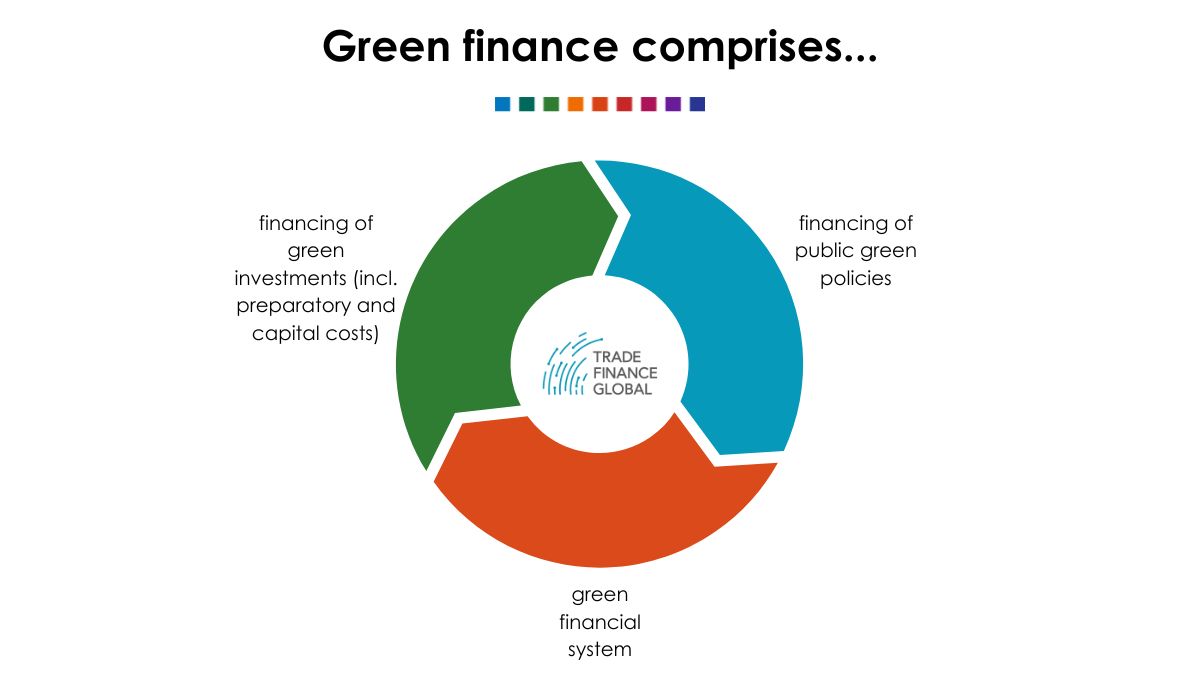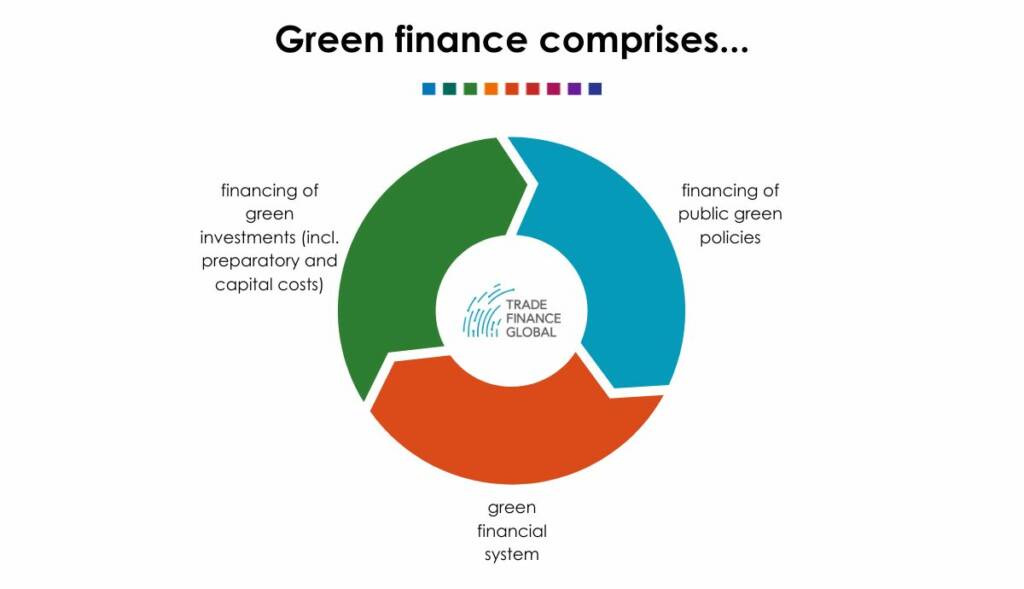 Simple overview over the model of green financing, starting from the financing of green investment this links furthermore into the financing of public green policies and research eventually leading to a progressively green financial system as well as a society with well developed quality of life through infrastructure.
Green investment can include targets that implement entities such as sourcing with a green supply chain, protection of biodiversity, water sanitation, industrial pollution control however there is are more specific terminology within green finance that are used.
Climate finance is an aspect under the umbrella term of green finance; although they are often interchangeably used climate finance is particularly concerned and focused on the adaption to the impact of climate or the limitations in greenhouse emissions.
Climate finance is typically financially channelled through national to international entities for climate change mitigation and adaptation initiatives. Correspondingly, climate finance acts as a support mechanism in reducing or limiting greenhouse gases through climate resilient growth and development. Climate Policy Initiative is a medium sized think tank group comprising of over seventy analysts that investigate the incorporation possibilities of climate awareness through finance. Furthermore, the United Nations have also composed a framework dedicated to climate finance through the United Nations framework convention on climate change where an overview of climate finance flows is published on a  biennial basis.
Public finance has traditionally been a significant source of infrastructure investment; however public budgets are typically insufficient for climate optimized infrastructures which are relatively more complicated and costly. Consequently, higher investment requirements are needed which leads to the possibility of private finance. Governments usually issue green bonds which are intended to encourage sustainability and support green investment, green bonds finance infrastructure aimed at energy efficiency, pollution prevention, sustainable agriculture, fishery + forestry, green supply chains and environmentally friendly technology. To attract the private sector, most governments provide tax incentives such as tax credits and exemptions making them a highly attractive investment compared to taxable bonds. Green related monetary incentives are often verified by third-party groups that certify that the green bond will be funding environmentally friendly incorporated infrastructure.  It is notable that the World Bank is one of the largest issuer of green bonds, where they have provided the finance for environmentally positive projects particularly within less developed countries where domestic governments are unable to finance these projects with their economy.
Green Bond – Issuance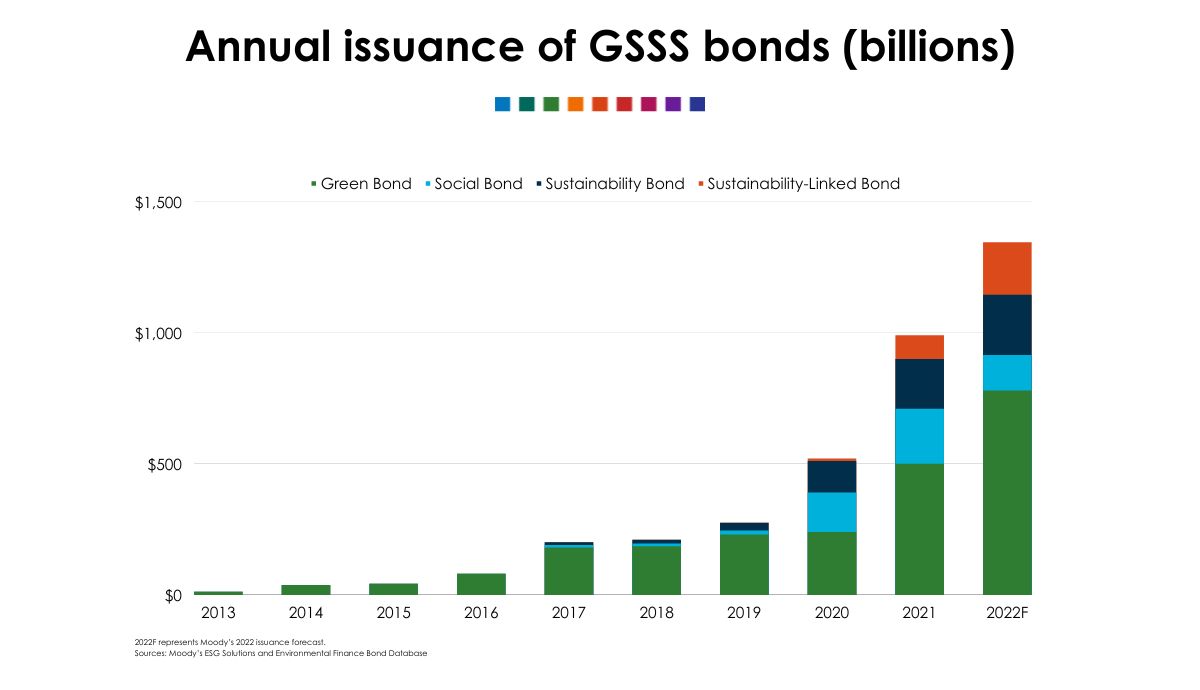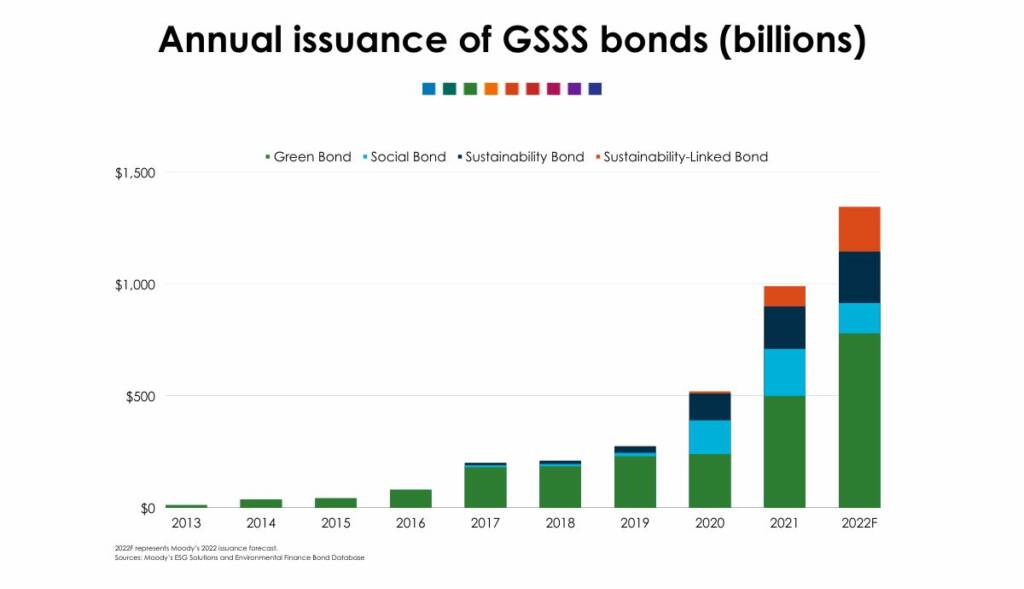 Moody's Investor Service [Bond Credit Rating Firm] has estimated that the growth of green bond issuance has risen exponentially since 2013, when the economy had adjusted since the financial crisis more steadily.  
Green Financing – Overview
Although in most, the implementation of green financing is an optimistically facilitated act, there still remain barriers and challenges to achieving fluidity. The lack of visibility and predictability of country policy for green investment impacts investor confidence. Policy uncertainties can translate into increased risk premiums, higher financing costs and lower funding for green projects. Correspondingly, the inadequate delivery of responsible investment principles by institutional investors can be constrained by misaligned incentives and information asymmetries. Conflicts of interest can override environmentally green ethics and within most countries, the policies and performance disclosed have been limited. This has resulted in difficulties for investors identifying green assets or making informed decisions on environmental risk.
These concerns are articulated mainly within the G20 international forum where the world's largest economies address financial challenges that need to be overcome. Referencing
References
Climate Bond Initiative [2016], Green Bond issuance by year, Moody's. Retrieved 28/08/2018.
Green Bond [2018], Terms, Breaking down 'Green Bond', Investopedia. https://www.investopedia.com/terms/g/green-bond.asp Retrieved 28/08/2018.
Schmidt T.S [2014], Low-carbon investment risks and de-risking, Nature Climate Change, section 4, pages 237-239. Retrieved 28/08/2018.
Lindenberg [2014], Green Finance Initiatives, Deutsches Institut für Entwicklungspolitik, German Development Institute,
https://www.die-gdi.de/uploads/media/Lindenberg_Definition_green_finance.pdf. Retrieved 28/08/2018.
E.Cox [2017], PriceWaterhouseCoopers UK [PWC], Sustainable finance and responsible investment, Financing the future,
https://www.pwc.co.uk/servies/sustainability-climate-change/financing-the-future.html, retrieved 29/08/2018.
Jun, M. Sheren, S. Zadek [2016], G20 Green Finance Study Group, G20 Green Finance Synthesis Report Page9,
https://unepinquiry.org/wp-content/uploads/2016/09/Synthesis_Report_Full_EN.pdf, retrieved 29/08/2018.
Download the 2023 export finance guide
Speak to our trade finance team