What is Building Materials Trade Finance?
The UK imports and exports huge volumes of building materials, and volumes of both have grown in the last 
five years
. Trade Finance Global has supported a number of smaller construction firms constrained by cashflow issues to acquire the building materials they required, and can also help ensure the availability of materials for buyers looking to complete time-sensitive construction contracts by using a series of specialist trade finance tools.
Building Materials Trade Finance
Demand for building materials covers a wide range of products, from stone extracted at quarries to bricks and tiles. As countries around the world urbanise, global demand for construction products continues to hold up – especially for good quality products with a reputation for value. Extractors and manufacturers are increasingly capitalising on these opportunities by going to market as direct entities, trading these commodities directly with interested parties from around the world.
Conducting transactions across international borders can be daunting, as the lengthy repayment cycles can put pressure on smaller businesses cashflow, and the transactions themselves bring great risks to sellers and buyers who are literally reliant on one another to deliver the goods. Trade Finance Global can provide finance to support first time international traders or experienced importers or exporters looking to expand the volume of trade they conduct on the basis of their accounts receivable, and help to transaction risk by acting as a middleman between buyers and sellers. In doing so, they can help convert potential opportunities into profitable ventures.
Products financed
Key building material products financed include:
Building stone
Ornamental stone
Limestone
Gypsum
Chalk
Clays
Gravel
Sand
Building Materials Producer – Finance Requirements
Your business has a healthy trading history
 You and your business can prove your credit worthiness
 You have active customers willing to transact with you on a credit-based basis
How the transaction works
After carefully reviewing an application for credit to assess its operational risk, TFG will reach out to its global network of sources of private finance. Working with investors and the firm in question, they will construct a bespoke finance package with two clear advantages compared to finance from traditional banks; extended repayment terms, and reduced capital guarantees. Regarding the latter, TFG can arrange finance on the basis of a firm's accounts receivable; the profitable order or the goods themselves are often used as the collateral for the loan. Moreover, the extended repayment terms mean that once TFG has overseen the transaction, paid the supplier on receipt of the correct documentation, and the buyer received their shipped goods, they can repay TFG from the profits they raise on the receivable, rather than their own pocket.
What is the SIC Code for Trade in Building Materials?
A series of SIC codes cover the activities of the building materials industry. Four codes cover quarrying and pit activities required to extract the materials; a further six cover manufacturing activities relating to various building materials, and the sale of those materials to trade and customers.
Extraction:
| | |
| --- | --- |
| 08110 |  Quarrying of ornamental and building stone, limestone, gypsum, chalk and slate |
| 08120 |  Operation of gravel and sand pits; mining of clays and kaolin |
| 08990 |  Other mining and quarrying n.e.c. |
| 09900 |  Support activities for other mining and quarrying |
Processing and Sale:
| | |
| --- | --- |
| 23700 |  Cutting, shaping and finishing of stone |
| 23320 |  Manufacture of bricks, tiles and construction products, in baked clay |
| 23610 |  Manufacture of concrete products for construction purposes |
| 23620 |  Manufacture of plaster products for construction purposes |
| 46130 |  Agents involved in the sale of timber and building materials |
| 46730 |  Wholesale of wood, construction materials and sanitary equipment |
Full tariff schedules for building stone, limestone, chalk, and slate be found on gov.uk.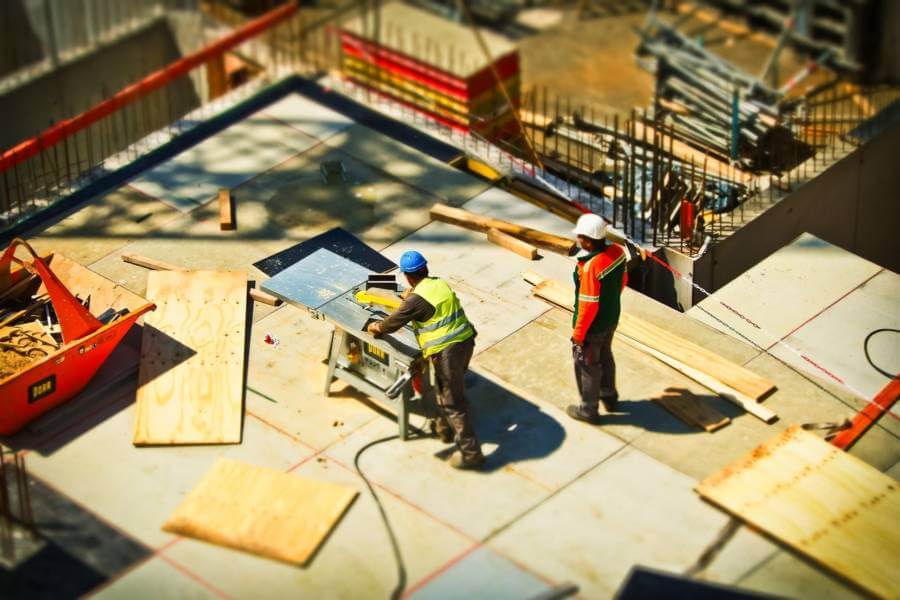 Case Study
Materials Agent, Stone Trade
A quarry exporting slate abroad could fulfil one-off larger orders from clients, but experienced tight squeezes on their cashflow due to the lengthy trade cycle. Trade finance from TFG helped them realise a profit on these ventures and repay the finance on flexible terms.
Speak to our trade finance team
Benefits
 Fulfill larger orders and sell additional products
 Invest in profitable ventures to grow your existing business
 Expand into new markets and service new customers