What Is Litecoin?
Litecoin is often considered to be the silver to Bitcoin's gold.
It is a near-replica of Bitcoin with a few fundamental adjustments designed to provide it with improved speed and transaction processing time.
Litecoin was inspired by the inaugural cryptocurrency 'Bitcoin'.
In spite of their similarities, Litecoin doesn't seek to compete with Bitcoin, but rather to complement it.
It's often referred to as 'the silver to Bitcoin's gold.
Litecoin differentiates itself from Bitcoin through some fundamental differences such as in its algorithm, transaction processing speed, and coin limit.
These differences were implemented to address what many see as fundamental flaws with Bitcoin.
History of Litecoin
Litecoin was founded in October 2011 by Charles Lee, a man who had previously worked as an engineer for Google.
Since then, Litecoin has experienced huge growth.
During the cryptocurrency boom of 2017, in which the total market cap increased by more than 3600%, the price of Litecoin increased by 8200%.
Litecoin massively outperformed Bitcoin, which increased its value by less than 2000%.
This seemed to indicate that Litecoin might have achieved its original goal of improving Bitcoin.
But what has the journey looked like so far for Litecoin?
The following timeline outlines some of the major developments:
2009:
Bitcoin is founded, laying the foundations for Litecoin and other altcoins yet to come.
2011:
Charles Lee creates Litecoin by modifying Bitcoin's code.
2013:
Litecoin's market capitalisation reaches $1 billion.
2013 – 2016:
Litecoin continues to develop and grow steadily.
2017:
Segregated Witness is implemented into Litecoin and the first lightning transaction takes place.
In December, the price of Litecoin reaches around $366 USD.
2018:
Litecoin prices begin to fall, mirroring the wider trend in the cryptocurrency market.
2019
Litecoin restarted its upward swing and its price climbed to €145 in June 2019, before falling back to €50 in the second half of 2019.
2020-2021
Since summer 2020, it has partaken in the new bull market and passed €200 in April 2021.
2022
In June 2022, PayPal added the ability for users to transfer Litecoin along with Bitcoin, Ethereum and Bitcoin Cash between PayPal to other wallets and exchanges.
Litecoin uses
Below are three use cases for Litecoin:
The cryptocurrency market has become attractive to many beginners and seasoned traders alike.
Investors are enticed by the growth it has seen in recent years.
Though prices are volatile, those that are willing to take a risk have the potential to make huge gains.
Litecoin is especially attractive in this respect as it has performed well compared to other cryptocurrencies.
Cross-border transactions
Litecoin can be used to send money overseas quickly, securely, and affordably – with fewer transaction fees than traditional international transfers.
As a daily payment method
Litecoin aims to be a viable digital currency that could ultimately replace fiat currencies for everyday purchases.
Though the number of offline and online retailers that accept Litecoin is limited at present, this could change in the future.
Advantages and disadvantages
The below table outlines the main advantages and disadvantages of Dash:
| | |
| --- | --- |
| Advantages | Disadvantages |
| Transaction Processing Speed. Litecoin has a much faster work speed than Bitcoin. Bitcoin transactions take around 40-60 minutes, on average, to be confirmed. With Litecoin, this is 4 times quicker at just 10 minutes. This means purchases can be performed a lot faster. | Not widely accepted. At present, there isn't a large number of retailers that accept Litecoin. This is also the case for most cryptocurrencies. |
| More Coins. Bitcoin will produce a maximum of 21 million coins. In theory, this could make it easier for users to acquire a whole coin as opposed to a fraction of a coin, which could work in Litecoin's favour from a marketing perspective. | Subject to Regulation. Like all cryptocurrencies, Litecoin is subject to regulation. If more severe regulation is taken against cryptocurrencies in the future, it could limit their use and cause prices to fall heavily. |
| Mining Requirements. Litecoin was built with the Scrypt algorithm. This was designed to be more ASIC-resistant and make mining more accessible to everyday users compared to Bitcoin. This, in turn, makes Litecoin more centralised. | Not Fully ASIC-resistant. Though it's still easier for everyday users to mine Litecoin than Bitcoin, Scrypt ASIC miners have recently been made available on the market, which has made it more difficult to mine Litecoin without ASIC mining hardware. |
| Cost of Transactions. Like all cryptocurrencies, Litecoin transactions can be completed without any intermediaries, thereby reducing transaction fees. Litecoin transactions are even less expensive than many other cryptocurrencies like Bitcoin. | Competition. While Litecoin says it aims to complement, rather than compete with, Bitcoin, it still shares the same goal. If more users continue to use Bitcoin as their primary cryptocurrency, it will limit Litecoin's potential. |
Litecoin Symbol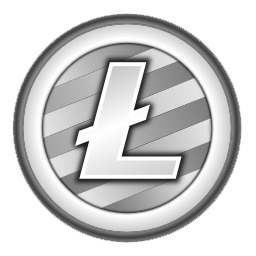 Interesting Facts
Here are some fun facts about Litecoin:
Litecoin can be directly exchanged for other cryptocurrencies on the blockchain using the 'Atomic Swap'.
The first Litecoin lightning transaction was performed in May 2017. The transaction took less than 1 second between Zurich and San Francisco.
Speak to our trade finance team
Cryptocurrency Hub
Benefits
 Fast and efficient – speak with our trading team within minutes
 Great rates – beat high street bank rates with Trade Finance Global
 Our partners are regulated and trusted experts
 Experts partners who are specialised in geography and sectors