Women in Trade – Trade & Policy
Tanya Epshteyn, Czarnikow
Soumaya Keynes, The Economist
Michelle Chivunga, Global Policy House
Majda Dabaghi, International Chamber of Commerce
Eleonore Juliane Treu, ICC Austria
Emmanuelle Ganne, World Trade Organization
Sponsored by

---
Tanya Epshteyn, Czarnikow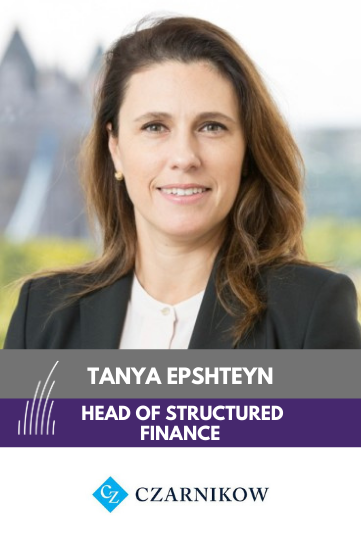 Have you encountered any related challenges in your career along the way to becoming who you are today?
Of course. Everyone meets a degree of resistance when pursuing a dream job. But I also found that with the right combination of persistence, work ethic and applied logic, one can turn every obstacle into a lesson.
What's the most important piece of advice you'd give to a woman thinking of starting a career in trade finance?
Do not be intimidated by the glitter of careers in finance and think of the building blocks from early on. It is important to understand which skills make up the role you want and seek out the experiences that will harness them. Trade finance is a combination of trade and finance. Learn all you can in both, and plan. Success will find those who plan for it, and have the commitment to follow that plan.
TFG heard from Tanya of Czarnikow discussing the impact of Covid19 on sugar supply chains considering different perspectives.
---
Soumaya Keynes, The Economist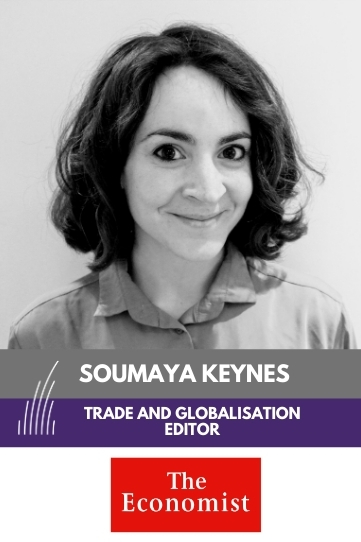 Why did you choose a career in this sector?
Funnily enough, trade chose me. When I took on the beat I was told it would be a rather sleepy affair… well. Now that I'm a fully-fledged trade nerd, I couldn't be happier. Trade policy is the intersection of domestic and foreign policy – and it's never boring.
Have you encountered any related challenges in your career along the way to becoming who you are today?
Sometimes I wonder whether I am treated differently as a young woman, for example when receiving comments about my appearance, or when someone explains something to me that is very obvious. On the latter, it's hard to work out what is because they do not recognise my byline, or because other journalists they have interacted with are not as familiar with the topic. I now use various tricks to show people that I know my stuff, mostly by throwing in a lot of acronyms at the beginning of a conversation – they normally catch on pretty quickly!
---
Michelle Chivunga, Global Policy House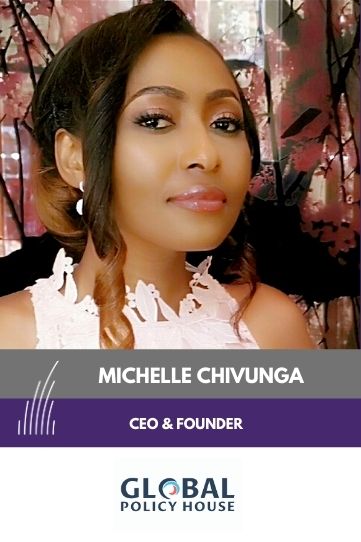 Why did you choose a career in this sector?
I chose a career in digital trade, Fintech and influencing policy in general as I think that trade and clear policies are foundations that keep the world moving and help support MSMEs that power many economies around the world.
I also feel strongly about supporting more women – especially black women entering the Fintech and Digital Trade sectors. We need to build up more female talent that will usher more growth and trust within the sectors.
Have you encountered any related challenges in your career along the way to becoming who you are today?
I have encountered lots of challenges especially in trying to source finance and also on procuring projects. This is a common problem that is affecting many women-led businesses particularly women from ethnic minority backgrounds.
This is another reason I looked towards alternate modes of financing including decentralised financing opportunities given the challenges faced. I have also faced barriers in being in industries that are not well represented but I have turned these barriers into opportunities to look to improve the situation for others by introducing new products and services to address these challenges.
I feel very comfortable being in the Fintech/ blockchain world as this world is driven by the ethos of inclusivity, innovation and international collaboration.
Is now an exciting time to be in trade? Why?
Absolutely is the most exciting time! Having a greater lens and new leadership including the appointment of Dr Ngozi as Director General to the World Trade Organization which has got me very excited about the future of trade, women and diversity! Role models like her are absolutely critical to inspire and support the next wave of talent in trade. We need to rebuild trust in trade and am very excited to be working in the Blockchain and emerging technology space as we have many solutions that can help address both the trust and financing gaps that exist.
On International Women's Day, what is the most important message you want to send out to young women thinking about their careers?
Don't be afraid to take that leap and believe in yourself! Look to diversify your talent and learn new things including looking at new areas such as digital assets and decentralised marketplaces. Now is an excellent time to take advantage of digital tools and build your knowledge – this is what we do at Global Policy House, supporting all people to build their digital skills, access all forms of financing and building solutions using a combination of novel technologies!
---
Majda Dabaghi, International Chamber of Commerce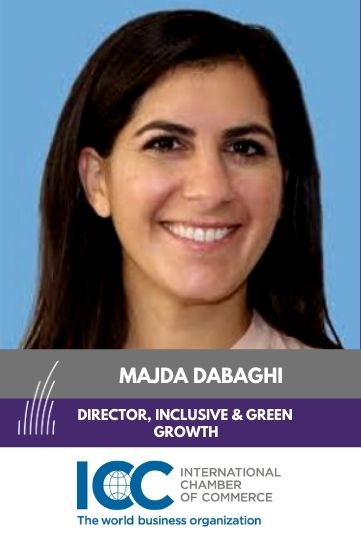 What is the role of businesses in scaling a sustainable economy?

The science is clear – if we are to achieve the goals of the Paris Agreement, we must cut emissions in half by 2030 and achieve net-zero emissions by 2050. Yet, the most recent UN synthesis report shows that we are not collectively on track to meet this goal. We still have time to act but it will require a coordinated global effort by all stakeholders, including business – of all sizes, sectors and geographies.
If the current pandemic has taught us anything, it is that building resilience is vital for businesses, communities and the global economy to endure future threats – whether they are biological, technological or environmental.
In the last year alone, the number of companies that have committed to achieving net-zero by 2050 has doubled through the UN Race to Zero initiative – Net Zero by 2050 has become the new north star to stay in the game.
Climate action is so important for small businesses. What's the aim of SME Climate hub?
An incredible 90 per cent of business worldwide is carried out by small and medium sized enterprises (SMEs) and these businesses employ over two billion people. SMEs are truly the backbone of our global economy and yet have been largely left out of climate action initiatives to date – leaving them deprived of the tools and resources needed to ensure resilience in the face of growing climate risk.
One of the most pressing existential threats to SMEs is climate change and with 40% to 60% of small businesses never reopening after a disaster, curbing carbon emissions and building business resilience has never been so important.
Our aim with the SME Climate Hub is to help support SMEs to future-proof their business. The global platform provides a one-stop-shop for SMEs to: make an internationally recognised climate commitment to halve emissions by 2030 and reach net zero emission by no later than 2050; access practical tools and resources to help curb emissions made with business in mind; and unlock valuable incentives.
SMEs that take part will not only better manage climate risk, they will position themselves to become attractive to customers who are increasingly climate conscious, to the thousands of multinationals with decarbonisation plans, as well as to the growing number of investors now addressing climate-related risk.
We invite you to join us in this practical effort to ensure that the real economy can recover better from Covid-19 and harness the unique power of SMEs to help drive the transition towards a safer and more prosperous clean net-zero future.
---
Eleonore Juliane Treu, ICC Austria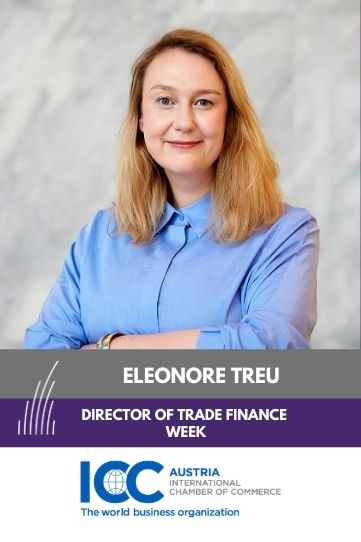 What specific tasks and responsibilities does your job require? What things do you like most about your job?
My day to day responsibilities include a wide range of different tasks. From taking part in rule making and advocacy through work in the ICC Banking Commission, developing and managing trainings and conferences, such as www.tradefinanceweek.org on trade finance and arbitration for ICC Austria, to brand management, capacity building and business development, it never gets boring.
What excites me most, is that by working for ICC Austria as one of the many national committees of ICC around the globe, I can actively take part in the bigger picture. My job allows me to promote goals beyond short-term numbers and expectations, among them supporting women in their careers as well as bring visibility to their already amazing careers.
Is now an exciting time to be in trade? Why?
I believe that there has never been a not exciting time in trade. However, recent developments such as the Covid-19 pandemic made it clear that digitalization and sustainability will not shape our future but have to shape our today.
How do we attract more women into careers within the trade / trade finance industry, that has traditionally been dominated by men?
Gender-equality is one very important aspect of diversity and inclusion.
Those companies and organisations that still view diversity more as a question of social responsibility instead of economic advantage may find it harder to attract women than those who create a work environment that appreciates differing views and values as well as provides a more diverse incentive/recognition system.
What's the most important piece of advice you'd give to a woman thinking of starting a career in trade finance?
Make friends and please know that there is a terrific amount of support available from a wonderful community, that by its core and international nature has always welcomed diversity.
---
Emmanuelle Ganne, World Trade Organization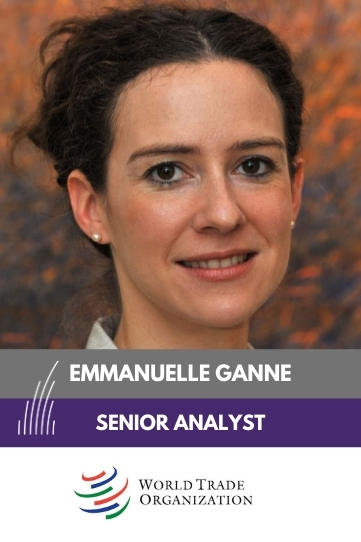 Is now an exciting time to be in trade? Why?
Although our current environment looks rather bleak right now, it is definitely an exciting time to be in trade. We're seeing a fantastic acceleration of digitalisation and what seemed to be impossible a few years ago could well now be within reach. A banker was telling me a few months ago that they had been discussing the use of e-signatures and e-documents for 18 months before the pandemic hit, without much success. When they were faced with the first lockdown, they managed in two or three weeks what they hadn't managed to do in 18 months! Technologies like DLT hold great promises and could be truly transformative for international trade. What makes it so exciting is both the pace and magnitude of ongoing changes, but also the challenges that still lay ahead of us to achieve true digitalisation. The momentum and the technology are there. Now is the time to all work together to make it happen!
On International Women's Day, what is the most important message you want to send out to young women thinking about their careers?
The future is yours! There are more opportunities out there than ever before and the door is open for young women to seize these opportunities in any sector they want. Carefully choose a career that you are passionate about, that will drive you to your best. Be driven by your values and your passion, this is how you will excel. Don't underestimate yourself, don't sell yourself below your value, and dare to share your views and voice your expectations. And always keep an eye open for new opportunities! The world is changing fast. Tomorrow's jobs are likely to be different from today's. New opportunities will arise. Be ready to embrace them!
Emmanuelle Ganne co-authored the whitepaper – Blockchain & DLT in Trade: Where do we stand, with TFG's Deepesh Patel. Read the paper here!
---