Beauhurst, the data provider, has released the latest edition of its report, The Deal, analysing all equity investment in UK startups and SMEs throughout 2018. The data shows that 2018 saw a large-scale drop in overall investment into these companies, with a 10% drop in deal numbers and 19% in amount invested. The average investment size also fell by 15%. TFG spoke to Beauhurst's Henry Whorwood to find out more.
Following 2018's theme of geopolitical and macroeconomic uncertainty in the UK, equity investment has also dropped in terms of deal numbers in the last year. Deal numbers dropped significantly to 10%, driven largely by initial seed-stage investment, although the data is underpinned by some growth in the blockchain and fintech sectors, as well as a particularly strong 2017.
2018 data – key points:
Deal numbers dropped from 1,744 in 2017 to 1,572
The amount invested fell from £8.6b to £7b
Deal numbers in the very youngest companies plummeted 15%
Some regions saw growth in investment, particularly the North West and Wales
Deal numbers into most sectors fell, but Blockchain and Fintech bucking the trend
Despite the overall downturn, crowdfunding platforms continue to grow with a record year by deal numbers: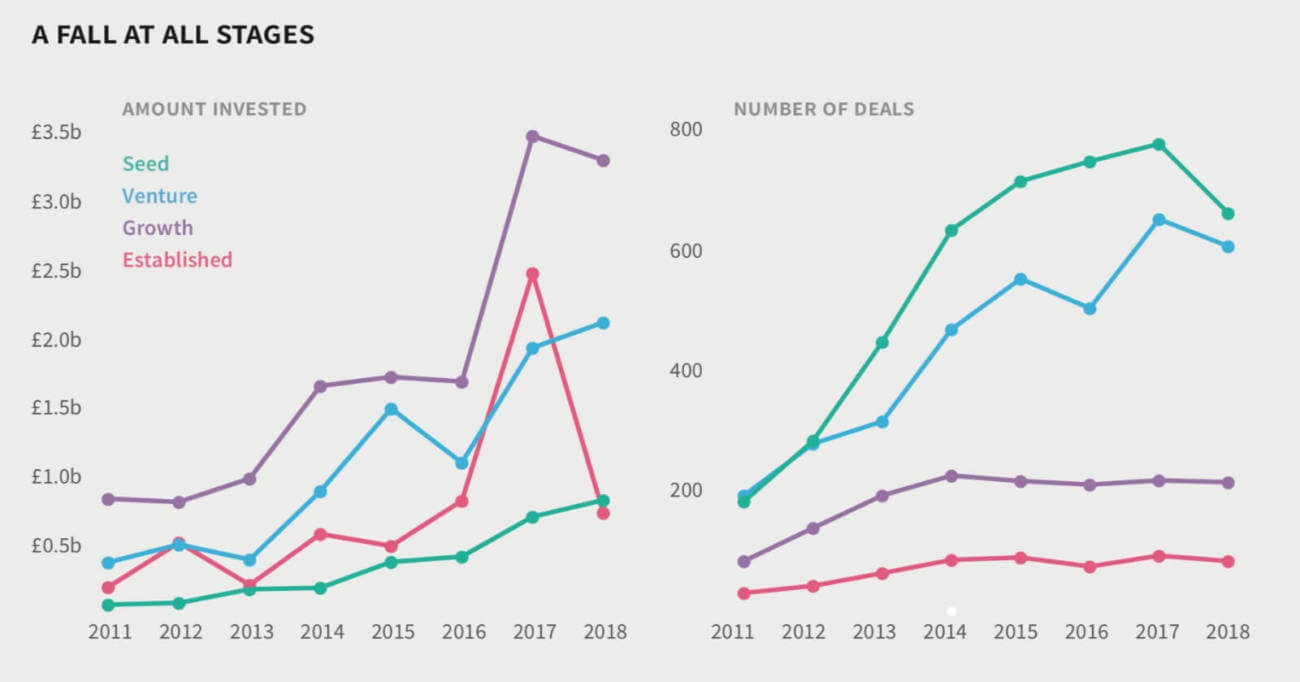 SOURCE: Beauhurst
Beauhurst's Head of Research and Consultancy, Henry Whorwood, said:
"It was always going to be difficult for 2018 to match the unprecedented levels of 2017 – but it did come close. As we enter a period of unprecedented political uncertainty, it is tempting to interpret these numbers as the beginning of a more pronounced decline. When looking into the data underlying these figures, the prognosis is much more nuanced.
The huge spike in the amount invested into more established companies in 2017 captures a large number of high-value 'megadeals' that could be considered unusual – the 19% fall in the amount invested between 2017 and 2018 must be understood in this context. Although the pound amounts invested at the seed-stage and venture-stage reached record levels in 2018, the real concern is over deal numbers for these early stage companies. The 15% decline in deal numbers for seed-stage companies sees levels almost return to those seen in 2014. The seed-stage can often be thought of as the canary in the coalmine: if seed-stage activity drops off, the pipeline of investable companies at later stages also diminishes in time."
 
SOURCE: Beauhurst
Find out more from 'The Deal' here.