International Women's Day 2023
via Linkedin Live with TFG
12PM GMT, March 8, 2023
---
Trade Finance Global is proud to announce a Linkedin Live event to celebrate the upcoming International Women's Day on March 8, 2023.
International Women's Day is a global day celebrating the social, economic, cultural and political achievements of women. The day also marks a call to action for accelerating gender parity. Significant activity is witnessed worldwide as groups come together to celebrate women's achievements or rally for women's equality.
As we celebrate International Women's Day 2023, we'll be highlighting the careers, experiences, and achievements of women across the industry to #EmbraceEquity. Despite progress, the gender pay gap and representation in the finance sector is still a significant issue that needs to be addressed.
TFG's Women In Trade, Treasury & Payments (WITTP) campaign aim's to celebrate all women; to learn from their challenges, to hear their stories and to share their successes.
We hope to inspire other women to pursue careers in this trade, treasury and payments – but more than that, to showcase the importance of trade for female economic empowerment across the globe.
Keynote speech
DDG Angela Ellard, World Trade Organisation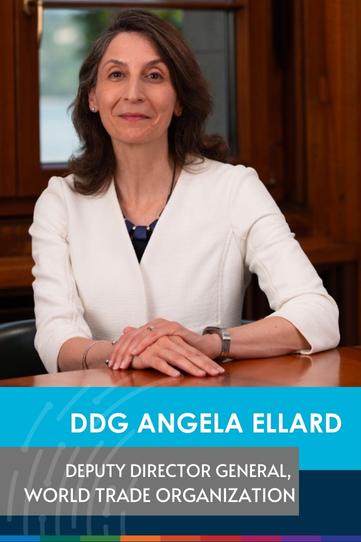 Ms Angela Paolini ELLARD (United States) has served as WTO Deputy Director-General since June 2021. Prior to her appointment, Ms Ellard had a distinguished career serving in the US Congress as Majority and Minority Chief Trade Counsel for over 26 years. She is internationally recognized as an expert on trade and international economic policy, resolving trade and investment barriers, negotiating trade agreements, and supporting multilateral solutions as part of an effective trade and development policy.
Ms Ellard has negotiated and delivered significant bipartisan trade policy outcomes and legislation with Members of U.S. Congress and senior Biden, Trump, Obama, Bush, and Clinton Administration officials. Ms Ellard was also a lawyer in the private sector, specializing in trade litigation and strategy, trade policy, and legislative issues. Ms Ellard obtained her Juris Doctor, cum laude, from Tulane University School of Law and her Master of Arts in Public Policy also from Tulane. She received her Bachelor of Arts from Newcomb College of Tulane University, summa cum laude. Ms Ellard is a frequent lecturer at law – graduate, and undergraduate classes. She has received numerous awards recognizing her accomplishments in trade law and policy.
Chair Lewis, US EXIM Bank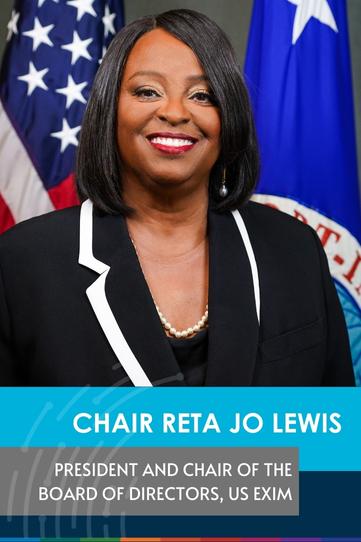 On February 9, 2022, the U.S. Senate confirmed Reta Jo Lewis as EXIM's President and Chair of the Board of Directors. Chair Lewis was sworn in by Vice President of the United States Kamala Harris on February 16, 2022. Ms. Lewis is a senior executive with over 25 years of leadership experience in international affairs, legal, public policy, business and regulatory affairs, and subnational diplomacy.
Ms. Lewis was most recently a Senior Fellow and Director of Congressional Affairs at the German Marshall Fund of the United States. At GMF, Ms. Lewis led and oversaw initiatives, programs, and bipartisan exchanges for members of the U.S. Congress and their European counterparts, focusing on leadership development and subnational diplomacy efforts. Prior to her time at GMF, she served as the first-ever Special Representative for Global Intergovernmental Affairs under Secretary Hillary Clinton at the U.S. Department of State during the Obama-Biden Administration. As Special Representative, Lewis was the chief diplomat in charge of the international efforts to build and support strategic relationships between the federal government, state and local leaders, and their foreign counterparts. In 2013, she was awarded the Secretary's Distinguished Service Award.
Ms. Lewis was the first Black woman to serve as Vice President and Counselor to the President at the U.S. Chamber of Commerce. She led the Chamber's initiatives focused on fostering strategic alliances between small businesses, especially women- and minority-owned businesses, entrepreneurs, and executives. She is a Life Member of the Council on Foreign Relations and former Member of the Board of the Leadership Council for Women in National Security. Ms. Lewis received a J.D. from Emory University School of Law, an M.S.A.J. from American University, and a B.A. from the University of Georgia. She is a native of Statesboro, Georgia.
Other speakers during this LinkedIn Live event include:
Nathalie Louat, Global Head of Trade and Supply Chain Finance, International Finance Corporation (IFC)
Kimberley Botwright, Head of Sustainable Trade, World Economic Forum (WEF)
Lynette Thorstensen, Chair of the Board, Fairtrade International
Mencia Bobo, Global Head of Trade Finance, Santander
Raelene Martin, Global Head of Sustainability, International Chamber of Commerce (ICC)
Natalia Clements, Senior Trade Finance Product Specialist, SwissRe
Neha Norena, Trade Finance Director, Asian Development Bank (ADB)
Catherine Lang-Anderson, Partner, Allen & Overy
Lorna Pillow, Board Member, ITFA; COO, London Forfaiting Company
Helen Jones, Executive Director, Visa Business Solutions Europe
International Women's Day (IWD) is one of the most important days of the year to:
celebrate women's achievements
educate and awareness raise for women's equality
call for positive change advancing women
lobby for accelerated gender parity
fundraise for female-focused charities
Celebrate women's achievement. Raise awareness about discrimination. Take action to drive gender parity. #EmbraceEquity