Women in Trade – Insurance
Meera Saunders, AIG
Corine Troncy, AIG
Mariana Mastrogiovanni, AXA
Carol Searle, Texel Group
Sponsored by

---
Meera Saunders, AIG
Why did you choose a career in this sector?
I started out in general insurance but was drawn to the Trade Finance insurance specialism as a more focussed product. My background in Economics meant I have always been interested in factors that have worldwide influences such as trade. Trade Finance is an enabler of trade across borders – it is incredibly diverse in terms of the people involved, products, operations, financing, etc. Even now I still learn something new each day and I am constantly finding new challenges to enhance my development. Trade Finance is such a broad industry, it is an ideal career choice for me as there will always be a place to enhance my skills and find opportunities to grow.
Is now an exciting time to be in trade finance? Why?
It is definitely an exciting time to be in Trade Finance particularly in the Insurance industry. With banks looking to disburse more risk and diversify their distribution, it creates real opportunities for the insurance industry to react and work with our clients to provide solutions. Increasing bank regulation means insurance is a key enabler to ensure trade can continue and banks and alternative funders can continue to support their clients.
On a wider perspective, the world is moving towards more digitisation and Trade Finance could really utilise this change to further strengthen financing opportunities. Digitisation could take away a lot of the uncertainty that currently exists in the trading world and can provide comfort to financiers to take more calculated risks. The current time could prove an opportunity to expedite the use of technology in the world of trade.
On International Women's Day, what is the most important message you want to send out to young women thinking about their careers?
Advocate for yourself. No one knows you better than yourself and always remind yourself of that. When it comes to your development and your future choices, it's good to listen to other people's advice but it is your life and your career so don't be afraid to go against the advice you have been given. It is important to evaluate your opportunities and speak out when you want something – whether it is a new mentor or a new role or a pay rise!
Ask questions. As the saying goes, you either know everything or you know nothing. Never be afraid to ask questions and push boundaries. I've come across many people who like to talk louder than the rest but when you ask them to explain what they are saying, they can't. People naturally start talking in buzz words and acronyms that make sense to them, but if you do not know what they mean, always ask – you will find there are others in the room who did not understand either. Asking questions is a way of learning more and empowering yourself.
---
Corine Troncy, AIG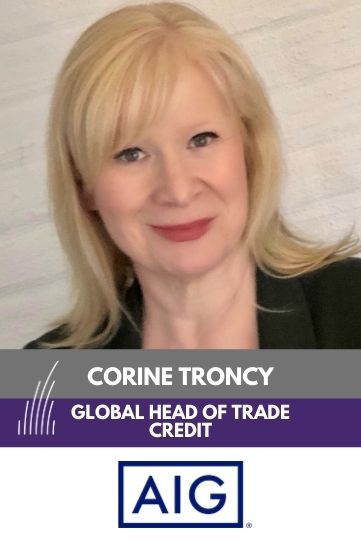 Do you find that there is a gender gap at the top in trade?
Yes, change does not happen overnight. There are uneven situations in various countries across the world in the trade industry, but I believe that now is our time: the current focus and impetus on ESG is one driver that may lead change in our industries/economies and we must all participate positively and actively in it.
How do we attract more women into careers within the trade?
The last year has showed most managers and team leaders globally that people can be efficient and productive even in a virtual structure and that, even in industries where physical presence and long working hours were the norm to be considered a high performer, we should be in a position to attract a wider range of talent including those who are seeking flexibility in both time and location to cater for their personal life/ balance choices.
What's the most important piece of advice you'd give to a woman thinking of starting a career in trade?
Relationships, relationships, relationships….. which to me is even wider and has a bigger scope than just professional networking. Relationships are utterly crucial. Traditionally, active networking has been key to compensate for a shortage of senior leadership positions for female professionals. In today's world, empathy, inclusivity and outreach are an ever more important component of leadership style and one that is starting to attract more attention and praise and therefore more value for companies.
---
Mariana Mastrogiovanni, AXA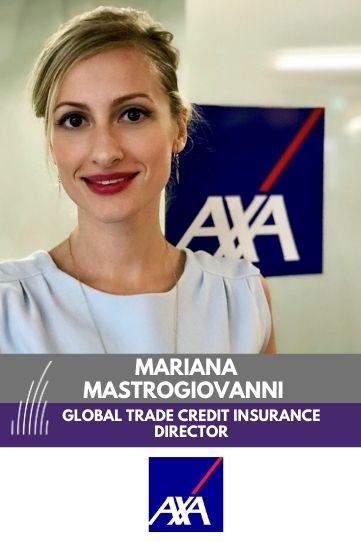 What specific tasks and responsibilities does your job require?
In my role as Global Trade Credit Insurance (TCI) Hub Director at AXA, the responsibilities and activities in driving the business vary widely – from strategic thinking, to target setting, to hiring talent, to reviewing detailed business, operating and IT plans. We have recently started to expand from our Swiss TCI business into other European AXA entities so we are on a growth journey with a fantastic and passionate team (of which +50 percent are women). I love driving the change from strategy to implementation, seeing the teams working with such strong motivation, and finally seeing how this is all coming together to help our trusted partners and clients find solutions – so that they can then focus on driving forward their businesses by letting us protect what matters the most.
On International Women's Day, what is the most important message you want to send out to young women thinking about their careers?
Find the key principles important for you that will guide your career choices. In my case, for example, the following have significantly driven my career path:
1) Have fun: Go into something you are passionate about, whether that's the sector or the job itself – I started with the job itself as I didn't initially think insurance was something to be passionate about…! Also don't be put off by what you hear about the environment, if you love what you do, you will be determined and relentless so you can overcome any obstacle and drive the change required!
2) Learn continuously: Don't try to tick all the boxes when applying for a job – it is a tendency women have but not many others! If I had followed that, I most definitely wouldn't be where I am today. The right attitude goes a long way, as anything else, with the right motivation, you can learn through courses, experience, and exchanges with experts. Be proactive and ask people you look up to, to be your mentors and sponsors. All of these opportunities will enrich your toolbox. And, remember, you learn much more from challenges than successes – the key is to leverage those learnings for your next challenge!
3) Be yourself: You sometimes encounter people who dismiss you because you are a woman and/or for your appearance/age/…and the list goes on – it is important not to get drawn into that. Keep your head up, remind yourself that you worked hard to be there, so rather than let it upset you, keep working hard, do a fantastic job, and let your results speak for you.
---
Carol Searle, Texel Group
What specific tasks and responsibilities does your job require?
I love the working culture at Texel. Everyone in the team has to take responsibility for progressing their own deals, projects, client relationships, market knowledge, new opportunities etc. and yet we are a team that collaborates instinctively too. My day to day involves providing technical input on deal specific insurance wordings, offering advice on issues that are in focus, like new regulation or what a particular policy requires in a real life scenario. As each transaction is different there is always something new to consider and we are constantly involved in trade around the globe. I am part of an ITFA insurance working group alongside others from banks, insurers, law firms, and other brokers, which looks at regulatory issues that impact banks and insurance as a wider market. It is an important forum in which to grow relationships and a deeper understanding of the regulatory
On International Women's Day, what is the most important message you want to send out to young women thinking about their careers?
Follow your interests. At each step in your career choose the path that interests you the most and see where it takes you. In my experience it won't be in a straight line and the place that you arrive at in 20 – or even 40 – years' time won't be the place that you might have foreseen. My advice to my own daughters and all young women embarking on a career has always been to not make assumptions about whether career choices and ambitions are compatible with other life aspirations. I think you will find, like so many working women, that work and the rest of life can be made to fit together. Don't be afraid to ask, in my experience an acceptable compromise to balance competing interests can usually be found if you are not afraid to ask. What I like most is the wide variety of work I am involved with alongside working with a wide range of experienced professional people both within and outside of Texel.
PODCAST: KYP (Know Your Policy) – Learnings from CPRI in a post-Covid world (S1 E40)
---