Listen to this podcast on Spotify, Apple Podcasts, Podbean, Podtail, ListenNotes, TuneIn, PodChaser
Season 1, Episode 40
Host: Deepesh Patel (DP), Editor, Trade Finance Global
Featuring:
Simon Bessant (SB), Director, The Texel Group
Carol Searle (CS), General Counsel, The Texel Group
It is estimated that some EUR600bn of support to real economy businesses is provided by the credit risk insurance market, according to a recent survey by ITFA.

Credit insurance is crucial in facilitating bank lending and in supporting trade flows. Trade credit insurance cover is largely used to provide capital relief – i.e., non-payment credit risk insurance, surety and risk participations.
COVID-19 has certainly changed the behaviour of underwriters, and we wanted to find out where the CPRI market might be headed in a post-pandemic world.
CPRI: The vital cog in trade finance
Deepesh Patel (DP): Ahead of TXF Commodities Virtual 2020, on May 25th 2020, we caught up with Private insurance and risk mitigation experts Simon and Carol from The Texel Group, speaking on policies, types of insurance product, and appetite in 2020.

Credit insurance is a vital cog in the world of global trade and finance. Given the current situation, can you highlight the importance of trade credit insurance and why it plays such an important role in the real economy?
Simon Bessant (SB): Thank you Deepesh. I think it's important to identify and split the market by product. Firstly, there are the trade credit insurers, who predominantly support the export or sales of goods and commodities on a short-term basis, normally offering their product on a 'whole turnover' or 'named buyer' basis. In this market, policyholders can cancel limits or reduce their levels of cover. On the other side of the market, sits the 'structured credit insurance' product or 'non-payment' insurance product, where the main users are banks and commodity traders who are using this for various regulatory capital optimisation or balance sheet protection. This product is non-cancellable and often serves longer tenors, with policy sizes often running to hundreds of millions.
Both of these market products are incredibly important for mobilising lending and economic development both in the good and the bad times.
In light of the COVID-19 pandemic, there has recently been a lot of press coverage around how we can bring back our economies into a 'V-shaped', or ' tick-shaped' bounceback, as opposed to a long and depressed form of recovery; credit insurance will form a vital part of that. The trade credit insurance market certainly needs support in order to help those short term economic indicators to be improved to allow retail supply chains to be put back in place. In addition, on the structured credit insurance market side, support is also needed in the international lending space so that international trade can continue. To summarise, both sides of the credit insurance market have a vital importance in their various economic drivers or economic incentives over the coming years, particularly when we're looking at an economic recovery post pandemic.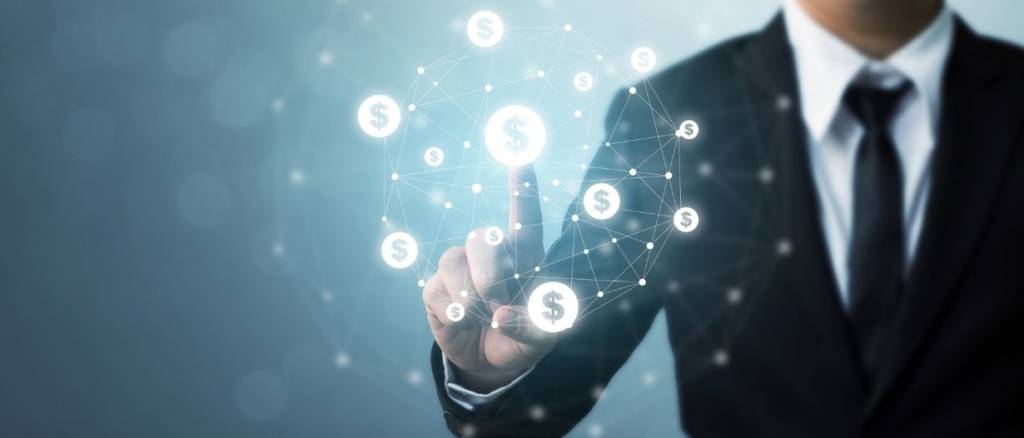 Top Tips for Credit Insurance Policies
DP: Carol, can you give our listeners some top tips and also tell us a little bit more about why policies are important and some of the duties and obligations here?
Carol Searle (CS): Here are my top tips in terms of key principles, duties and obligations, as well as dealing with potential problems or making claims.
We can look at this into two stages: firstly, the principles that apply if you're using an insurance policy, and secondly, what the key duties and obligations are. Then it's worth looking at what happens when there are problems and one makes a successful claim because ultimately, the starting point in all of this, is that a company buys an insurance product to protect itself against the risk of loss.
(1) Key principles that apply in using an insurance policy
It's vital for any company or bank buying an insurance policy to understand exactly what it has purchased, as well as what it has to do to make sure that if there is a loss, the company is able successfully to make a claim.
Many banks buy insurance policies for capital relief, so the policy may have a dual-use. The non-payment cover for banks is clear, it is comprehensive cover, meaning that if there is a non-payment for any reason, a loss should be covered, unless it is excluded in the policy.
Whilst we are working in extraordinary times with COVID-19, non-payment policies for banks are unlikely to have COVID/Pandemic exclusions and so availability of cover under these policies should be straightforward
It is crucially important that an insured party understands the scope of the cover under the policy as well as its terms and conditions – where cover is straightforward it is unlikely that there would be any dispute concerning scope of cover in event of loss, rather the risk of encountering issues in successfully presenting a claim are likely to arise out of a failing to comply with duties and obligations under the policies. So, understanding duties owed under English insurance law and the policy terms is vital.
(2) Key duties and obligations
There are two distinct spheres of considerations when we explain the duties and obligations under policies:
There is a duty under English insurance law to give a fair presentation of the risk, which applies before the contract begins, and includes a duty to disclose material facts about the risk itself. The scope of this duty and who / how it will be discharged may be dealt with expressly in the insurance contract.

The second area that companies need to be aware of is what exactly the contract says and to understand the key provisions of the contract, including how a breach of different types of provisions may prejudice the cover. To this, there needs to be an understanding of the remedies for the breach of different terms.
In terms of the key obligations that you would find, particularly in a bank non-payment comprehensive cover, that these are drafted carefully so that banks are able to comply. By way of example of key obligations: the underlying obligation must be legally enforceable; the insured must keep a minimum retention (market usually requires 10% minimum); and there will be specific terms which deal with material amendments to the underlying transaction. If there is going to be an amendment to the transaction that's been insured, there is often an obligation to consult and obtain the prior consent of insurers. So, these are the types of things that an insured need to have in mind when managing a policy.
PODCAST: Moving forward with Credit Insurance: Mitigating Risk in Trade Finance
(3) What happens if there is a potential problem?
If you have an insurance policy and there is a problem with the underlying risk, whatever it might be, an insured should always check their policy to see what it has to do, because the policy will normally provide for the circumstances which have to be notified. If there is anything that is likely to give rise to a loss, you have to let the insurers know. The policy will also have provisions which require an insured to act with due diligence or to take reasonable measures to avoid and minimise that loss, because an insured must take any precautions that they know it ought to take. This is ultimately designed to prevent an insured from acting recklessly.
(4) How do I make a credit insurance claim?
If there is an actual loss and an insured wants to make a claim, it's important to understand the process and the next steps. For starters, it's not often that a loss occurs and that a claim will immediately be submitted and/or paid. Most credit insurance policies will have a 'waiting period' or 'claims assessment period', which is typically 180 days. This is the period which passes from the date of the loss to the date that a claim is due to be paid under the policy. The time period allows time to see if any underlying issues of payment are going to be resolved. But In the event that they're not made, the claim will be presented in a form which may have been pre-agreed as an annex to the insurance policy.
Insurance brokers are there to assist the bank or the insured party, as well as explain what should be expected to be dealt with in that claim form and how it should be presented. During this waiting period, the insured still has an ongoing obligation to continue to mitigate loss and take whatever steps it needs to take to preserve any recovery rights. During this period, it's absolutely vital that the insured continues to consult with the insurers on the steps that are taken during this period.
In most cases, the insurers will appoint a loss adjuster. The loss adjuster is someone who will come to review the claim figures, make sure that the insured has complied with their duties and obligations, and also have a look at the recovery prospects and what's being done to recover the loss. In many cases, the loss adjuster will visit the insured to collect information and then will report back to the insurers and there may be a further period of question and answers. Ultimately, the insurers will decide on the claim using the facts that have been obtained from the loss adjuster. And then of course, following that process, a valid claim should be paid. The policy will contain terms which will make express provision for these matters. This is a process which insurance brokers have been through often with their clients, and they will always be there to provide guidance and assistance to the insured party.
Summary of key steps and points:
Date of loss and waiting period
Broker assists the insured with presenting the claim to insurers
Insured submits its claim, form may have been pre-agreed at the time the policy was negotiated
During the waiting period,

Insured has an on-going obligation to take steps to mitigate loss and to preserve any recovery rights that it may have
Continue to consult with insurers to agree any actions to be taken during this period
Insurer appoints a loss adjuster to review the claim, ensure compliance by the insured of duties and terms and assess the loss

Loss adjuster may visit the insured to collect information, and may also consider and report on recovery options
Product types within trade credit insurance – non-payment insurance versus political risk insurance
DP: What are the different product types in the market, and how does capacity for each differ?
SB: For simplicity, we would always split our market into the non-payment insurance product and the political risk insurance product (capacity wise).
Market capacity for non-payment and PRI
On the non-payment insurance side, you have somewhere betweenUSD2-3 billion of capacity available, depending on the underlying ownership of the private or public (government owned) counterparty.
On the political risk side, you're slightly above USD3 billion in potential capacity. Whenever we say these large numbers and talk to clients about these, I think it's probably almost an irrelevant figure – what we really want to understand is the capabilities of these pots of capacity available from the market.
It will be highly unusual for a bank or even a commodity trader, for example, to buy an insurance policy covering a single non-payment event with billions of USD of exposure; the reality is that the insurance policies themselves are much smaller than those figures, but it just shows the scale that's available from our market were it to be needed on any transaction.
Duration of tenor and a forward-looking outlook
If you look at the tenors, there has been a significant trend towards increased tenors over the past 3-5 years maybe as they have looked to broaden their exposures that they're able to take away from some of the emerging market commodity transactions into the structured credit space, where they're looking at project finance or reserve based lending transactions, potentially as they offer a slightly higher implied credit rating. But those types of deals often require a longer tenor. So, insurers have extended their capabilities here on a private counterparty credit risk.
Insurers have almost in their entirety, been able to offer up to seven years in tenor and then on a public counterparty, it's 10 years plus, and what we've seen in the more recent past is insurers looking to support longer tenors if they are sitting behind a Development Finance Institution (DFI), or a Multilateral Development Bank (MDB), which brings a form of preferred creditor status or halo effect in their member countries.
VIDEO: Development Finance – The Role of Export Credit Agencies, Trade Credit Insurers and Development Banks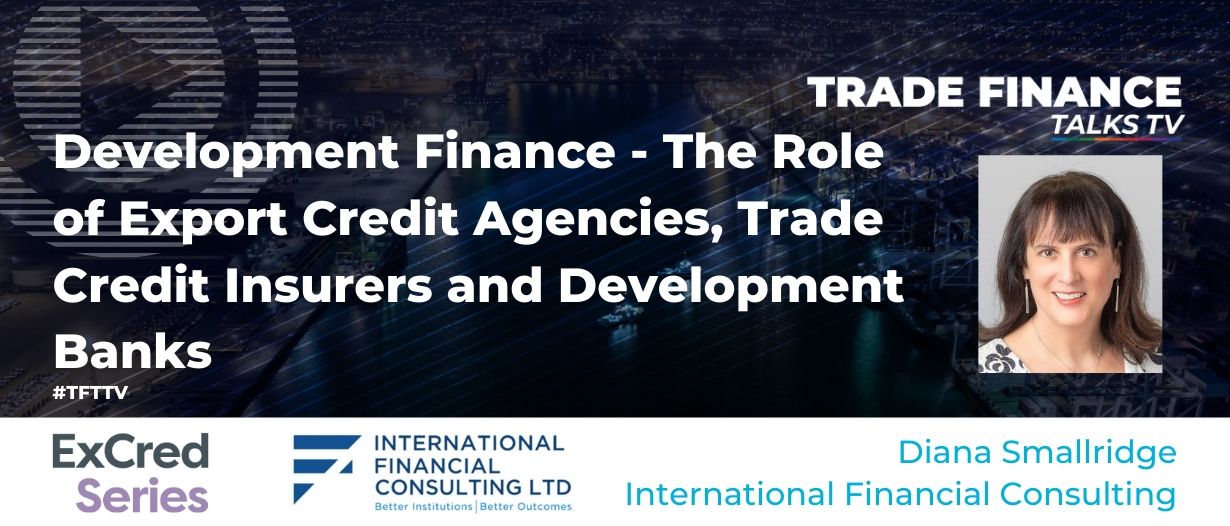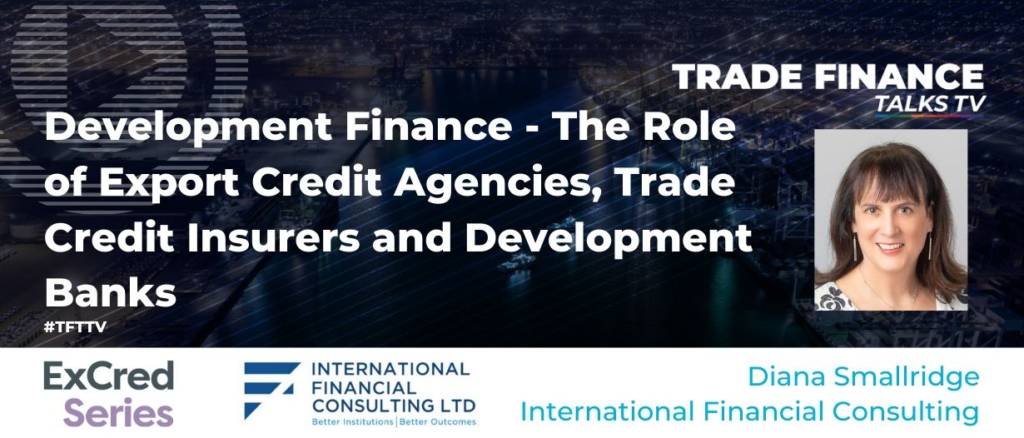 Historically, the non-trade market has been asked to cover the liquidity backstops (the revolving credit facilities), in which banks often provide or extend cover to their corporate clients or commodity trading houses. Though attractive from a ratings perspective, this is often to improve the portfolio that insurers have written and in today's market disruption it will be interesting to see in the coming months whether or not these transactions and deals that have been in their crossover rating space in the BBB- to BB+ rating space will be as well supported by insurers. I would expect to see quite a significant level of retrenchment from the insurers in offering support for those types of deals.
There's also been a number of new entrants in the market. We've seen the recent arrival of CONVEX, and then there's another new entrant coming in, backed by a German insurer in the coming weeks, and hence, it's good to see that our market will grow. It will just be interesting to see what types of deals they'll be willing to underwrite in the coming weeks and months, and how their portfolios will be shaped in these times.
COVID-19 and CPRI – Where to look next?
DP: We've seen significant changes in commodity markets over the coming months, a mixture of the recent events in Singapore, OPEC changes and a low-price environment from COVID-19. What's the impact of this on CPRI and the products insurers will favour throughout the course of this year?
SB: There has been a significant change in insurance risk appetites that's been driven by the COVID-19 pandemic – but that doesn't mean insurers are 'closed for businesses. I think there's been both a commodity price dive, certainly with respect to the oil market, and then at the same time a potentially severe economic downturn which may end up hitting companies and countries in the coming months and potentially years.
As such, many insurers have had to step back and take a view as to what they're willing to cover in the short to medium term. So yes, significant changes in the commodity market, which will impact the insurers willingness to support commodities transactions. But does that mean deals won't be done? No, I think you can still see transactions being presented and insurers offering non-binding indications for upstream oil and gas transactions. I think that within every industry there are, there are 'winners', i.e. there are companies and corporates that will come out of this in a manner where they will have maybe smaller balance sheets or smaller asset bases (from a reserve valuation perspective), but will come through this with the ability to pay back their debt and, and refinance and borrow again, and insurers want to try and support those deals and those obligors where they feel they will be the likely winners.
DP: Claims are undoubtedly likely to increase as a result of the economic impacts of COVID-19. What are three pieces of advice you would recommend to policyholders who either hold, or are about to take out a policy in the coming months?
CS: Here are my top tips!
Understand and comply with the terms and conditions of the policy and the duties owed under insurance law;
Consult and work with your insurance broker who has a deep understanding market practice and procedure; and
Work in partnership with and maintain good communications with insurers
DP: Thanks Simon and Carol for joining us on Trade Finance Talks!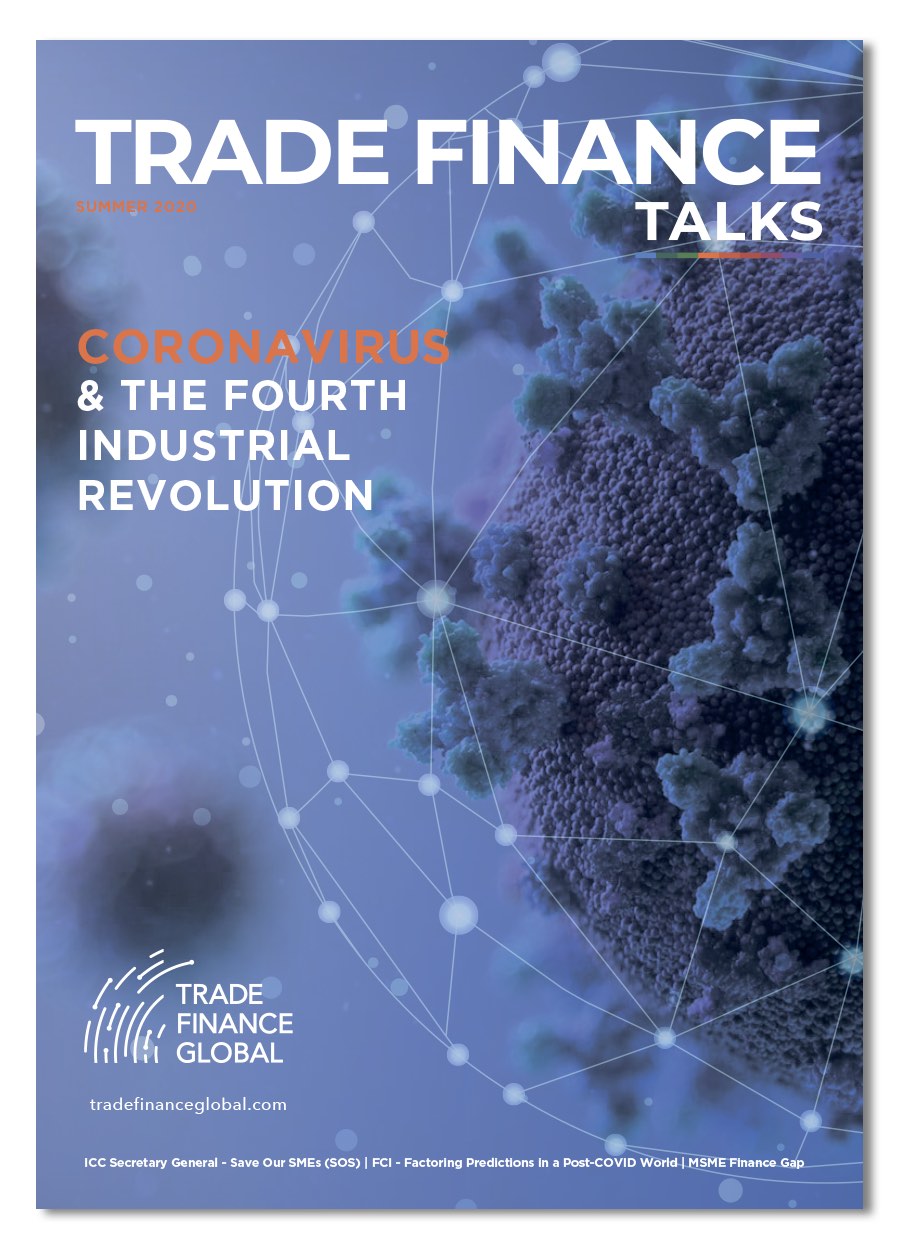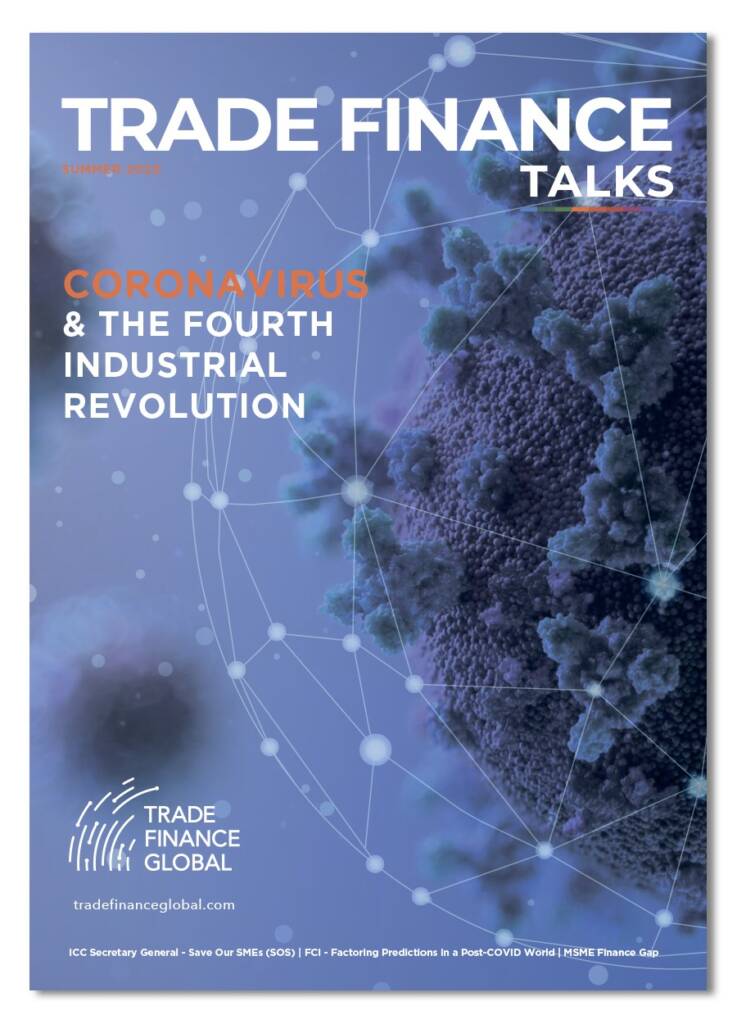 Now launched! Summer Edition 2020
Trade Finance Global's latest edition of Trade Finance Talks is now out!
This summer 2020 edition, entitled 'Coronavirus & The Fourth Industrial Revolution', is available for free online, covering the latest in trade, export credit insurance, receivables and supply chain, with special features on fintech and digitisation.