Women in Trade, Treasury & Payments
2:30pm – late, March 3, 2023
---
Ahead of International Women's Day on 8 March 2023, TFG hosted an exclusive roundtable and private dinner, as part of its launch of 100 Women in Trade, Treasury & Payments.
The exclusive roundtable discussions and dinner was held at the prestigious Lansdowne Club in Mayfair, London. It was a monumental moment for the industry, as it brought together an all-female guest list of key figures to discuss the pressing issue of gender equity in international trade, treasury, and payments.
The event provided a platform for women to come together and discuss the key challenges they face when obtaining senior positions and how they can work towards empowering one another during their careers.
The presence of high-profile figures such as Angela Ellard, Deputy Director General of the World Trade Organization, Lynette Thorstensen Chair of the Board at Fairtrade International, and Chair Lewis of US EXIM Bank, and other special guests and sponsors further underscores the importance of this event.
The distinguished panel of speakers and special guests from across the industry came together, to discuss how to #EmbraceEquity on a day-to-day basis in the workplace.
Sponsors and Partners
Agenda
2:00pm – Doors open
2:30pm – Keynote speeches (1)
3:00pm – Roundtable sessions
4:00pm – Networking coffee
4:30pm – Roundtable sessions
5:30pm – Keynote speeches (2)
6:00pm – Networking & Drink Reception
6:30pm – Keynote Speeches
Angela Ellard, Deputy Director General, World Trade Organization (WTO)
Lynette Thorstensen, Chair of the Board, Fairtrade International
7:00pm – Dinner
9:30pm – Carriages
Keynote speech
DDG Angela Ellard, World Trade Organisation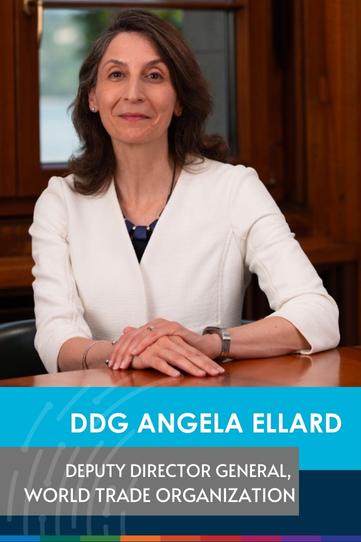 Ms Angela Paolini ELLARD (United States) has served as WTO Deputy Director-General since June 2021. Prior to her appointment, Ms Ellard had a distinguished career serving in the US Congress as Majority and Minority Chief Trade Counsel for over 26 years. She is internationally recognized as an expert on trade and international economic policy, resolving trade and investment barriers, negotiating trade agreements, and supporting multilateral solutions as part of an effective trade and development policy.
Ms Ellard has negotiated and delivered significant bipartisan trade policy outcomes and legislation with Members of U.S. Congress and senior Biden, Trump, Obama, Bush, and Clinton Administration officials. Ms Ellard was also a lawyer in the private sector, specializing in trade litigation and strategy, trade policy, and legislative issues. Ms Ellard obtained her Juris Doctor, cum laude, from Tulane University School of Law and her Master of Arts in Public Policy also from Tulane. She received her Bachelor of Arts from Newcomb College of Tulane University, summa cum laude. Ms Ellard is a frequent lecturer at law – graduate, and undergraduate classes. She has received numerous awards recognizing her accomplishments in trade law and policy.
Lynette Thorstensen, Fairtrade International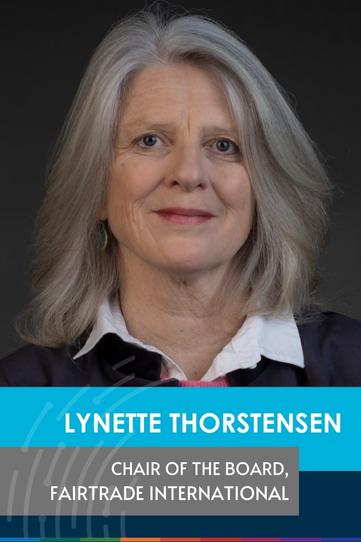 Lynette Thorstensen is a New Zealander living and working in France. She has devoted the whole of her career to social and environmental justice. Lynette has held senior executive positions in international sustainable development for more than 30 years. Her previous roles include as Chief Executive of Greenpeace Australia, as Executive Director, Social Development and Environment with the New South Wales Premiers' Department in Sydney, Australia, as Managing Director of Communications with the World Business Council for Sustainable Development -WBCSD in Geneva, Switzerland and as Consultant Director of Communications with the Global Green Growth Forum -3GF- housed within the Ministry of Foreign Affairs in Copenhagen, Denmark.
Lynette has also worked as a consultant advising on multi-sectoral, multi-disciplinary partnerships with the overall goal of moving forward the United Nations Sustainable Development Goals. She was the founding Chair of Australians for Native Title, a Board member of Greenpeace Australia Pacific, and a founding Board Director of the Sydney Community Foundation.
Speakers and participants
DDG Angela Ellard: World Trade Organization (WTO)
Catherine Lang-Anderson: Allen & Overy
Gwen Mwaba: Afreximbank
Helen Jones: Visa
Kimberley Botwright: World Economic Forum (WEF)
Lorna Pillow: London Forfaiting Company/International Trade and Forfaiting Association (LFC/ITFA)
Lynette Thorstensen: Fairtrade International
Mencia Bobo: Santander
Natalia Clements: Swiss Re
Nathalie Louat: International Finance Corporation (IFC)
Neha Noronha: Asian Development Bank
Raelene Martin: International Chamber of Commerce (ICC)
Chair Reta Jo Lewis: US EXIM
Roundtable topics
Key challenges women face when obtaining senior positions, and their role in trade and finance
Investing in women-owned enterprises
Internal stakeholders – how can men be more involved?
Initiatives that work to empower women during their careers
Celebrate women's achievement. Raise awareness about discrimination. Take action to drive gender parity. #EmbraceEquity
Gallery