Global Trade Review (GTR) is delighted to confirm that in line with current restrictions and concerns over the holding of physical events, GTR Commodities 2020 will be taking place virtually on September 15-16.
Where: Virtual Conference
When: 15th – 16th September, 2020
This exciting new initiative will combine a mixture of live-streamed and pre-recorded content and unrivalled networking via GTR's dedicated virtual event platform, providing a comprehensive overview of the global commodities sector – from oil and gas, to metals, mining and agribusiness – as well as key financing trends.
Please join us in transitioning to this exciting new model, offering participants to benefit from critical market insights and idea-sharing, along with plentiful opportunities to network and connect to the wider community at a time of great uncertainty.
Conference Highlights
15th September, 2020
Keynote: New priorities in a time of change
The commodities industry is living through unprecedented times, rocked by the 'triple whammy' of Covid-19, collapsing prices and high profile cases of fraud. This special keynote address will provide an introduction to the forthcoming proceedings, offering an update from the new leadership at The Swiss Trading & Shipping Association (STSA) whilst addressing the various political, economic and regulatory challenges faced by the commodity trading sector.
Florence Schurch, General Secretary, The Swiss Trading and Shipping Association (STSA)
Live stream: Building resilience at a time of disruption
Commodity practitioners have faced a hugely uncertain time as they have sought to adapt to a fast-changing landscape and prepare for business recovery, with challenges ranging from counterparty risk policies, access to liquidity and use of digital tools.
How important is it to ensure practitioners have solid counterparty risk policies and high standards in the credit process? Are compliance and monitoring costs likely to increase?
Is there enough liquidity to go round? How important is it to match activities to the right sources of financing? Is a strong balance sheet more critical now than ever?
To what extent has greater emphasis on digital increased focus on barriers to entry (tech infrastructure, cost, legal and regulatory)? Does this also support ESG targets?
After record-low prices, what are the longer-term forecasts for commodities when it comes to strength and speed of demand recovery?
Have we seen greater focus on quality of data and how has the industry performed in providing it? Are relationships more important now than ever?
What is the potential for additional trade conflict, particularly ahead of the upcoming US elections, and how is this likely to impact the sector?
Christine Mcwilliams, Global Head of Commodity & Energy Trade Finance, Citi
Travis Randolph, Partner, Commodity Trading Leader, PwC Switzerland
Keynote interview: Keeping business flowing
After draconian measures to stop the spread of Covid-19, economies across the globe have slowly come back online, but logistics chains have followed more slowly, with many backed up across all manner of geographies, compounded by issues around quarantines and concerns over seafarers following country lockdowns. This keynote interview session will seek to shine a light on the likely key future drivers across the shipping industry and its value chain, how it will shape the global business agenda and its importance in maintaining the flow of key commodities down the value chain, across industry, policy and thought leadership.
Guy Platten, Secretary General, International Chamber of Shipping (ICS)
Sector focus: Farms, forks and perfect storms
Soft commodities and the agribusiness sector have raised their profile in 2020, with concerns over food security, supply chains and the prospect of millions of tons of produce either needing to be thrown away or left rotting in warehouses. This session will seek to address some of the operational, logistical and financial concerns and challenges to have arisen in recent months, highlighting measures taken as concerns over production and export capacity have been raised. It will also seek to identify those trends that could most influence the direction of agribusiness in the coming years, for better and for worse.
Moderator: Sebastian di Paola, Partner & Leader, Corporate Treasury Solutions, PwC Switzerland
Natalia Haas, Managing Partner, Mercator Commodities
Soren Jensen, Full-Time Non-Executive Director
Live stream: Questions for the insurance market
The insurance industry has heavy exposure to and dependence on commodities, being very much being seen at the forefront of the huge challenges faced as the industry seeks to future-proof itself.
Are insurers likely to see a wave of claims over the coming weeks and months? How well placed is the sector to absorb these and honour its obligations?
How difficult is it to secure cover in the current climate if you don't already have it? What are the key tips and recommendations for those wishing to use the product?
Is more work required to make the process for placing deals easier and less time-consuming? How user-friendly is the experience and what measures have been taken to improve it?
What is the insurer view and experience of ongoing efforts to move away from fossil fuels and towards ESG-focused transactions? Has this been notable in terms of cover?
What tips and advice would the market offer to banks and traders to help demonstrate capability for managing exposure and minimising risk of underwriter losses?
Moderator: Robert Parson, Partner, Clyde & Co.
Nataliya Frolova, Independent Finance & Insurance Expert
George Bellord, Director, BPL Global
Lucy Drummond Brady, Vice-President, Head of London, Cofarco (UK)
Live stream: 'Making lemons from lemonade' – can tech finally drive the agenda?
The role that evolving technology can play in providing greater supply chain transparency and efficiency has only been accelerated by the current climate, with the equivalent of years of innovation and progress in just a few months as traders and banks look to speed up the processing and monitoring of transactions.
How significant has the leap into a wider virtual environment proved in highlighting the benefits of digitisation? Has increased focus on areas such as food security helped move things on?
What are the challenges in balancing trader appetite for greater efficiency against the need to avoid further disruption to an already turbulent market?
Is there sufficient vision and consensus on what digitisation could and should achieve? How problematic is lack of standards and how engaged are regulators in the process?
One size doesn't fit all: Does more work need to be done in ensuring interconnectivity of platforms in reaching a global solution across such a large and complex industry?
Managing expectations and extolling patience: Does the industry need to focus on bringing solutions to real-life problems? Is the pressure now on for tech to deliver?
The final part of this session will take the time to reflect on the various offerings from today's on-demand 'Demo Lab', posing questions for those companies that have presented and considering how these solutions can best serve the market.
Marc Pfefferli, Chief Financial Officer, MET Group
Marcel Hostettler, Partner, Heuking Kühn Lüer Wojtek
Aba Schubert, Co-Founder & CEO, Dorae
16th September, 2020
Case study: Driving efficiency through standardisation
With the pandemic having clearly shown the bottlenecks of paper-based documentation, new impetus has been placed on efforts to standardise the electronic bill of lading (eBl), improved take-up of which is estimated could save the global shipping industry as much as US$4bn a year. This special case study session will examine these efforts, highlighting benefits such as faster document transfers, shorter payment cycles and reduced risk of fraud, loss or human error, as well as some of the legal hurdles that need to be overcome. It will also consider the role of various technology vendors and the potential impact that creating standards for enabling interoperability may have.
Moderator: Eleanor Wragg, Senior Reporter, Global Trade Review (GTR)
Niels Nuyens, Program Director, Digital Container Shipping Association (DCSA)
Gadi Ruschin, Co-Founder & CEO, Wave
Sector focus: Is metals and mining making a comeback?
The metals and mining industry was among those hardest hit on the financial markets, but has since shown promising signs of recovery. This sector-specific case study will examine some key learnings gained, from adapting procurement processes, rethinking approaches to the supply chain to employing greater use of advanced analytics. It will also look at wider trends, including the impact of reduced productivity across key metals in the production of products such as electric vehicles.
Alexander Peters, Director of Finance & Administration, Arrow Metals
Photos & Gallery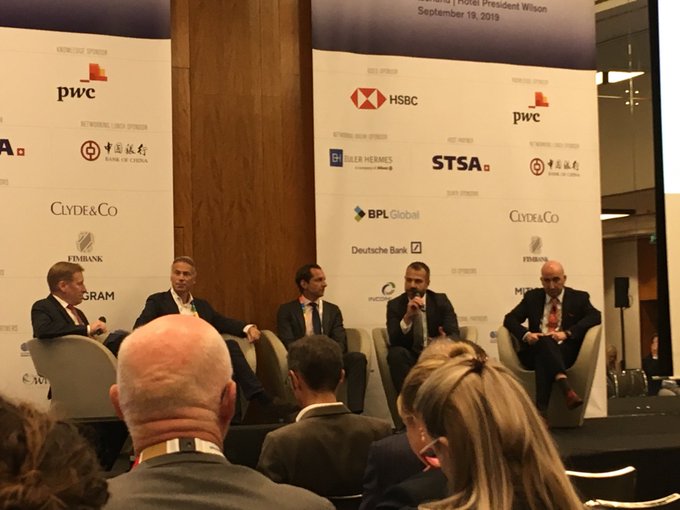 Related Content