LONDON, 7 July 2020. Trade Finance Global (TFG) and The London Institute of Banking & Finance (LIBF) today announce the 2020 winners for the International Trade Professionals Programme (ITPP).
The ITPP gave international trade professionals the chance to write for TFG's publications. The top 10 writers of the year's cohort will be enrolled onto a trade finance course, certified by LIBF.
In its first year running, participants worked closely with TFG's editorial team to plan, scope and produce a journalistic piece of content on a pre-agreed topic within international trade and finance. Top articles are scheduled to be published in TFG's flagship publication, 'Trade Finance Talks', launching next week.
The top 10 winners will also receive access to one of the six trade and transaction banking courses provided by LIBF, including all the study materials, the examination and certification.
Both the panel at TFG and LIBF faced an incredibly difficult challenge, choosing the 10 candidates who will have access to an LIBF course, given the high calibre of this cohort. The articles were independently assessed by a panel of judges from LIBF and TFG.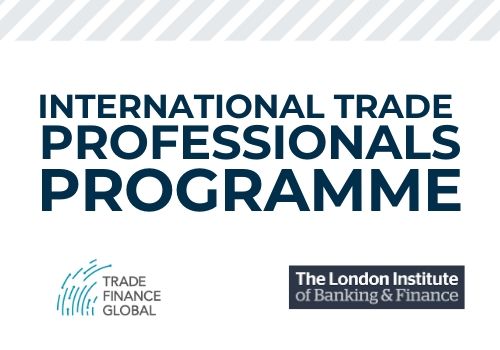 Winners
Elif Kuman
Aditya Dadheech
Akinbobola Olugbemi
Fragkoulis Kakaris
John Khaw
Matthew Lane
Lungi Mchunu
Mohamed Elnaggar
Mathieu Saadati
Poppie Simmonds
Continuation of the ITPP 2020 community
Given the success of ITPP 2020, TFG have decided to continue the forum for the ITPP 2020 cohort. TFG will continue to support the communities for ITPP and encourage continued conversation via the closed groups.
Trade Finance Talks – magazine
In addition, it was decided to include 5 of the articles in TFG's magazine, Trade Finance Talks; John Khaw, Mohamed Elnaggar, Mathieu Saadati, Poppie Simmonds, Edgar Rutaagi. These will be published in Trade Finance Talks next week.
"We would like to take this moment to thank you all once again for your incredible efforts as a global trade community, particularly during these difficult and uncertain times." said Deepesh Patel, Editor, TFG.
ITPP Alumni 2020
Alumni for ITPP 2020 are as follows:
Ahmed Alomery
Anirban Chatterjee
Mohua Banerjee
Tinashe Chiwanza
Aditya Dadheech
Tom Dean
John Dunlop
Mohamed Elnaggar
Jason Grever
Ramesh Gopal
Abhishek Gupta
Osama Ibrahem
Ramesh Iyengar
Biji Kurian John
Fragkoulis Kakaris
John Khaw
Elif Kuman
Zoltan Kormoczi
Matt Lane
Guillermo Lemmo
Tadzina Mannathoko
Lungi Mchunu
Christopher Moore
Harsh Narain
Samrat Nanyasi
Chidochashe Ncube
Oscar Ofumbi
Philip Oguntoye
Akinbobola Olugbemi
Mohammed Ragab
Juan Rodrigo
Edgar Azairwe Rutaagi
Mathieu Saadati
Neha Saxena
Poppie Simmonds
Harpreet Singh
ITPP Entries – 2020