Estimated reading time: 5 minutes
Over the last couple of years, we have seen an escalating development of digitalising trade. Fuelled by the obvious benefits, such as reduction of funding, courier, and administration costs, as well as the safety and speed of transferring trade documents digitally.
In a trade chain, there are on average between 6 and 10 parties end-to-end, i.e. Carrier to the Port authorities, corporates and banks in various geographical locations, with different tasks and procedures, which is one reason why it has been particularly challenging to adhere digitally to all demands.
Further, legislation has been a blocker to fully exploring the technical capabilities.
The digitalisation demand has lately also been fuelled by both increased fragmentation and localisation in global trade and supply chains due to geopolitical events, which considerably increases the complexity, costs and changes or diversion of traditional trade corridors.
Unit economics still rules
Today there are a handful of initiatives, platforms, and solutions in the market offering services with the aim to digitalise trade. There are also several projects initiated to standardise documents, data models and APIs. It is highly unlikely that one technical solution can, or will absorb the market demand.
It is also highly unlikely that corporates, logistic service providers and/or banks will sign up on all available solutions and platforms, as it's neither practically nor economically sustainable.
Collaboration and cooperation critical pre-requisites
Hence, collaboration and partnerships remain essential conditions for advancing the digital transformation of the trade industry. This is particularly relevant when addressing the fragmented document data flow between various parties and processes.
Sustainable business models
History has starkly demonstrated the need to operate in an open and collaborative or cooperative environment. It has also made it abundantly clear that such an environment necessitates sustainable collaborative or cooperative business models.
Several recent examples of ceased trade digitalisation initiatives have proven that a non-sustainable business model does not do the trick, and does not create the credibility and trust needed in such digital transformation.
Interoperability and sustainable business model
The two requirements for building and operating a reliable, resilient, and sustainable global digital trade system, are interoperability and sustainable business models. These two requirements are undeniably and strongly interdependent.
Interoperability is not only a practical convenience and an economic requirement but also a reliable and resilient requirement in a critical area such as global trade.
Stand-alone "closed garden" arrangements will have vulnerability due to weaker "back-bone" arrangements in the event of technical disruptions.
Clear industry demand
Operating certain trade flows, corridors, and commodities, or even digitising specific types of trade documents in a closed environment may be feasible now. However, this approach will never harness the full adoption, potential and greater value of global trade digitalisation.
The need for interoperability between various trade technology initiatives, platforms, and solutions will come with a cost—a cost that is substantially lower than the potential gains.
Therefore, the market should be prepared to absorb these costs in order to reap the numerous higher benefits and ensure the sustainability of a digital global trade network. It is both a benefit and a requirement that should be readily accepted.
Telecommunications ahead of trade
Trade is not the only industry gone through the business model devolvement in relation to a technical interoperability transformation.
A historically similar and comparable example of evolvement has been made in the telecom operator network sector. The telecom operators have developed a roaming business model structure to support the interoperability between networks with regional and international data and voice communications for the benefit of the users and the economic efficiency of societies.
For the telecom network, interoperability also gave "back-bone" arrangements, increasing reliability and resilience significantly.
Fact box 1: Roaming refers to the ability for a cellular customer to automatically make and receive voice calls, send and receive data, or access other services, including home data services, when travelling outside the geographical coverage area of the home network, by means of using a visited network. The seamless extension of coverage is enabled by a wholesale roaming agreement between a mobile user's home operator and the visited mobile operator network. The roaming agreement addresses the technical and commercial components required to enable the service.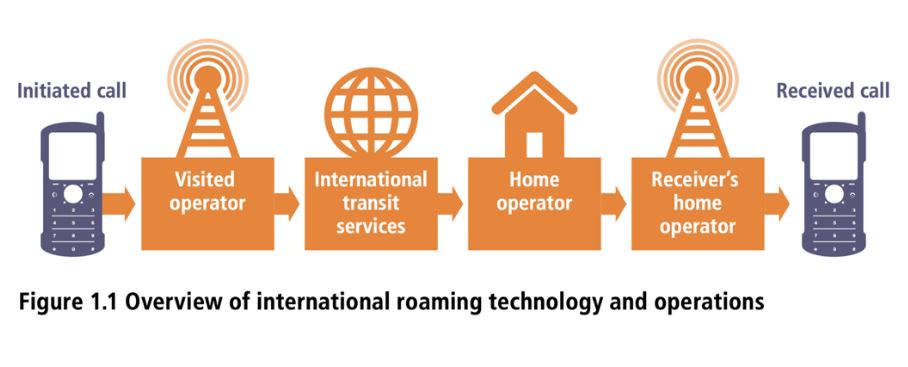 A generic transfer process that fits all
The path to achieving interoperability involves standardising the methods by which multiple technical solutions can exchange digital trade documents, as facilitated by the new Electronic Trade Documents Act. This refers specifically to level 4 interoperability, as detailed in fact box 2.
Therefore we are developing a production-ready generic process for a legally compliant switching of electronic original mediums between two or several different original medium solutions.
This approach will achieve broader and more rapid industry penetration compared to other isolated, closed initiatives, thereby enhancing the realisation of business benefits for users. It also provides a strong justification for a newly developed business model.
Factbox 2. – Interoperability levels in the context of electronic originals.
Level 1: Human to Human interoperability​
Replacing paper with an electronic original that can be possessed, electronically signed, freely transferable and shared over digital channels instead of using physical freight. This creates a more secure document, improves speed significantly and is an easy first step for electronic trade documents when the law comes into force.
Level 2: Common understanding of a standard defined data model and API (e.g. FIATA, DSCA, BIMCO etc.)​
Systems can communicate and share information of data within documents, but does not automatically cover singularity and possessability according to the new Electronic Trade Documents Act, paper may be needed still for certain use cases.
Level 3: Common system understanding and capability to use an underlying electronic original medium technology​.
Transfer of possession of an electronic original document in its singularity can be made between different parties using different systems, but the underlying original medium technology representing the digital asset remain the same.​
Level 4: Capability to transfer an electronic original between different original medium technologies
Transfer of a singular original from one original medium technology to another original medium technology. A comparison could be moving an original from one physical paper document to another physical paper document without risking double spend and two authoritative originals existing at the same time.