UK Export Finance (UKEF) is hosting the second annual UK Trade & Export Finance Forum to mark its centenary on 5 June. Join over 600 leaders in business and finance to celebrate 100 years of UKEF's innovative support for exports, as well as exploring the continued role of export credits.
The world of international trade is developing fast, with changing political, regulatory and technological landscapes. For 100 years, since UKEF was established in 1919 as the world's first export credit agency (ECA), ECAs have played a critical role making international trade happen.
QEII Broad Sanctuary, London
5th June, 2019
This event will explore trends in international trade, as well as the latest developments in the field of export credit agencies, and the UK Government's Export Strategy, which puts export finance at its heart, with a commitment ensuring no viable UK export fails for lack of finance or insurance.
The UK Trade & Export Finance Forum will bring together UK government ministers, representatives of UK and international companies, banks, industry bodies, policy-makers and other key experts and influencers. On the day, you will discuss the big issues of the day in a range of interactive sessions, including debates, case studies, and workshop-style Q&A sessions.
This event is relevant for UK exporters of all levels of experience as well as international companies considering ECA financing, trade and export finance providers and industry bodies.
Conference Highlights
An opportunity for delegates to understand the role of UKEF in the developing landscape of international trade
Networking opportunities for UK suppliers with key overseas stakeholders
An opportunity for delegates to network, opening up business opportunities
Companies can hear from thought leaders in export finance about overseas opportunities
Companies will learn more about UKEF's range of products and services, which help UK suppliers, win, fulfil and get paid for contracts
The main conference will be attended by approximately 600 attendees (400 of which will be UK companies and overseas buyers), specifically:
Managing directors, finance directors and decision makers, procurement, bid managers, and sales and business development managers from UK exporters of all sizes looking to benefit from UKEF's products and services
Existing and potential international clients of UKEF (large corporates, sovereign and public bodies) from priority markets including in Africa, Middle East, Asia and LATAM
Bank representatives
Insurance brokers
Financial/professional services professionals who are looking to find out more about UK Export Finance
Photos & Gallery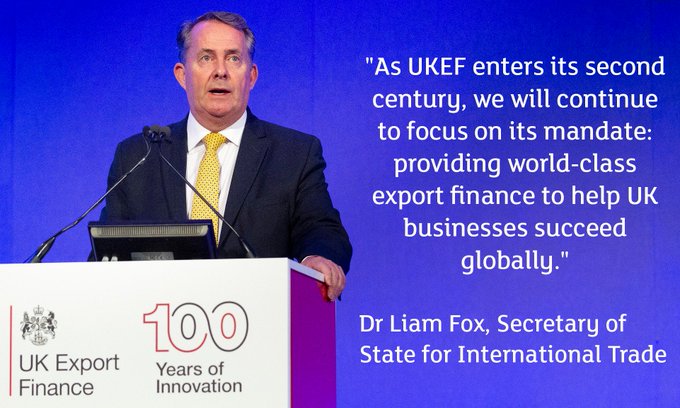 Related Content
VIDEO: Development Finance – The Role of Export Credit Agencies, Trade Credit Insurers and Development Banks View →
VIDEO: Bpifrance – French export market overview, an exclusive interview with the French ECA View →
VIDEO: 2019 Review with SMBC – Political & Trade Credit Insurance View →
VIDEO: US Exim Bank's Chief Banking Officer – Reducing Risk and Unleashing Opportunity in 2020 View →