BAFT's Global Annual Meeting – Europe is the premiere bank to bank forum in the region, gathering senior transaction bankers, providers and other financial services professionals from 100+ organizations worldwide.
The Early Bird Rate is available until December 2, 2019, and the Discounted Room Rate is available until December 15, 2019.
Frankfurt, Germany
13th – 15th January, 2020
With approximately 250 individuals in attendance, the 2020 conference will take a look at trends that will shape the industry in the new decade. The program will open with featured sessions from both the EBRD and the European Central Bank.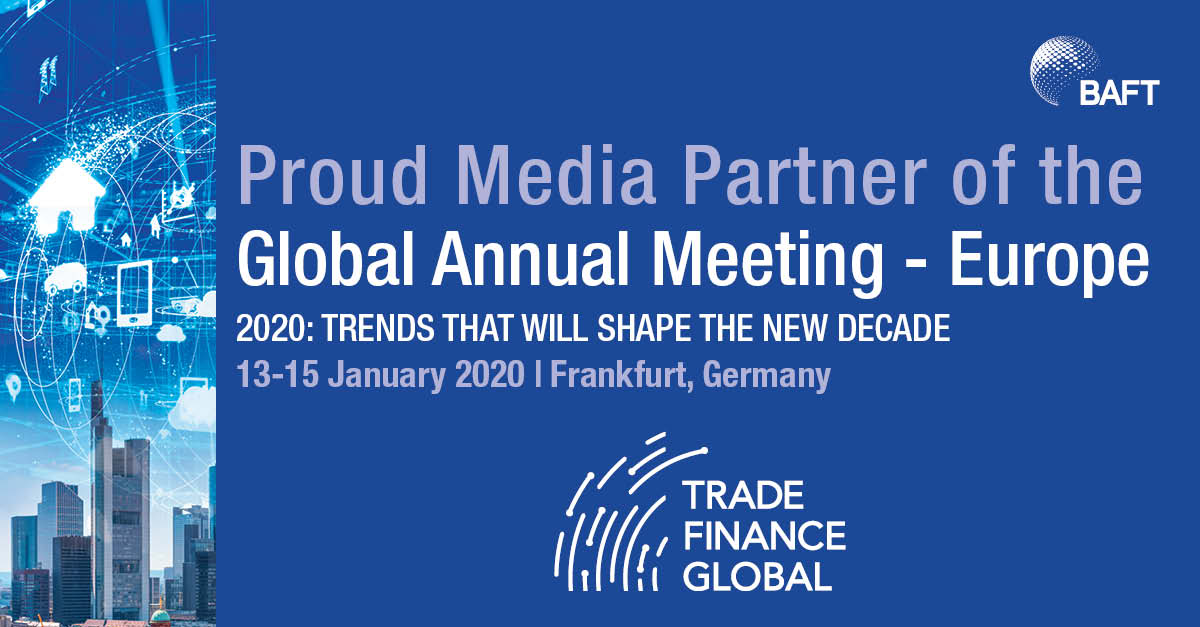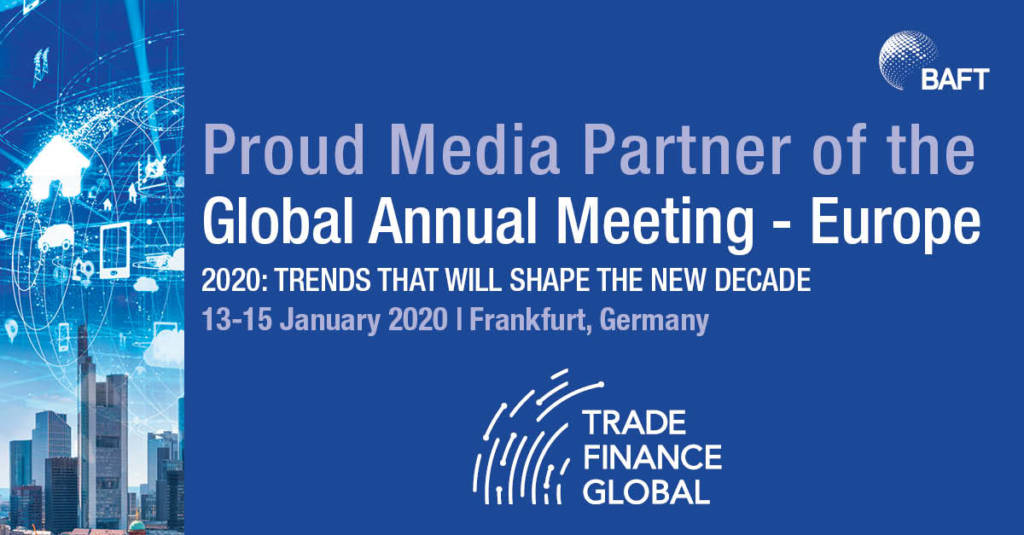 Conference Highlights
This forum has been approved for 5 Continuing Professional Development (CPD) learning hours. Please visit BAFT's education homepage to learn more about CDCS®, CertPAY, CTFC, CSCF, CITF and CSDG certifications.
Additional conference highlights include sessions with transaction banking leaders including representatives from Barclays, BBVA, BMO, BNP Paribas, Deutsche Bank, Intesa Sanpaolo, Lloyds, MUFG, Santander, Société Générale, Standard Chartered, UBS, UniCredit, amongst numerous others.
Cross-border Payments in a New Decade: Who Needs Banks?
Banks, relying on their SWIFT network and the solid correspondent banking technique, have successfully protected their business on corporates. For consumers and low value payments, that is definitely another story. Is it really a battle banks have lost forever? Or is it a growing segment where new and incumbent players can complement themselves rather than compete?
Trade Finance in a New Decade: Who Needs Banks?
In times of global political tensions and a significant number of local conflicts, trade finance products are very important for corporate customers. But having the speed and pressure of digitization in mind, how does the future of trade finance look ? What will be key markets and do we need banks at all to support corporate customers? What are major market participants expecting and how will the trade finance area develop in the new decade? Get insights from different stakeholders on this topic and especially hear the view of a globally leading corporate.
Lessons From China
China is a significant source of disruptive innovation. We will present key elements which allowed China to become an accelerator lab in cash payments based on practical examples. We will then debate with two leading banks about their experience leveraging on China's disruptive innovation opportunities and conclude on conditions necessary for banks to innovate at a faster pace.
The Bad News is Time Flies. The Good News is You're the Pilot.
Today's professional pilots are decision-makers, responsible for all the passengers in a highly technical environment. They are managers in an unusual as well as fascinating workplace. We'll hear firsthand from a Senior First Officer about her career path and how she manages technology, complexity and risk. How similar (or different) is this from a life of a banker?
The Convergence of Cards and Instant Payments
Instant Payment schemes are being implemented across all of our key markets. With the introduction of Open Banking and PSD2, the opportunity for Third Party Payment providers to introduce new settlement propositions, bringing together Immediate Payments with Cards, is growing rapidly. Hear from a panel of experts on the drivers of this convergence, how they are reacting and how convergence is likely to evolve over the next decade.
Photos & Gallery