Agriculture is going through a huge change, the AgTech revolution. Whether it's increasing productivity and yield, looking into GMOs, or using satellite imagery, there are so many ways that technology is disrupting the production of some of the world's most important commodities in the grains and oilseed sector. TFG looked at 3 ways technology is disrupting and transforming agriculture.
Precision farming – how are we using technology to manage variability in cereals?
Clive Blacker, CEO of Precision Decisions, a UK based company helps manage variability for farmers to increase inputs in cereals. His company, Precision Decisions provides technology to farmers to help manage variability by utilising data from soil samples, satellite imagery to help provide information and make decisions on fertilisers and farming methods.
Food production continues to grow each year, yet there is a reliance on new technologies to help farmers produce crops more effectively to combat the slowdown in food production. Traditionally, mechanisation of farming has helped farmers 'do more with less'; that is, working with robotics, equipment and machinery to increase yield per hectare on farm and reduce labour. Blacker mentioned that this technology helped reduce costs, yet it's ability to now improve productivity has plateaued.
Precision Decisions aims to both correct, as opposed to optimise variability for farmers. Data informed decisions can help farmers benchmark and understand inputs through systems to help manage costs, understand capabilities and then delivering profit based outcomes for farmers.
One example of technology used by Precision Decisions is for nitrogen usage in farming. Overuse of nitrogen can lead to early death in plants. Nitrogen testing was deployment was used to optimise the amount of nitrogen was required by a plant and deploy it effectively, given that it's an expensive commodity. The savings per hectare were around 10%, and cost savings 7% as a result of using nitrogen effectively based on data.
Remote sensing is another application of precision farming. One remote sensing tool is a physical tractor which can read around a 3m radius of nitrogen output of plants. Given the cloudy / rainy weather in the UK, satellite imagery is sub optimal to improve nitrogen deployment onto plants, so techniques such as remote sensing are important to UK farmers.
Data and the amount of data that can be presented to farmers is higher than ever before. The reduction in cost of robotics and technology has helped farmers benefit from big data. What was once a 30m x 30m per pixel image to now 5cm x 5cm pixel image has meant farmers can be more precise about applications. However, given the size of machines, nozzles etc., there are still inherent challenges around delivering the productivity that was initially sought after.
Field robotics is a form of small robotic solution to help increase yield. The idea of a smaller robot which acts on a smaller surface area of crop can be used to target the deployment of fertilisers more effectively.
The Hands Free Hectare project was the idea of using automated machines to grow the first arable crop remotely, without operators in the driving seats or agronomists on the ground. As the worlds first automated field growing cycle, the project, in collaboration with Harper Adam's University has helped in terms of automation and crops:
Using new technologies to control post-harvest grain losses: Grain production and remote sensing
Insects have a detrimental effects of storage. Grain weight is reduced by insects feeding on it, and this problem is universal amongst most grain types. Infested grain has reduced quality due to it being heated from insects, as well as reduced quantity. As a result, grain can have reduced germination as a result of feeding on the germ, as well as the development of unwanted fungi on the grain. Fungi growing on grain can cause the formation of toxins such as ochratoxins, some carcinogenic. Fungi can also cause the heating of grain, increasing the risk of spontaneous heating and fires.
Farmers typically use aeration to control temperature, hermetic storage, fumigation or contact pesticides to help mitigate these risks.
Insects living inside a grain bulk can also cause problems which go undetected, as a result of internal convection currents and fungal growth inside a grain bulk, which might not be spotted from the outside of a container of a grain. Soybean and cottonseed heating as a result of insect damage can cause a charcoal like texture on the grain which is inedible and non sellable.
Grain chilling units and aeration units can help reduce the above issues for corn and soybean commodities.
One final method of getting rid of insects is through fumigation. Generating fumigant and distributing it across grain, and then aerating to get rid of the fumigant before consumption can be a costly process, and it's always necessary to sense and assess the effectiveness of this treatment which will result on the monetary savings (rather than writing off the cost of the grain).
New technology (e.g. Centaur's sensors) can help monitor fumigant concentration before fumigation (to assess whether it's necessary to apply fumigant) and during fumigation to ensure the correct amount of fumigant is applied to a grain bulk.
The demand for the bulk storage of grains has caused an increasing economic development of technologies and applications to help grain storage. Monitoring fumigant concentrations to ensure successful application of fumigants and reducing spoilage remains an essential in the world of dry bulk storage.
Supporting decisions in agricultural markets and food security through the use of earth observations
Why are earth observations important for agriculture?
There are a large number of earth satellites that provide indicators and systematic observations for world in real time. Space agencies commit to providing free global coverage from new satellite missions to help revolutions the use for agriculture and enabling crop type area indicators at national scale and crop specific monitoring at a parcel (10m x 10m) scale. Dr Inbal Becker-Reshef from NASA spoke about the use of earth observation systems to combat big agricultural challenges.
As a result of the 2011 G20 Heads of States summit, GEOGLAM was endorsed:
We commit to improve market information and transparency in order to make international markets for agricultural commodities more effective. To that end, we launched:
The "Agricultural Market Information System" (AMIS) in Rome on September 15, 2011, to improve information on markets
Given the diversity of landscapes, the challenge to deliver robust methods to monitor landscapes are difficult. To help reduce uncertainty earlier on in growing seasons can help farmers when it comes to approaching harvest and before it's too late.
USDA-NASS use satellite data for county scale maize yield, although many global and national systems have little coordination between data sets.
GEOGLAM was formed in order to help stabilise markets and enhance food security by providing timely, relevant and accurate information on crop production. This was the birth of Market Monitor (cropmonitor.org)
As a result of this, crop conditions are now regularly reported from a combination of 40 national and global data monitoring organisations. (AMIS Market Monitor)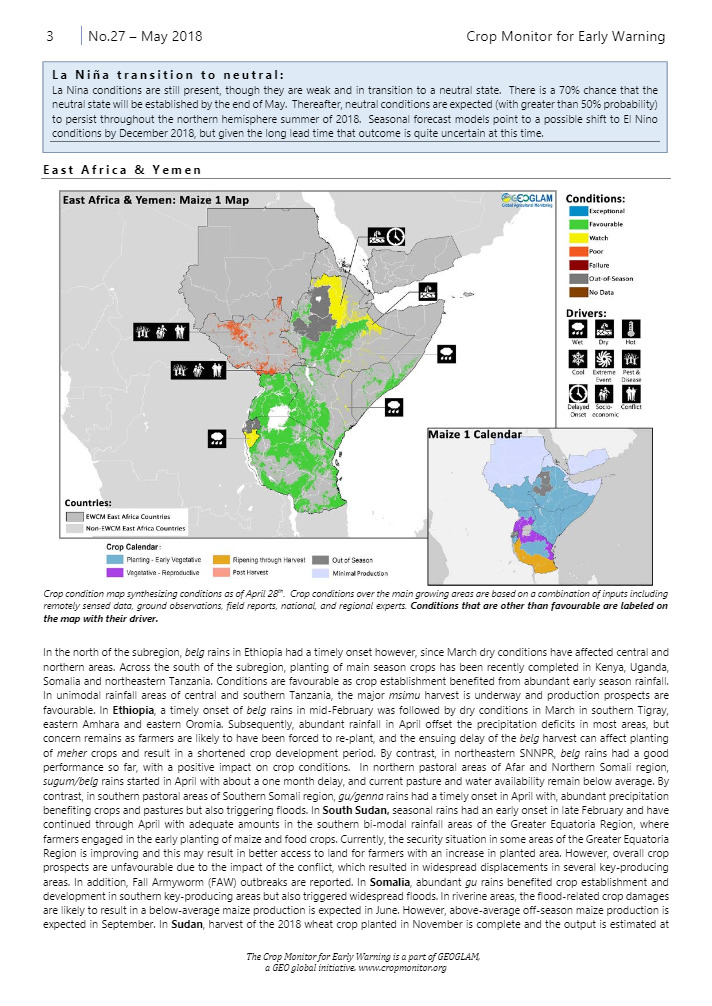 Examples of this include the monitoring of the drought in Argentina – a showed extreme weather, alerts and analysis on the early impact of extreme weather for soy in Argentina. As a result, AMIS produced the Evaporative Stress Index.
For agricultural remote sensing, it's an exciting time for more reliable, timely and production information to help decision makers make informed decisions, as well as provide a complimentary source of information for producers around the world. Remote sensing has a significant potential to reduce uncertainty earlier on in the growing season, which adds tremendous value for market actors and reducing volatility.