Paris, London, Geneva. International Chamber of Commerce (ICC), Trade Finance Global (TFG) and the World Trade Organization (WTO) are partnering at the 2021 Global Trade & Blockchain Forum, themed "Accelerating Trade Digitalization through DLT".
The year 2020 has been unlike any other. The COVID-19 pandemic has shaken the world, causing massive supply chain disruptions and threatening the lives of millions of people around the world, with a particularly devastating impact on small businesses. Major cases of fraud in the commodities sector have highlighted the vulnerability of opaque and paper-based supply chains.
How can we strengthen trade resilience? Can DLT help address the risks and inefficiencies in global supply chains? How can we accelerate trade digitalization to build back better? The event will review latest DLT developments in trade and trade finance and discuss how blockchain is being used to enhance transparency and efficiency of supply chains and trade transactions. It will explore the importance of digital identities to facilitate trade. Finally, it will provide an opportunity to discuss how trade digitalization can be accelerated to the benefit of all and the role that governments and international organizations can play to support the development of a regulatory and policy framework conducive to the deployment of this technology while mitigating the risks that may arise.
ICC, TFG and WTO will also be launching their latest research publication: Accelerating trade digitalization to support MSME financing
Where: Online
When: 30th March, 2021
Schedule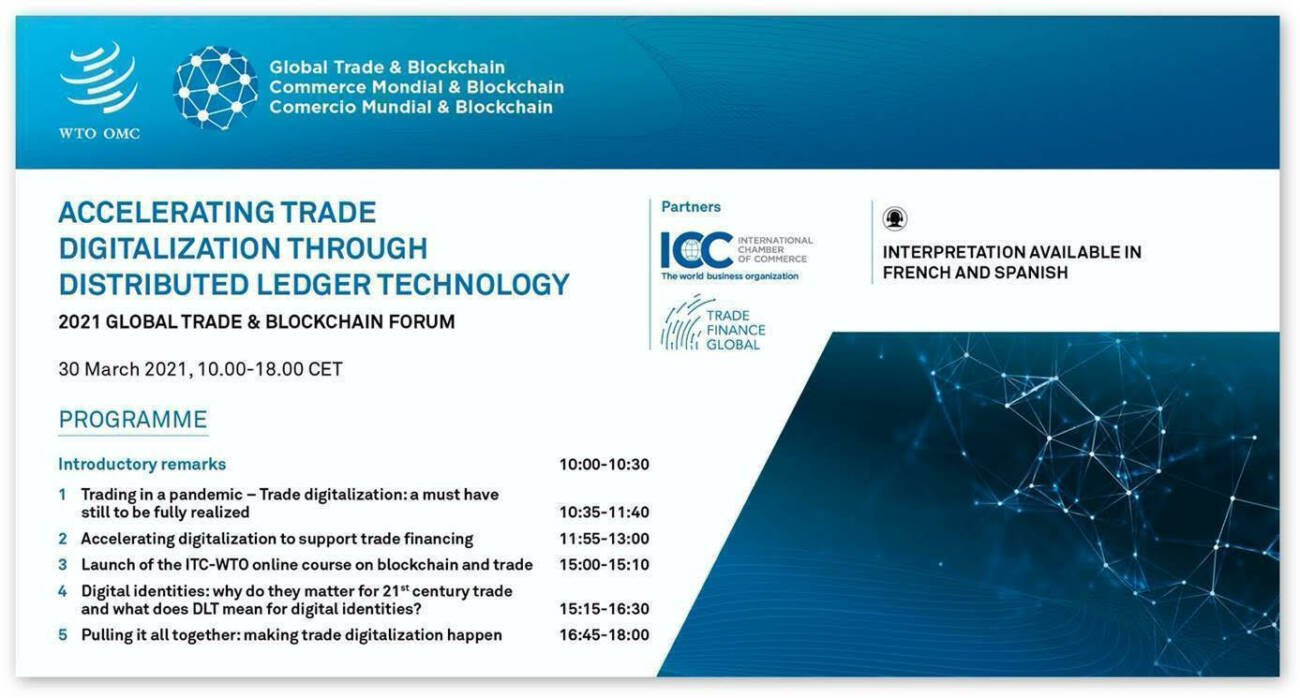 Programme
10H00-10H30
Introductory remarks
Xiaozhun Yi, Deputy Director-General, WTO
Keynotes
Lew Chuen Hong, CEO of Infocomm Media Development Authority (IMDA), Singapore
John W.H Denton AO, Secretary General, International Chamber of Commerce
Master of ceremony:
Emmanuelle Ganne, Senior Analyst, WTO
10H35-11H40
1. Trading in a pandemic Trade digitalization: a must have still to be fully realized
Speakers:
Netta Korin, Founder of Hexa Foundation, Co-Founder of Orbs
Deepesh Patel, Editorial Director, Trade Finance Global
Aba Schubert, CEO, Dorae
Atul Patel, Co-founder of dltledgers
James Zhou, Chief Commercial Officer, Louis Dreyfus Company
Moderator:
Michelle Chivunga, CEO/Founder Global Policy House, Advisor African Union -Trade and Digital Transformation Taskforce & B20 Digital Transformation Taskforce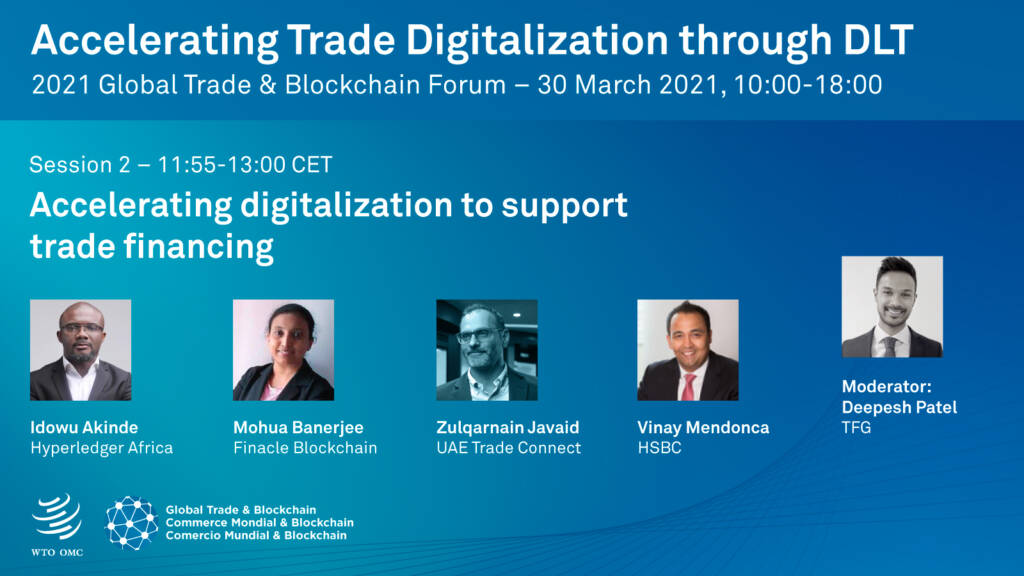 11H55-13H00
2. Accelerating digitalization to support trade financing
Speakers:
Idowu Akinde, Founder of Boolean Labs, Hyperledger Lead/Africa Chapter
Mohua Banerjee, Senior Director, EdgeVerge, Head of Business for Finacle Blockchain
Zulqarnain Javaid, CEO, UAE Trade Connect
Vinay Mendonca, Managing Director, Global Head Product, Propositions & Structuring Trade and Receivables Finance, HSBC
Moderator:
Deepesh Patel, Editorial Director, Trade Finance Global
13H00-15H00
Lunch break
15H00-15H10P
3. Launch of the ITC-WTO online course on blockchain and trade
Speaker:
Craig Atkinson, Founder and Director, Lexmerca International Trade
15H15-16H30
4. Digital identities: why do they matter for 21st century trade and what does DLT mean for digital identities?
Speakers:
Chris Ballinger, CEO and Co-founder of the Mobility Open Blockchain Initiative (MOBI)
Nadia Hewett, Data Policy and Blockchain Project Lead, World Economic Forum
Henrik Hvid Jensen, Head of Circular Economy Internet initiative
Moderator:
Oswald Kuyler, Managing Director, ICC Digital Standards Initiative
16H45-18H00
5. Pulling it all together: making trade digitalization happen
Speakers:
Luca Castellani, Legal officer in the Secretariat of the United Nations Commission on International Trade Law (UNCITRAL)
Sarah Green, Law Commissioner for commercial and common law, UK Law Commission
Oswald Kuyler, Managing Director, ICC Digital Standards Initiative
Parm S. Sangha, Global Blockchain Leader, Trade and Trade Finance, IBM
Michael Vrontamitis, Co-chair of the ICC working group on the digitisation of trade
Moderator:
Emmanuelle Ganne, Senior Analyst, WTO
Watch live