In 2010 South Africa was added to the BRIC group marking it as one of the worlds key emerging economies. However, the country's recent political crisis and its persistent economic problems are leading many to question whether it still has potential as an emerging market.
Since its induction into the BRIC group, South Africa's GDP annual growth has fallen from 3% to 0.5%, its unemployment rate currently sits at 26.6%, and it has a GINI Index score that places it as one of the most unequal societies in the world with large wealth and quality of life discrepancies. Such statistics paint a clear picture of a country that is in a poor economic position.
The country's economic problems are further compounded by the political crisis that largely centres around the accusations of corruption that have repeatedly been made against the country's president, Jacob Zuma. This article will look at recent events and the way in which foreign investors are reacting to them.
Cleaning Out the Cabinet
One event that clearly shook foreign investor confidence was the overnight sacking of a number of ministers, most notably the respected finance minister Pravin Gordhan. Gordhan was seen as "a bulwark against corruption in an administration that is facing growing criticism" (BBC). Him being replaced by Malusi Gigaba, who is described as a "Zuma loyalist with no business or financial experience" (The Guardian), is a clear indication to many that this was a politically motivated move by Zuma in order to reduce opposition towards him.
A recent study by eight of the country's leading academic's has concluded that Gigaba's appointment will allow Zuma and his allies to raid state assets. The authors describe this move as part of a series of events which amount to a "silent coup". They note that Gigaba has no prior business or financial experience and in his previous role as the public enterprises minister he played a part in appointing Zuma's friends and allies to key positions on the boards of state owned utility and transport companies.
This overnight cabinet purge and the appointment of Gigaba by Zuma occurred at the end of March this year, precisely the time the South African Rand fell significantly, as shown in figure 1. This suggests a clear link between the two events. Furthermore, the ratings agencies Standard & Poor and Fitch downgraded the country's credit rating to junk in response to the sacking of Gordhan, citing "heightened political and institutional uncertainties". It is clear that this political turmoil is having a large negative impact on the health of the nation's economy.
Whilst this fall in the Rand is bad news for South African businesses that have imported inputs, there are sectors which could benefit from this drop, most notably the tourism and mining sector. However, such benefits would only be felt, especially with the tourism industry, if the drop was sustained for a longer period than is seen in figure 1. The volatile nature of the currency is therefore problematic for any business that either operates internationally or relies on international markets.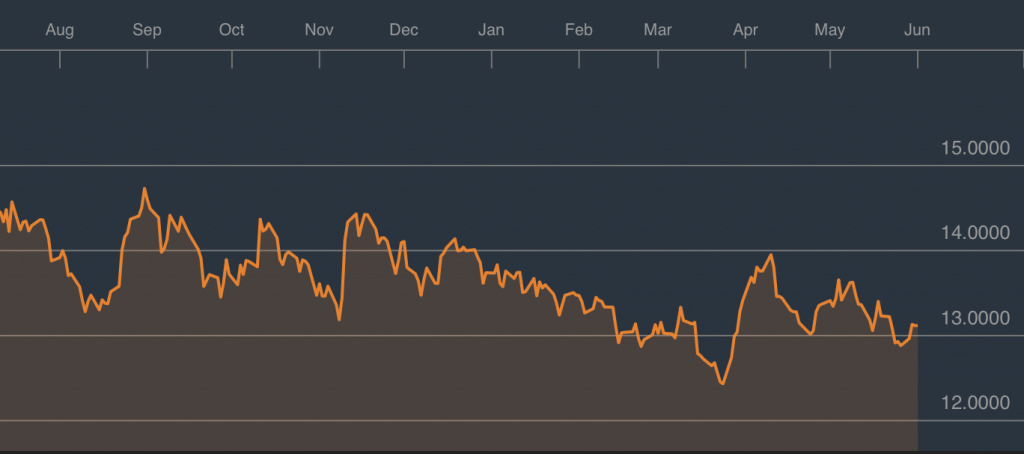 Figure 1: USD to ZAR (Source: https://www.bloomberg.com/quote/USDZAR:CUR)
The Legacy of Apartheid
Another event that has troubled both inhabitants of the country and outside observers was a call to parliament made by Zuma earlier this year. A key part of South African history is the Apartheid. Whilst it ended in 1991, the consequences of such a policy are still being felt today and Zuma has faced recent criticism for exploiting the lingering racial tensions as a means of clinging to power. In March this year he called on parliament to change South Africa's constitution to allow the breaking up of white owned businesses and land without compensation.
This threat of expropriation dramatically increases the risk of doing business in this economy and has faced criticism from a variety of groups. Zuma made this statement at the beginning of March and again it can be seen that the Rand responded, dropping significantly in the days following.
Despite South Africa's troubled month of March, the Rand has recovered and is up roughly 3% this year. This optimism, however, could be short lived as there may be another political challenge facing the country before the year is out.
What Happens After Zuma?
Jacob Zuma has already served two terms and is therefore constitutionally barred from a third. Whilst he still has two years left in his final term, the search for his replacement has already started and the ANCs candidate for the 2019 elections is likely to be decided by the end of this year.
Daryl Glaser, Professor of Politics at the University of Johannesburg, states that "Zuma's own fate beyond 2017 hinges on who gets elected as ANC leader". This is due to the fact that it is likely he will be reliant on his successor to shield him from graft charges that were dropped shortly before his election in 2009. Graft charges concern a form of corruption in which a politician uses their authority unscrupulously for their own personal gain, and Zuma has had a number of these placed against him.
The two current front-runners in this election campaign are Deputy President Cyril Ramaphosa, and former chairwoman of the African Union Comission Nkosazana Dlamini-Zuma, who is also the President's ex-wife. Despite getting divorced from the President in 1998, Dlamini-Zuma is still on close terms with him and therefore many fear that if she was elected she would be nothing more than a proxy for Jacob Zuma. Furthermore, she has also strongly endorsed the President's calls for expropriation mentioned above.
Therefore, whilst Zuma's time as president draws to a close, it is possible that he will still have considerable influence and power after he steps down if his ex-wife gets elected. The political volatility that Zuma has been been responsible for, and the negative impact this has had on the countries economy, is therefore unlikely to subside after his departure.
Sources
https://www.bbc.co.uk/news/world-africa-39451040
https://www.theguardian.com/world/2017/mar/31/south-africa-anc-jacob-zuma-cyril-ramaphosa
https://www.bloomberg.com/news/articles/2017-05-24/the-race-to-succeed-south-africa-s-zuma-is-on