LONDON, July 15, 2020. Trade Finance Global has released its latest issue of Trade Finance Talks entitled 'Coronavirus & The Fourth Industrial Revolution'.
Foreword: Ziyang Fan – World Economic Forum
The world is in crisis. Over 12 million people worldwide are confirmed to have the Coronavirus at the time of this writing, and more than half million have died. The global economy is facing its biggest challenges in decades. Global trade has been hit hard: the WTO estimates a drop of 18.5% of merchandise trade in the second quarter of 2020, and predicts a fall of as much as 32% in 2020.
There is one silver lining amid this crisis– the digital technologies in the Fourth Industrial Revolution have emerged to be the heroes to help fight and treat Coronavirus, keep our societies functioning, and speed up economic and trade recovery. At the same time, how to close the digital divide and deploy these technologies in a human-centred approach are just as important and challenging.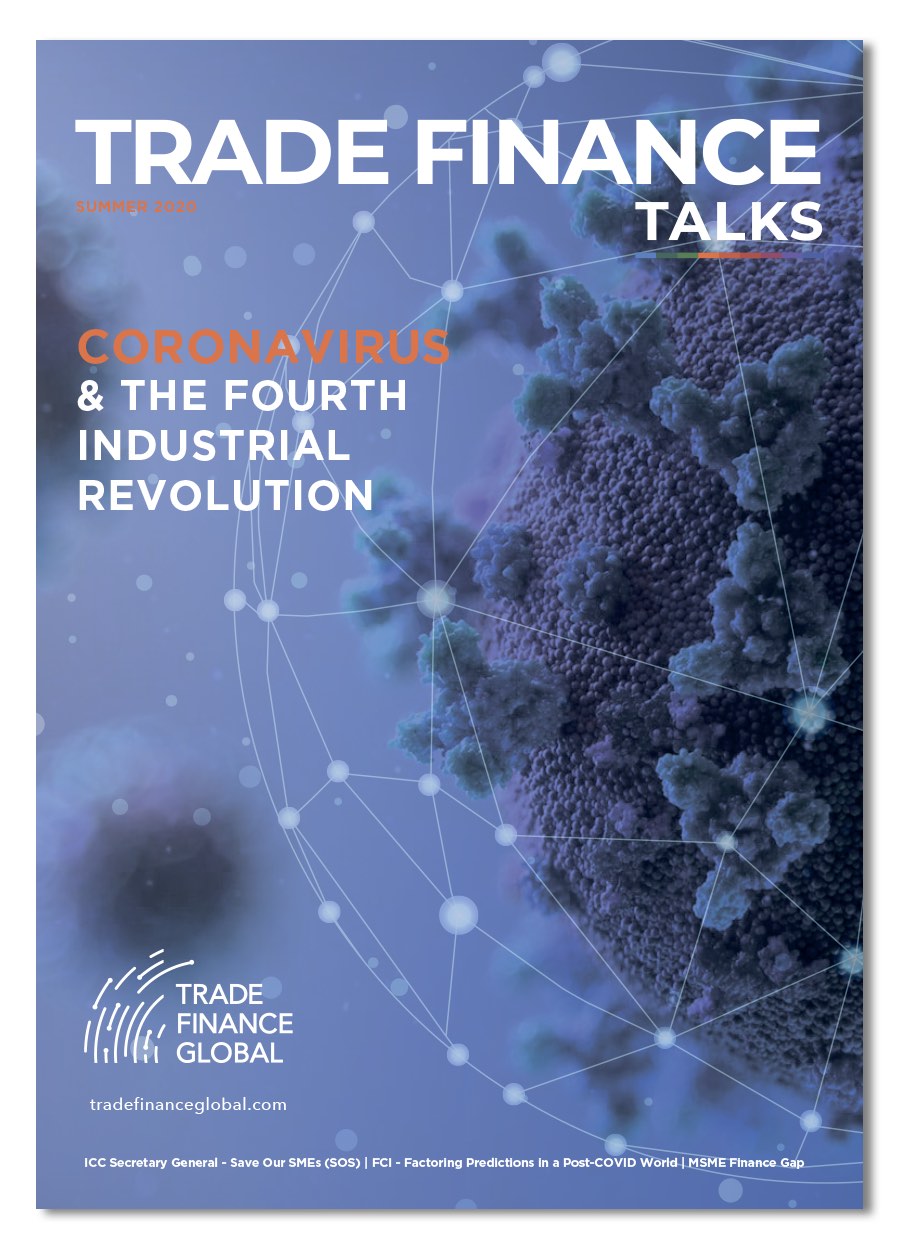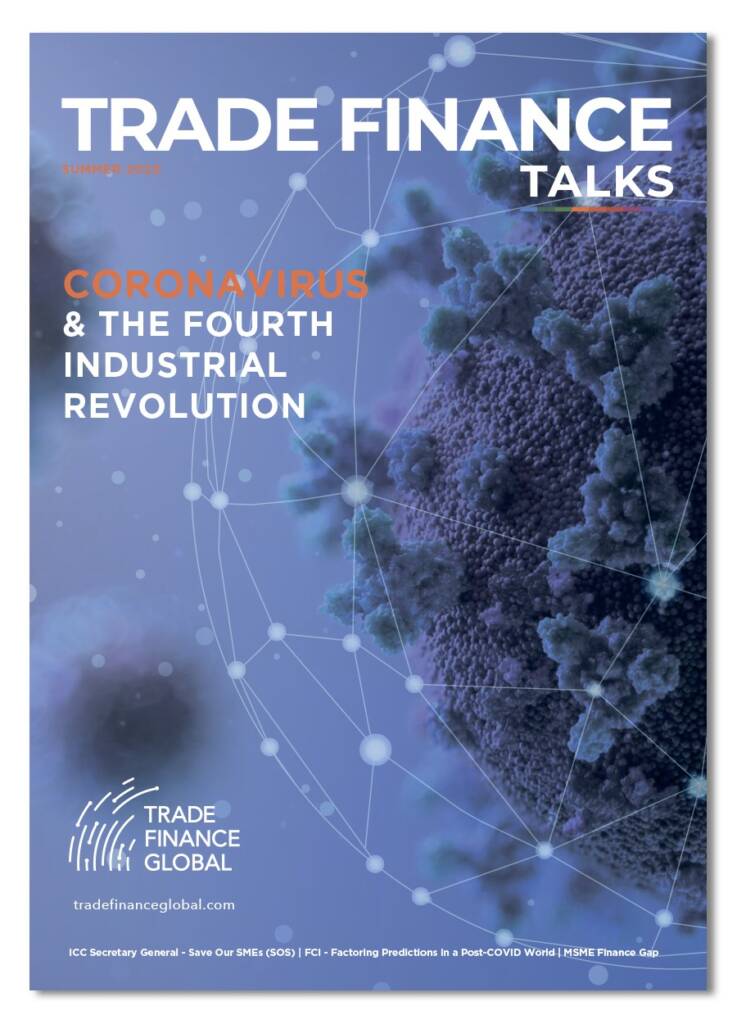 Contents
Introduction
1.1 Trade Finance Global | Editor's Note
1.2 Foreword – Ziyang Fan – World Economic Forum
2 An Update from Global Associations and International Bodies
3 International Trade Finance Awards
4 Featured
4.1 The "key" to digital trade finance: Public key cryptography explained
4.2 How the collapse of Hin Leong Trading should accelerate the adoption of technology for trade finance
4.3 FCI perspective: 10 factoring predictions in a post-COVID world
4.4 Rejigging Africa's trade position post COVID19: The AfCFTA option
5 Trade Goes Digital
5.1 Negotiable instruments are going through a makeover – the who, what, where, why
5.2 Innovating to close the trade finance gap
6 Global Trade
6.1 Bitter Sweet: Global trade disruption and its impact on sugar flows
6.2 OBOR – Why macroeconomic policies are needed to drive China – EU supply chains
6.3 Patience will pay off in Europe-Africa trade relations
6.4 Anti-dumping Agreements – UK prepares to impose its own duties on foreign exporters
6.5 Brexit: What duty does the EU have to offer trade preferences to the UK?
7 Short Term Trade Finance
7.1 Supply Chain Finance – An enabler for MSME growth and financial inclusion?
7.2 $5 trillion and counting – the MSME finance gap
7.3 Has trade finance pulled the plug on correspondent banking?
7.4 ICC SOS – Save Lives. Save Livelihoods. Save our SMEs
8 Women in Trade 2020
9 Export, Insurance and Long Term Finance
9.1 KYP (Know Your Policy) – Learnings from CPRI in a post-Covid world
9.2 How Trade Finance Programmes at Multilateral Development Banks are closing the trade finance gap
9.3 How can banks project losses in the current Covid-19 crisis?
9.4 How UKEF is supporting UK businesses with Export Finance throughout the pandemic
10 Upcoming Conferences and Webinars