Estimated reading time: 4 minutes
Over the past year, the narrative about the UK economy has overwhelmingly taken a cautionary tale. Warnings of a decline in manufacturing, sharp cuts in consumer spending, and tales of a coming recession filled most reports and articles.
While some tone of caution is understandable and even necessary to accurately portray the current market, there are numerous reasons to be optimistic about UK trade. A new report by Lloyds Bank shows that UK businesses have an opportunity to flourish through exporting, as the government aims to reach £1 trillion in exports by 2030 and continues to remove global trade barriers.
Changing circumstances surrounding the UK trade market have led to opportunities in emerging markets in the Indo-Pacific and Sub-Saharan Africa region. This has created an environment where companies can boost profits, drive innovation, and expand their global reach while mitigating domestic market risks. Lloyds Banks' powerful insights platform, the International Trade Portal, provides a gateway to explore international trade opportunities and detailed market insight to help businesses trade internationally
Opportunities in the face of challenges for UK exporters
The UK Government has recognised some of the challenges that face the UK export market. According to reports, only 11.4% of UK companies are actively involved in exporting their goods and services, only up by 0.7% from the previous three years.
Understanding the economic benefits of increasing exports, the government launched the "Made in the UK, Sold to the World" strategy, aiming to increase the export market to £1 trillion by 2030.
While Lloyds Bank believes this will be a challenging task due to the recent decline in the value of British exports, there are some reasons for optimism. Though Brexit has caused issues for British exporters, the government has removed 175 barriers to trade across 61 countries worldwide, which is expected to increase exports by £75 billion a year.
As new markets continue to open for British companies, the passing of the Electronic Trade Documents Bill (ETDB), expected sometime this summer, will greatly assist in the ease of international trade. Multiple studies have shown that the ETDB will significantly reduce the number of paper documents exchanged throughout the trade process, with savings upwards of £224 billion.
UK businesses have taken notice of these recent developments. Even though the prevailing narrative surrounding the UK economy has been muted at best, 55% of UK businesses have reported high confidence levels in their trading prospects, up from 43% just 5 months prior.
This increase in confidence is important, as exporting businesses tend to grow at a significantly higher rate (15.2%) than non-exporting businesses (8.4%). There are a few reasons behind this; the UK is small, representing only 1% of the world's population, and exporting companies show increased flexibility in their practices.
While international trade is not the end-all-be-all for company success, there are lots of reports to support the importance of exporting businesses. According to the IOE&IT, firms that engage in exporting reported:
49% of their revenue comes directly from exports,
79% said exporting helped increase headcount,
80% claimed that exporting increased product range,
80% agreed that exporting is critical to their business' future,
97% of firms with over 500 employees said exporting has increased their revenue and 96% of these businesses said that cross-border trade has eased the pressure of doing business in the UK.
The reality is exporting is not easy, especially in the face of rising macroeconomic and geopolitical uncertainty, but businesses should not shy away from the challenge. There are many avenues to receive help, and by embracing the challenge of exporting, the benefits could be significant.
Changing trade dynamics – the UK love triangle
Historically, the UK has been deeply interlinked with the US and EU, both politically and economically. And while these ties have remained, new regions are increasing their importance for UK trade.
The UK government reported that by 2050, the Indo-Pacific region will account for 56% of global economic growth. This is not the only region showing promising growth potential, as Sub-Saharan Africa is quickly strengthening their positioning in global trade.
The recently created African Continental Free Trade Area (AfCTA) was supported by the UK government, signalling the potential for future cooperation and growth between the UK and African countries.
Exporting companies based in the UK are in a unique position. Even though Brexit undoubtedly altered UK trade dynamics, the UK-EU relationship will continue to be a vital element of the export economy. And in 2022, the UK exported £52.1 billion worth of goods to the US. Simply put, this means that historic trading routes for UK exporters still exist, and new routes are continuously opening.
Exporting can be confusing, especially with all the new developments happening in the UK. To help navigate these daunting waters, Lloyds Bank has put together an export guide and flowchart for UK businesses.
Infographic: Is it time for me to start exporting?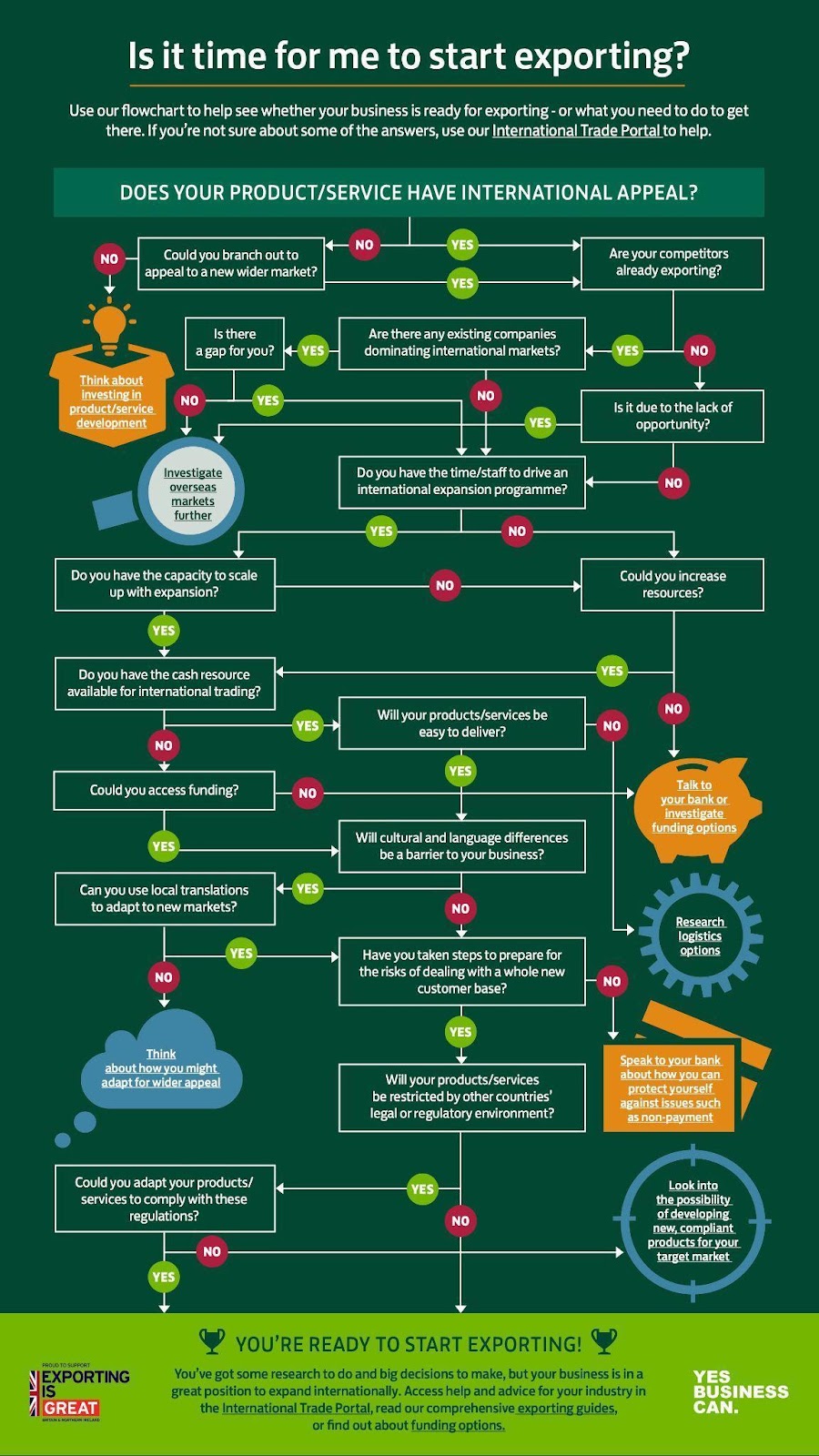 To learn more, you can read the full report here.