A glance at China's Fintech development
According to a new report by Reuters, Chinese investment in Fintech reached 10 billion U.S. dollars in 2016, doubling the amount in 2015, which makes China the biggest Fintech investor in the world.
In the past decade, Fintech industry has developed rapidly in China. Many technology companies have expanded financial services. For example, Baidu, the world's largest Chinese search engine company, founded its own financial services group. At the same time, more financial giants entered Fintech industry, such as Pin An Bank which built Lufax, one of China's largest online investment and financing platform, in 2012.
The birth of Alipay in 2003 marked the beginning of Chinese Fintech industry. The first P2P platforms in China were established in 2007. Yu Ebao, an online financial product created by Alibaba Group, was available in 2013. Zhong'an Insurance was the first online insurance company in China, which was founded by Alibaba Group in 2014. Several consumer financial products went online in 2014 and 2015. Since 2016, the blockchain and smart contracts have become popular in China. For example, China Merchants Bank recently achieved the first cross-border payment for South Sea Holdings Limited through blockchain technique.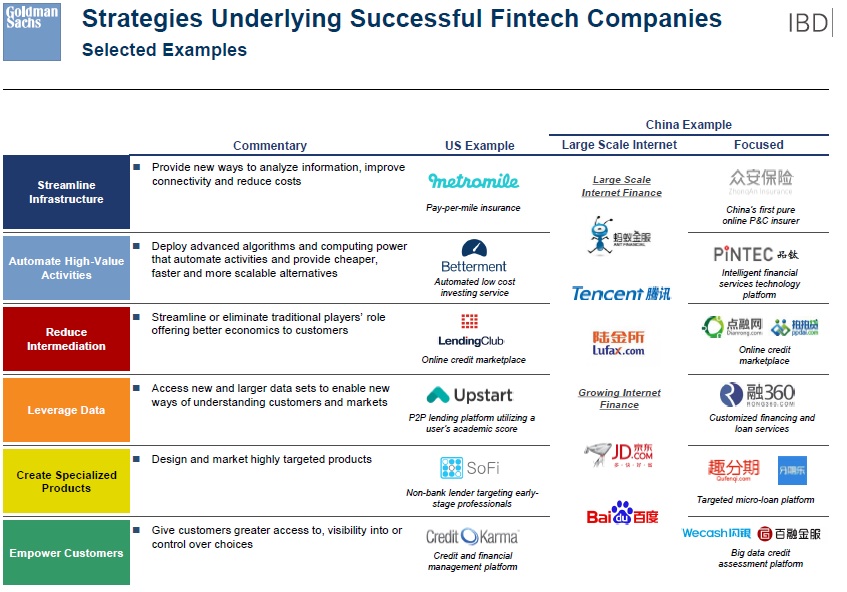 Image source: Strategies Underlying Successful Fintech Companies. Source – Goldman Sachs
Why has Fintech grown so fast in China?
According to EY's report, 'China and UK FinTech – Unlocking opportunity', first, Fintech is in high demand in China. more than 25% of the population in China use Fintech products, especially in payment area. While, small and medium-sized enterprises which contribute 60% of GDP in China also need Fintech products to raise money.
Second, investment capital is adequate. Chinese IPO market was more active than those of the US and UK in the past ten years. In addition, 750 Chinese government leading investment funds aimed to support startups provide capital to the starting and growing Fintech companies.
Third, China's financial market has 7.6 million workers, of which 500 thousand are financial elites (with higher education or overseas working experience), and over 10 thousand are Fintech elites.
Besides, the supervision of Fintech is imperfect; the transition from financial companies to technology companies is a way to avoid regulation.
Uses of Fintech in China
As a third-party payment platform, Alipay has 450 million real-name users. One of Alipay's latest technologies is Face Recognition. More than 150 million users have used Face Recognition to login Alipay account, retrieve password and authenticate in high-risk transactions.
In the financial area, Yu Ebao had an asset management scale of over 800 billion yuan in 2016, tens times the management scale of Wealthfront.
Zhong'an Insurance applies big data technology in the whole process of product design, automatic claims, market positioning, risk management etc. Through the big data analysis, it provides customers personalized financial advises.
Aliloan has made loans of more than 600 billion yuan to small and medium sized enterprises in the past five years. Through Internet technology, it has improved the efficiency to access customers, reduced the operation cost. At the same time, it has made use of big data to improve risk control capabilities to control the quality of loans better.
What is the future for Chinese Fintech Industry?
Over the past year, China's investment in Fintech had an increase of more than 100%, far exceeding the global average growth rate of 10%. China has a strong momentum of development in Fintech industry.
Chen Wenhui, President of Accenture financial services in Greater China said: "many Chinese financial institutions have clearly realized the subversive force from outside the industry, so they are increasing the investment in Fintech, and actively explore cutting-edge solutions such as blockchain technology. In the field of payment and loan, a new force of non-traditional participants rose, and the competition is increasingly fierce in the market. Meanwhile, the veteran financial institutions are cooperating with start-ups to explore Fintech technology solutions in other areas."
Do you import from China?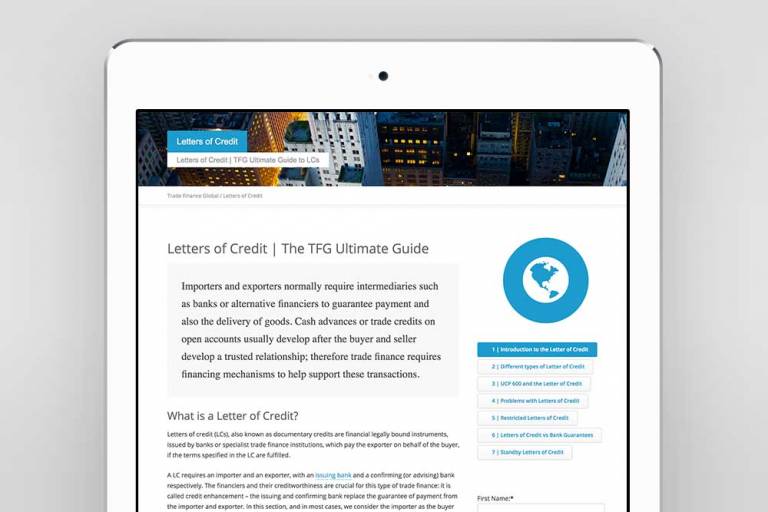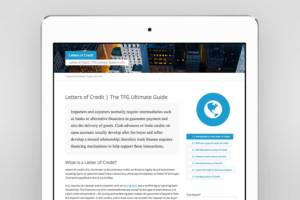 Why not view our extensive guide on doing business in China?