International Trade Secretary Liz Truss has announced a new food and drink export campaign to boost post-Brexit trade.
Speaking at the National Farmers Association (NFU) annual conference yesterday, she claimed that an "anti-innovation approach" had held back British agriculture from accessing international markets.
"We have had high tariff walls with the rest of the world, whether it be up to 26% on beef going to the American market, or a 150% tariff on Scotch Whisky to India," she said.
"We have been held back by bans on our products, like the US lamb ban or India's red tape around apples and pears."
"We exported nearly £24bn worth of food and drink in 2019. Our exports to non-EU nations grew that year by over three times as much as exports to our European neighbours, which shows where the enormous potential lies," she added.
The new campaign, dubbed "Open Doors", aims to deliver tailored support to farmers and food producers, offering "masterclasses and mentoring". The new £2m scheme will also include advertising campaigns to encourage businesses to increase their overseas sales.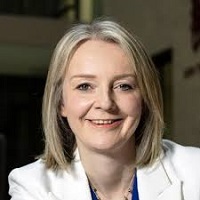 The move hopes to reassure some UK producers, who have been struggling to export food products to Europe since Britain's withdrawal from the EU.
"From 1st March, Lord Frost will be leading on the UK's relationship with the EU – and he is committed to resolving trade issues to make sure we have smooth access to that market. What we are also doing is preparing the ground for our farmers and food producers to capitalise on the global economy's enormous untapped potential.
"As the PM has said, we want our farmers and food producers to be at the tip of our spear driving into new markets. We will work in lockstep with friends and partners like the NFU, the AHDB and the Food and Drink Federation."
When asked about threats to standards and farming, Ms Truss added: "I want to be very clear, we are not going to lower our food standards in any future trade deals we sign, and I will never sign a deal that is bad for British farming."
Prime minister Boris Johnson also addressed the conference virtually, calling on more British produce to be sold abroad:
"I'm delighted that already we've got back on the shelves around the world, we've got British beef back on American plates, pork trotters on Chinese tables and cheese on supermarket shelves across the Gulf," he said.