China has been world's largest steel consumer for decades. In 2017, the positive market performance on steel consumption through the year brings 3% to 4% increase in China steel demand.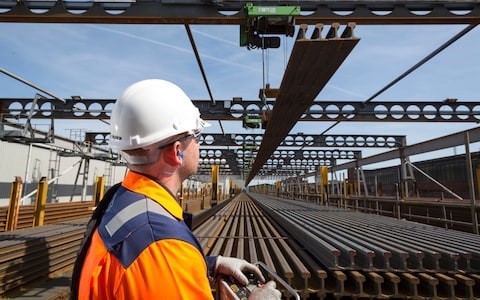 The accelerated pace of China's infrastructure contributes to the lifting profit margin of steel trade as well as the record level of steel production.
In 2018, the world steel demand is expected to keep moderate increase about 1.6% with the key driven of China that reaches 1,648.1 Mt, if we see the data exclude China, the global steel demand will reach 856.4 Mt which realizes an increase of 2.6% in 2017 and 882.4 Mt, an increase of 3.0% in 2018.
The steel trade of China has been increasingly prone to through B2B platform. As reported by ShanghaiDaily.com, the steel trading via China's biggest steel B2B platform in 2017 had raised 500 million yuan (US$72.5 million), as one of the competitive B2B platforms in the world, is expecting to beat its record level of steel trade in 2017 and making more contribution to global steel market.
Mr. T.V. Narendran, the Chairman of the Worldsteel Economics Committee said: "It is clear to see the cyclical upturn broadening and firming throughout 2017, leading to unexpected performances for both developed and developing nations."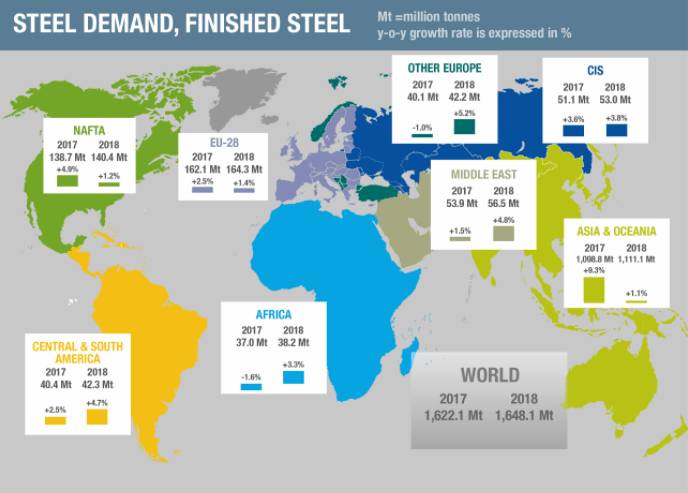 Source: Jumore
In 2018, we expect global steel demand grow moderately which is by virtue of the market sluggish in China, while in the rest of the world, steel demand will remain its current pace.
We are happy to see world steel demand is recovering with positive momentum, driven largely by cyclical factors rather than structural. The lack of a strong growth engine to replace China and a long term decline in steel production because of technological and environmental factors will continue to weigh on steel demand in the future."
The Chinese economy is gradually relying more on consumption upgrade while domestic and foreign investment is continuously decelerating. China's steel demand in 2017 ends with an upward revision over the previous forecast. China announced to close all outdated induction furnaces in 2017, which will result in a one-off jump in measured steel use in 2017 to 12.4% or 765.7 Mt.
China steel demand in 2018 remains subdued, the economic rebalancing and environmental protection are two substantial to make the trend. More information of 2018 global steel market will be presented on JumoreGlobal Insights, all for your business success.