Supporting SMEs during times of financial stress is critical, and needs the timely actions from governments and Export Credit Agencies (ECAs). The UK relies on global supply chains, and exporting can help open new markets for business and attract investment, better jobs and higher wages. With that in mind, TFG heard from Louis Taylor, Chief Executive of UK Export Finance (UKEF).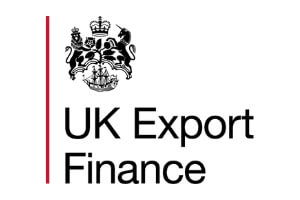 UK Export Finance (UKEF) is the government's export credit agency and was set up in 1919 to provide support for companies of all sizes that need loans, insurance policies or bank guarantees for export activities.
The department exists today to do what it first did when it was established – to help stimulate exports and to keep viable businesses afloat, particularly during times of financial stress. But now it has more than 100 years experience to draw on to support UK exporters. Its offer to exporters has been carefully crafted and developed over time to respond to economic downturns.
As an island nation reliant on global supply chains, trade is essential if the UK is to overcome the unprecedented economic challenge posed by COVID-19. Exporting can open new markets for business, bringing investment, better jobs, higher wages and lower prices at a time when we need them the most. The UK government has committed to levelling up businesses across the country to help them take full advantage of these opportunities and UKEF is central to this commitment . Its existing range of tried and tested products have been, and will be, vital in helping the UK recover from the pandemic.
As an island nation reliant on global supply chains, trade is essential if the UK is to overcome the unprecedented economic challenge posed by COVID-19.
These products include our Export Insurance Policy (EXIP), which can help exporters get paid for a completed order that has been terminated by events outside their control, or where their buyer is unable to pay. We have seen a significant increase in EXIP enquires over the last few months and, in light of COVID-19, our policy has been expanded to cover exports to over 180 countries, including transactions with the EU, Australia, Canada, Iceland, Japan, New Zealand, Norway, Switzerland and the USA. This sits alongside the government's initiative to support the provision of trade credit insurance in the private market, helping to keep supply chains open and protecting thousands of jobs.
ARTICLE: UK Exporting is GREAT – but continued support is needed
We also continue to offer our Export Working Capital Scheme to help ease UK exporters' cashflow constraints when fulfilling orders, and our Direct Lending facility to reduce the risks to lending banks.
The government has recognised the importance of our products in helping to stimulate exports. Our Direct Lending Facility, recognised as a 'gamechanger' by the British Exporters Association, had its capacity significantly increased to £8 billion by the Chancellor in the Spring Budget as he announced a package of improvement to our products that enable us to provide further support to UK exporters and suppliers in facilitating their overseas buyers to procure from the UK.
One such business that has benefited from UKEF's support during the pandemic is construction company Sogea-Satom UK. As construction becomes one of the first sectors to emerge from lockdown, UKEF is providing more than £100 million worth of financing to support the company in the refurbishment of a 114-mile interstate road in Benin, securing business for the UK supply chain that may otherwise have been placed elsewhere.
We are also developing our existing product suite at an accelerate pace so that we can provide easier access to working capital for exporters, offering financing that is not tied to specific export contracts but instead supports a company's general business activities. We hope these developments will help banks to more easily implement our support and can be used to help more UK exporters access our support in the long-term.
Businesses who want to find out more about UKEF and how it can help them meet their export potential should go to the UKEF website where they can find out more about how to put the right finance in place.
With global trade firmly back on the agenda, a number of wider government initiatives have been announced to aid in its revival. UKEF is working with HM Treasury to continue providing finance to customers that it would have supported before the outbreak of COVID-19, taking account of the commercial impact of the virus on their business prospects.
UKEF has an active role to play both during the pandemic and as we move to the recovery phase. We will continue to innovate and adapt as needed to enable UK exporters to survive and thrive through this challenging time.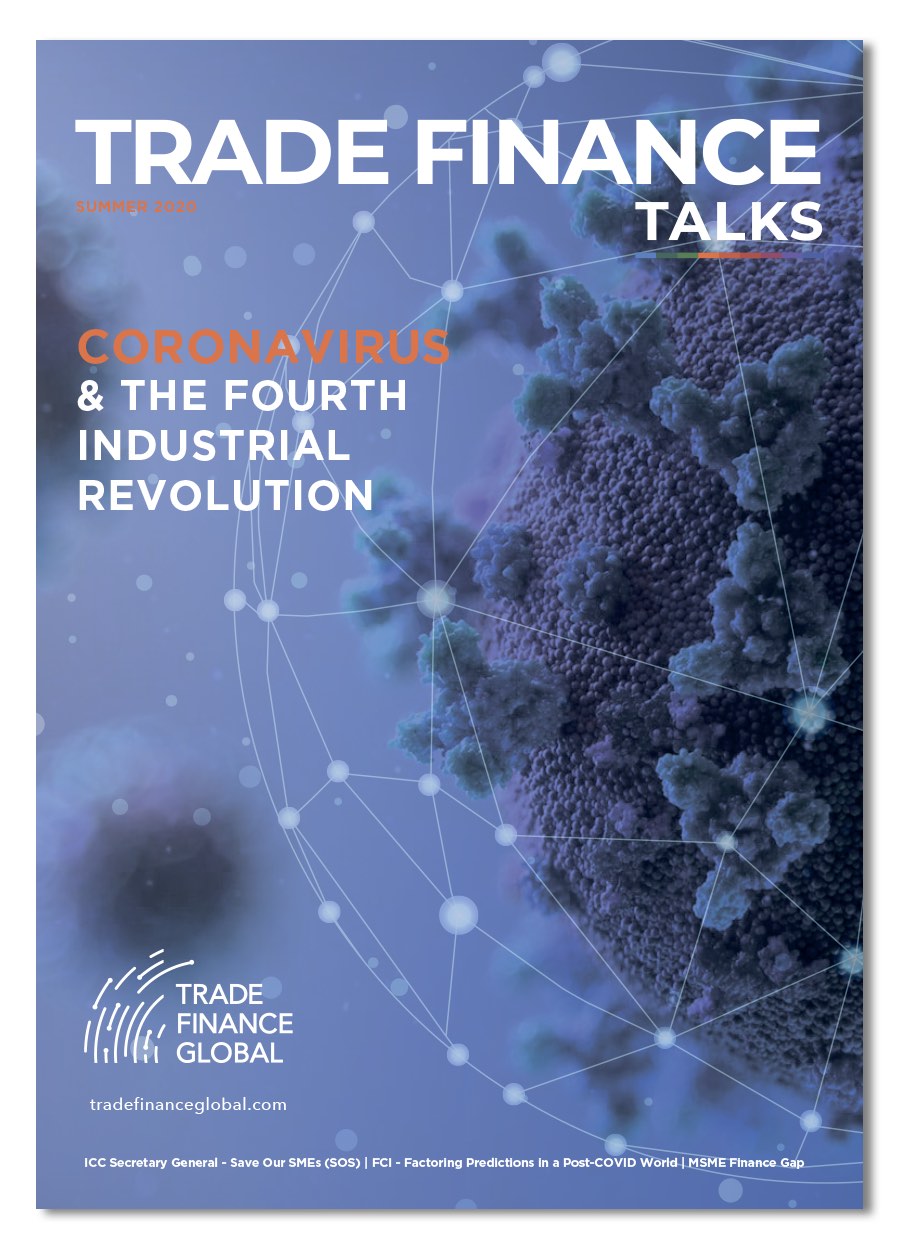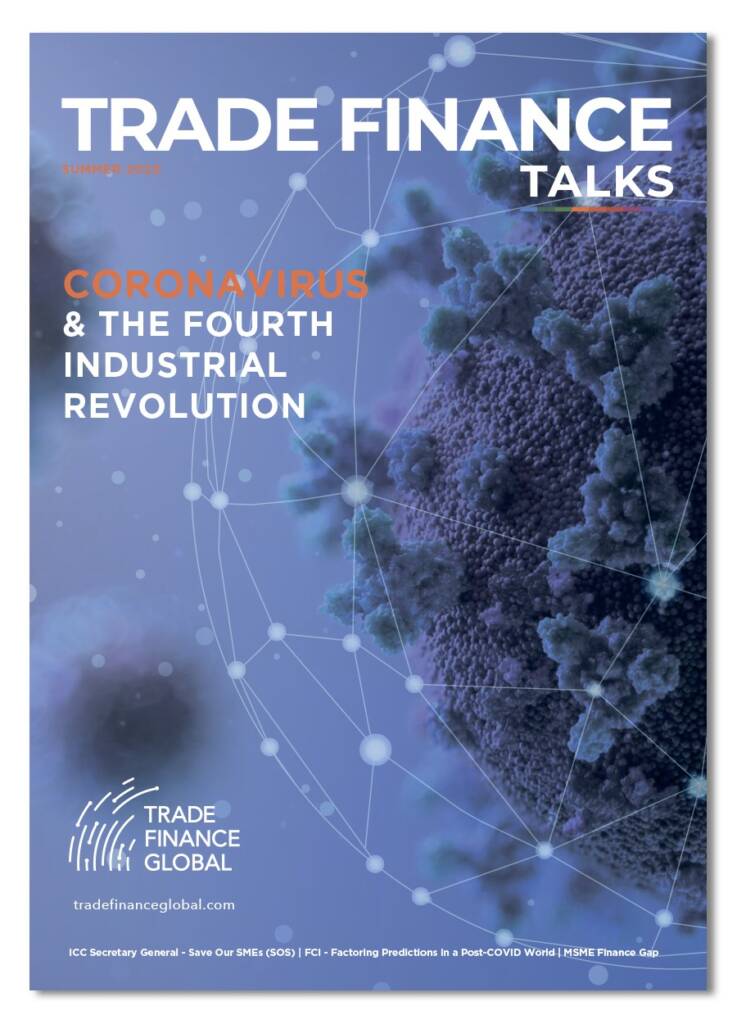 Now launched! Summer Edition 2020
Trade Finance Global's latest edition of Trade Finance Talks is now out!
This summer 2020 edition, entitled 'Coronavirus & The Fourth Industrial Revolution', is available for free online, covering the latest in trade, export credit insurance, receivables and supply chain, with special features on fintech and digitisation.