There are a number of different types of finance which can facilitate the trading of goods and services both globally and domestically. The trade finance industry also supports and accommodates transactions that facilitates international payments, mitigate currency risk and exposure, and both debt and equity fundraising.
What is trade finance?
Trade finance has certainly seen significant changes since the global economic crisis, due to margin competition, increasing barriers to trade overseas, market efficiencies driving down price and a huge increase in regulation around the trading of goods and services in different jurisdictions. The capital requirement of a business or the accessibility of an individual's cash flow can be determined by post-export and pre-export trade finance.
Suppliers and supply chain management is crucial to trade finance; the different actors in any global supply chain may use financing products to help fund the production of goods, exporting of services or perhaps the shipment of trade using a mixture of pre-export or post-export financing.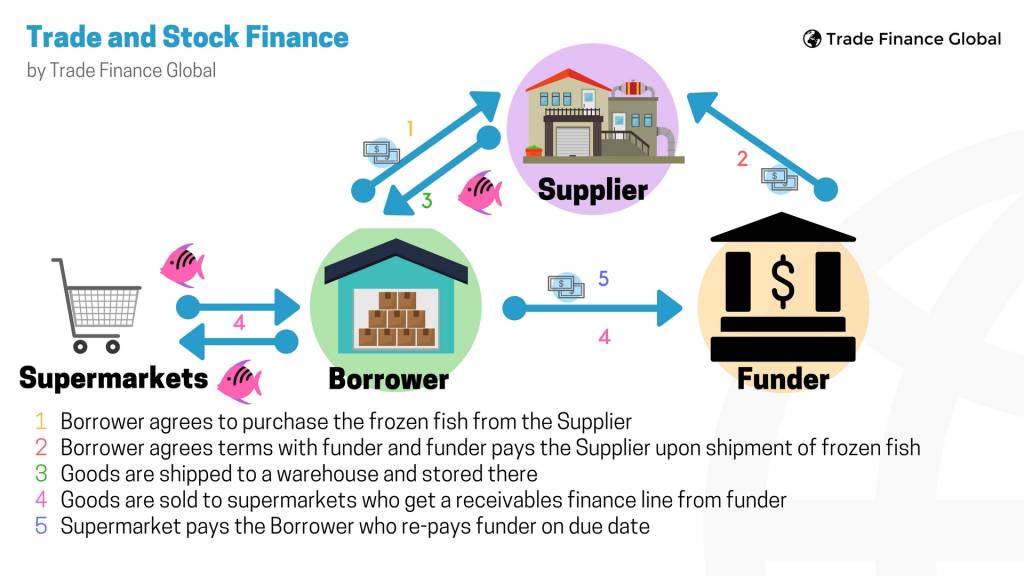 Here are some of the trade finance types
1. Payment-in-advance
Payment-in-advance is a pre-export trade finance type, which involves an advance payment or even full payment from the buyer before the goods or services get delivered. This is risky, and although it can help the supplier in terms of cash flow constraints, it is risky for the buyer in case the goods don't get delivered. Advance payment is a popular option, but pertains to non-payment or credit risk for the supplier.
2. Working capital loans
Working capital loans (or business loans) can be used to finance the up front cost of doing business; anything from funding the cost to purchase raw materials, right through to operational costs and labour / staff cost. These short-term loans are normally issued on a 6 month tenor. These loans are a bit different from the usual online loans.
With secured working capital loans, the company's assets can be used as a form of security. There are also unsecured business loans, where the bank or funder will issue a loan without any security, which poses risk and increases the cost.
3. Overdrafts
An Overdraft is an easy to use facility which is often readily available on business current accounts. It enables a company to go 'overdrawn' to a certain value, as defined and agreed with the business bank account. The credit line of a business is likely to be extended as an outcome of overdrawing. Simplicity and flexibility are the primary benefits of utilizing this overdraft facility. However, one needs to be cautious about being charged with a much higher rate of interest.
4. Factoring
Factoring is a type of post-export finance based on receivables. Suppliers that are looking at balance sheet and also off balance sheet funding to free up working capital within the business often use factoring to optimise a company balance sheet. Factoring involves a funder or financial institution who would typically procure invoices and accounts receivables of the supplier. Factoring accounts for approximately 80% upfront payment and involves short-term receivables.
The buyer is then asked to pay the factor / funder. The supplier receives then receives the remaining outstanding balance which is forwarded by the factor after the discount/ charges are deducted. Unlike forfaiting, there might be some recourse to factoring.
5. Forfaiting
Trade finance based on receivables are another tool, known as Forfaiting. Forfaiting and factoring are can be distinguished by the tenor / duration of financing. Although both are a type of post-export finance, the exporter does not have any recourse with Forfaiting.
Once the buyer receives the goods as per the pre-set terms, Forfaiting supports a virtual elimination of risk to be performed by the supplier. The buyer's bank tends to support the receivables, which enables the supplier to eliminate the transaction from the balance sheet thus backing the financial ratios.
Trade finance instruments can also be used to limit risk of a transaction. Risks can include political, non payment risk, transport and shipping as well as currency risks, all which can be mitigated by the appropriate trade instrument. TFG have put together a guide on mitigating trade risk through credit insurance, FX products and insurance, which can be found here: https://www.tradefinanceglobal.com/services/currency-exposure-and-risk-management/