At the start of 2017 we concluded that the previous year was tumultuous and turbulent for trade finance, with no signs of that slowing down. Well, that certainly didn't let us down.
2017 was crowned a year of political instability, currency volatility and trade challenges. That said, it wasn't all doom and gloom. 2017 saw innovative breakthroughs in financial technology and the rise of regtech, as well as an explosion in the use of crypto technology to facilitate trade finance. In terms of deal size and macro trends in trade finance, the UK trade deficit narrowed to £5.8bn in Q3 2017.
In our 2018 Trade Finance Trends report, we've had a think about the top stories in trade finance in the past 12 months, as well as a forward looking view of what we predict for this year.
Top Trade Finance Highlights in 2017
1. Cryptocurrencies took centre stage
At the start of the year, TFG were cautiously optimistic about the use of cryptocurrencies in trade finance by major banks. Admittedly we underestimated the use cases of blockchain based cryptocurrencies financing trade, including the first Letter of Credit transaction between Spain and Mexico, facilitated by BBVA. The spike in major cryptocurrencies also came as a surprise to us, driven by huge media attention, and high profile investors purchasing popular currencies.
2. New players in trade finance
2017 saw the rise of new financiers in the trade finance space, in particular those within the supply chain; logistics companies such as Maersk, freight forwarders and ecommerce disruptors such as Currenxie, using Amazon trade history data to offer trade finance to sellers. As well as this, facilitators of trade finance such as the TradeIX platform have sprung up.
3. Regtech and Cyber Attacks
Anti-money laundering, know your customer / goods, and know your customer's customer were no longer just buzzwords in 2017, but now standard practise by trade financiers. As a result, we've seen the rise of compliance and due diligence costs, yet the need to prevent terrorist financing or prevent money laundering remains paramount, as highlighted the key theme in Sibos 2017.
Maersk suffered a ransomware attack in June 2017, crippling its IT logistics systems. Despite working with IBM to implement blockchain systems to prevent such cybersecurity attack and store data more securely, this was certainly a wake up call for the maritime industry.
As well as this, the rise of machine learning algorithms to predict default risks, supply chain mechanics and artificial intelligence can help reduce costs significantly within the industry.
4. The Year of the Euro
On the 25th June 2016 when Britain voted to leave the EU, the pound plummeted by around 12% versus USD and EUR, but even today, remains roughly 9% weaker than it was in the first half of 2016. Sterling has seen a range of nearly 11% against the euro, ending the year very much in the middle of that range. The result of this for trade is that it's been more expensive to import, causing increases in food prices and inflation of around 2.8% in 2018.
That said, the weakened pound has yielded opportunities for exporters as we noted, and continues to drive trade.
5. TFG International Trade Awards
This year Trade Finance Global's inaugural international trade awards recognised many new starters and disruptors, a first in 3 years. The international trade awards highlighted those who were making considerable steps to connect the dots in the supply chain, tokenise trade and help SMEs access trade finance globally.
Top 5 predictions for 2018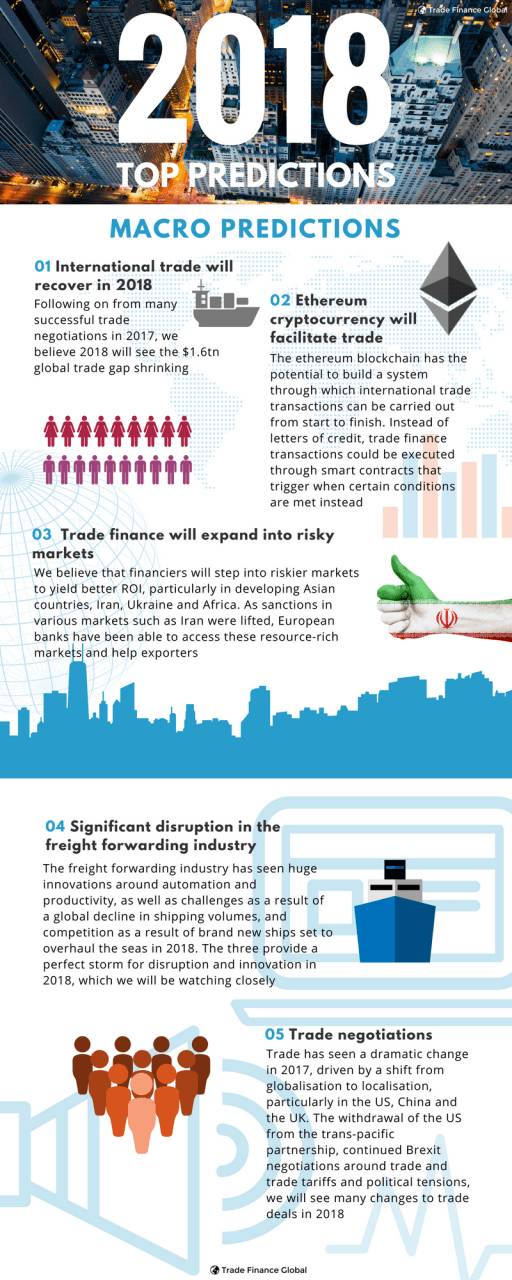 1. Trade will grow in 2018
Following on from many successful trade negotiations in 2017, we believe 2018 will see the $1.6tn global trade gap shrinking.Whilst trade politics remain up in the air, the UK government have pledged £25bn worth of loans and guarantees to any UK company exporting to BRI (Belt Road Initiative) projects in Asia, in particular, Chinese partnerships around infrastructure and industrial strategy.
2. Say Hello to Ethereum
Ethereum is a cryptocurrency, also known as Bitcoin II, with the potential for use in smart contracts and trade. The trade finance transactions which were based on cryptocurrencies via Letters of Credit used the ethereum rather than bitcoin based blockchain. The technology around Etherium seems to be more favourable for financial institutions, hence the uptake.
3. Trade finance expanding into more markets as sanctions are dropped
We believe that financiers will step into riskier markets to yield better ROI and fill the widening trade finance gap, particularly in developing Asian countries, Iran, Ukraine and Africa. As sanctions in various markets such as Iran were lifted, European banks have been able to access these resource-rich markets and assisted increased export levels.
4. Shipping Disruption
The freight forwarding industry has seen huge innovations around automation and productivity, as well as challenges as a result of a global decline in shipping volumes, and competition as a result of brand new ships set to overhaul the seas in 2018. The three provide a perfect storm for disruption and innovation in 2018, which we will be watching closely.
Flexport raised $110mn this year to continue its drive to digitise everything between shipping ports and the end destinations, helping drive efficiencies on shipping containers and reducing the costs of shipping goods overseas. Kongsberg Maritime have started working on the first unmanned automated container ship, set for launch in late 2019/ 2020, with pilots hitting the seas this year.
5. Trade Negotiations Continue
Trade has seen a dramatic change in 2017, driven by a shift from globalisation to localisation, particularly in the US, China and the UK. The challenges with the US on the trans-pacific partnership, continued Brexit negotiations around trade, trade tariffs and political tensions, will lead to a turbulent 2018 in terms of trade negotiations.
We think that 2017 set the framework for 2018, and believe that there will be exciting innovation, uncertainty and a roller coaster in relation to international trade. Hold on tight!