ISBP 745 - What is ISBP 745?
The International Standard Banking Practice (ISBP) is a publication of the International Chamber of Commerce (ICC). It offers crucial guidance on the documents presented against letters of credit. Take note that ISBP does not change UCP 600 rules when it comes to letters of credit. However, it is a valuable guide to Uniform Customs and Practice (UCP).
There are ten major changes in ISBP 745. Even though it is not a definitive guide as such, they are worth emphasising. The changes/information laid out are used to ensure all documentary presentations meet the bar when banks examine them.
Considerations for the ISBP 745
A beneficiary accepting a Letter of Credit has been provided an expanded paragraph on the risks involved. The accepting beneficiary requires a document to be issued and signed or countersigned by the applicant.
There is an emphasis on the expanded text stating that the letter of credit beneficiary needs to seek an amendment or consider the requirements carefully. In recent months, some letters of credit with the same clauses have been issued by Middle Eastern banks making it a real risk.
Copy transport documents
UCP 600 articles 19 – 25 that talk about transport documents do not apply when copies rather than originals of transport documents are required. Otherwise, these documents are to be evaluated to the extent that is clearly stated in the credit. The process follows UCP 600 sub-article 14 (f).
UCP 600 non-defined expressions
Additions in the ISBP 745 are expounded explanations of non-acceptable third party documents, documents accepted as presented, and shipping company. The expression "documents accepted as presented" may challenge a letter of credit.
ISBP states that when such an expression is used the documents presented should have a drawing amount within what is available under credit and the expiry date of the credit. Otherwise, the UCP 600 or the credit will not examine the documents for compliance. The interpretation, should the phrase be countered, offers some criteria.
Air waybills
ISBP 745 has some crucial elements with regards to air waybills. To start, a carrier should not only use their IATA code. This means airlines such as Singapore Airlines and British Airways need more than SQ and BA respectively. With this in mind, airports such as Los Angeles and London Heathrow can use LAX and LHR respectively.
Shipping marks
According to ISBP 745, if a letter of credit requires details of a shipping mark on certain documents, they should be present even if they are not in the exact same sequence as seen on the letter of credit. Some people find this odd since they follow the same sequence in all their documents. All the same, it is something worth noting.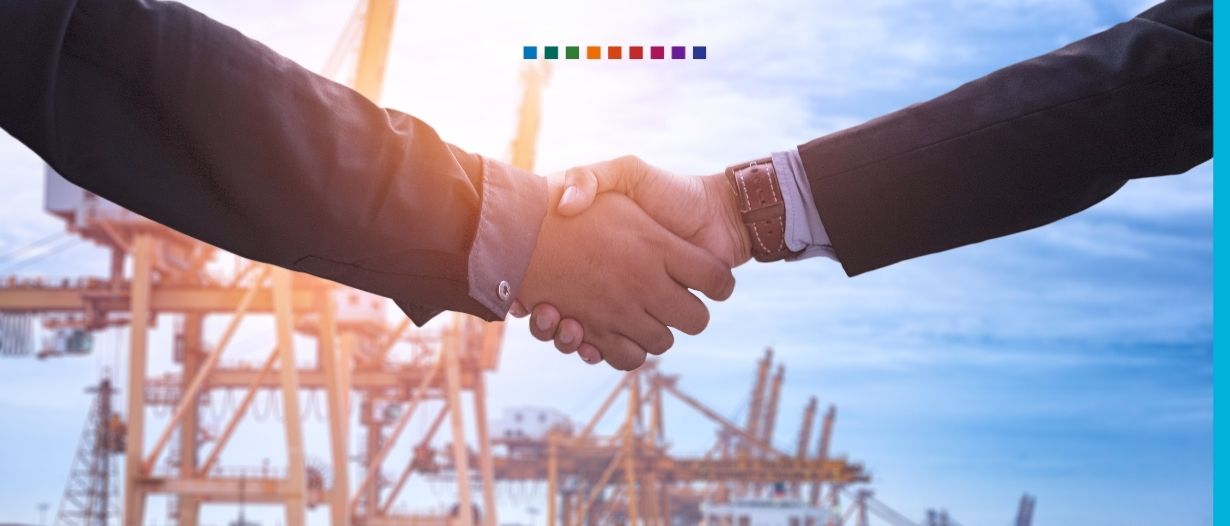 Lading bills
As long as a bill of lading meets the requisites of UCP 600 article 20, they can be issued by a different entity apart from the captain or carrier. In some cases, a letter of credit may include a stipulation. For instance, it may include one that states "bills of lading from freight forwarder is not acceptable" or a statement similar to this effect. In such a case, the words do not affect the context of the signing, content, format, or title of a bill of lading.
The exception may occur if the letter of credit offers certain requisites detailing how the said bill of lading is to be signed or issued. When these requisites are not available, UCP 600 article 20 will be used to examine the bill of lading. In short, such a cause will be disregarded as it is superfluous.
Invoices and ISBP 745
The description of goods in the letter of credit and the description of the same n the invoice is one of the areas that crates a lot of debate among documentary credit practitioners. The UCP 600 article 18 uses "correspond" when talking about how goods should be described on a letter of credit and on an invoice. This is reinforced in ISBP 745.
ISBP clarifies any misunderstandings by stating that invoices may include additional data when in regards to performance, services or goods. Take note this should work only if the additional information does not refer to a different category, classification, performance or services provided and nature of goods.
For example, for "Imitation Leather Shoes" may have a goods description of "Leather Shoes" on the credit. Such a change is unacceptable resulting from the change in category or classification of goods. The best course of action is using the policy of quoting the description of goods on the invoice verbatim as the same used under the letter of credit.
Bill of lading country
ISBP 745 clearly states that a bill of lading should explicitly stipulate the port of lading presented in the credit. For example, when "Felixstowe" was stated on the port of loading, and "Felixstowe, UK" was stated on the credit, there was a discrepancy that ensued. This was erroneous by the credit institution.
When the port of loading is indicated by including the country in the credit, the name of the country should not be stated. To avoid having an issue it is wise to include similar details on the bill of lading and credit letter. The same case applies for air waybills.
Key Elements for ISBP 745
These are the ten elements you may come across the ISBP 745. Take note they have not been placed in order of importance, as each is equally important depending on various factors. There is a more comprehensive version of the document. Everyone involved in the presentation or collation of documents under letters of credit need to look understand this document. It is the best interpretation of how UCP 600 rules and ISBP 745 work in tandem and how they are applied in practice.
More information
Message Referencing Guide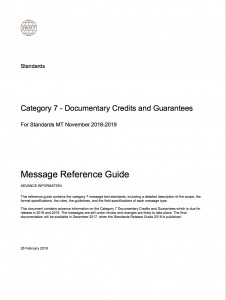 Source: SWIFT
Speak to our trade finance team
Benefits
 Fast and efficient – speak with our trading team within minutes
 Great rates – beat high street bank rates with Trade Finance Global
 Our partners are regulated and trusted experts
 Experts partners who are specialised in geography and sectors