The official ICC Incoterms® 2020 United Kingdom Launch – at which the changes and their impacts will be outlined in detail – will take place on 15 October 2019 at the WLG Gowling headquarters in London.
Trade Finance Global are delighted to announce that they are Media Partners of the Incoterms® 2020 United Kingdom Launch.
Gowling WLG Offices – 4 More London Riverside, SE1 2AU
15th October, 2019
09:30 – 12:00
ICC Incoterms® 2020 rules define the responsibilities of buyers and sellers for the delivery of goods under sales contracts. They are the authoritative rules for determining how costs and risks are allocated to the parties.
Updated every 10 years, the latest edition of the ICC Incoterms® 2020 rules will be launched in Autumn 2019 for entry into force on 1 January 2020 – come to our UK launch event to hear from the experts that helped develop the rules and gain early access to how these should be adopted.
Conference Highlights
Learn about the changes for the 2020 edition direct from those that wrote it – the ICC Incoterms® 2020 Drafting Committee
Gain access to exclusive launch event-only discounts on ICC Incoterms® 2020 publications and merchandise
Pose your ICC Incoterms® 2020 question to our panel of experts that can help provide the practical advice you need to safeguard your business
Network with the users – UK goods traders (export and sales managers) logistics companies, trade financiers, insurers, shippers, freight forwarders, law firms, consultants and advisors
Speakers will include:
Professor Charles Debattista, Special Advisor on Incoterms® 2020 (Counsel, Arbitrator and Mediator at Stone Chambers)
David Lowe, Chair, ICC Incoterms® 2020 Drafting Committee and Chair of Commercial Law & Practice UK Committee (Partner, Head of International Commerce, Gowling WLG)
Chris Southworth, Secretary General, ICC United Kingdom
Photos & Gallery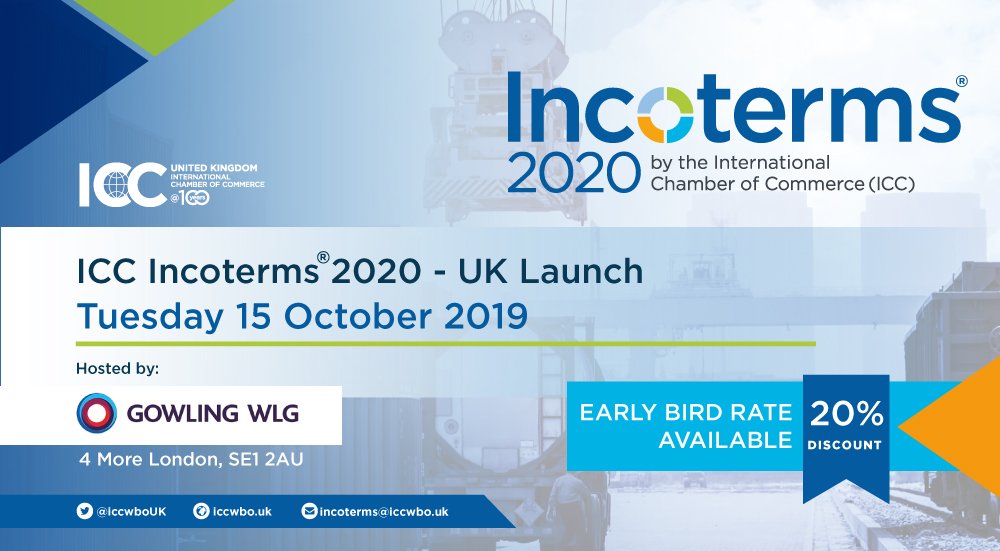 Related Content
VIDEO: British Chambers of Commerce Insight – Brexit Guide for SMEs View →
PODCAST LIVE: Learning from the experts: Bob Ronai on Incoterms(R) 2020 – Then and Now (S1E22) View →
EXCLUSIVE INTERVIEW: INCOTERMS® 2020 or EUROTERMS☺ 2020? Exclusive Interview with Bob Ronai View →
ARTICLE:Why the simple language of Incoterms® 2020 rules will grow trade in emerging markets View →