New data from the UK has revealed yet more evidence that stagflationary clouds are gathering on the horizon, as both ports and small businesses struggle to recover from the COVID-19 pandemic.
A survey from accountancy firm Moore UK, published today, found that one in three owner-managed businesses (OMBs) in the UK are planning to make redundancies now that the government's furlough scheme is over.
Of the 442 OMBs surveyed, Moore UK found that businesses that are planning to make redundancies are, on average, considering shedding 45% of their workforces over the next six months.
Interestingly, OMBs based in London are more likely than those in any other part of the UK to be planning redundancies, with 42% considering laying off staff.
In a press statement, Moore said this likely reflects the effects of the pandemic on the finances of restaurants, hotels, pubs, and other hospitality venues that make up a significant part of London's economy.
Maureen Penfold, chair of Moore UK, said that while a wave of redundancies did not immediately follow the end of the furlough scheme on September 30, we could see such a wave over the coming months.
"It's surprising to see so many businesses are considering reducing staffing numbers so substantially," she said.
"No smaller business wants to lay off staff if it can be avoided, and it seems like many are still waiting to see if they need to press that button," she said.
"Their cash flow might allow them to keep their full workforces employed for now, but they have plans in place to quickly make redundancies if they need to."
Among the survey's other findings, Moore UK found that 49% of OMBs expect to have to increase the prices they charge over the next six months, and 59% of those planning to raise prices said that supply chain disruption is their main reason for doing so.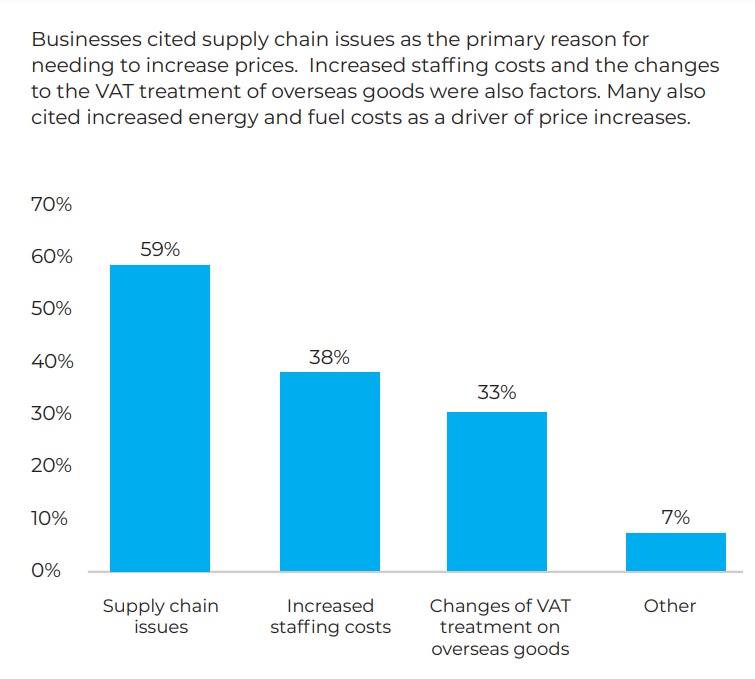 "The effects of supply chain disruption because of Brexit and COVID-19 have been felt keenly by a lot of smaller businesses," said Penfold.
"These issues are now endemic – a lack of logistics capacity and bottlenecks in ports around the world are driving up the cost of the goods they buy.
"Price increases are the only response they have, and unfortunately, that is likely to continue to increase inflationary pressure."
Some 38% of businesses said that increased staffing costs have been the main contributor to them increasing their prices, while 33% said it was due to changes in the VAT treatment of overseas goods since Brexit.
Asked what their biggest challenge is expected to be over the next six months, 34% of OMBs said supply chain issues; 27% said recruiting and retaining staff, and 21% said taxation and reducing carbon emissions respectively.
Shrinking businesses, shrinking ports
In another stagflation story reported by the FT, a survey from Drewry Maritime Advisors has found that British ports are on track for their worst year since 1983.
Among its main findings, the survey found that goods handled at UK ports are expected to hit a low of about 408 million tonnes this year, down 13.5% compared to 2019.
The survey also found that declines in North Sea oil production, and the impact of Brexit on cargo volumes, have contributed to UK ports' shrinking handling figures.
In the early days of the pandemic, oil production – which normally accounts for a third of UK port volumes – was interrupted due to reduced energy demand caused by lockdowns, business closures, and travel bans.
Likewise, the end of the Brexit transition period in January 2020 has led to new border control and a shortage of HGV drivers in the UK.