In line with their partnership and continued collaboration, ELCY, the leading e-commerce solutions provider for the international trade finance marketplace, and essDOCS, the leading enabler of paperless trade, announced today a major enhancement to Letter of Credit (LC) data integration between ELCYmbp and CargoDocs.
The new, improved data integration reflects the close working relationship between ELCY and essDOCS and their stated aim to jointly enable a complete end-to-end transactional service for the trade finance operations of leading international corporate clients.
The enhanced integration enables data to be extracted from all incoming MT7xx series LC and amendment formats handled by ELCY, including SCORE type messaging, and creates structured data for key SWIFT fields. The LC data then flows seamlessly into CargoDocs to auto-populate relevant document fields – automating document selection and data entry, minimizing errors and significantly accelerating the trade execution process.
ELCY and essDOCS continue to seek ways to bring added value to the trade finance industry, with work underway to soon allow mutual clients to benefit from single sign-on, further improving ease of access across the two solutions.
Dean Jameson, Global Marketing Director, ELCY, said: "Corporates today are increasingly seeking digital trade finance solutions which allow for truly connected data, as a means to actively address the problem of data 'silos' and the frequent but inefficient practice of re-keying information between systems, which of course leads to errors, delays and other risks. Through our interface with essDOCS' CargoDocs solution, companies can now instantly benefit from automated LC data flow from ELCYmbp to relevant documents, while our mutual clients will soon be able to access these capabilities through single-sign on."
TFG Exclusive – essDOCS CEO – Can we make trade paperless?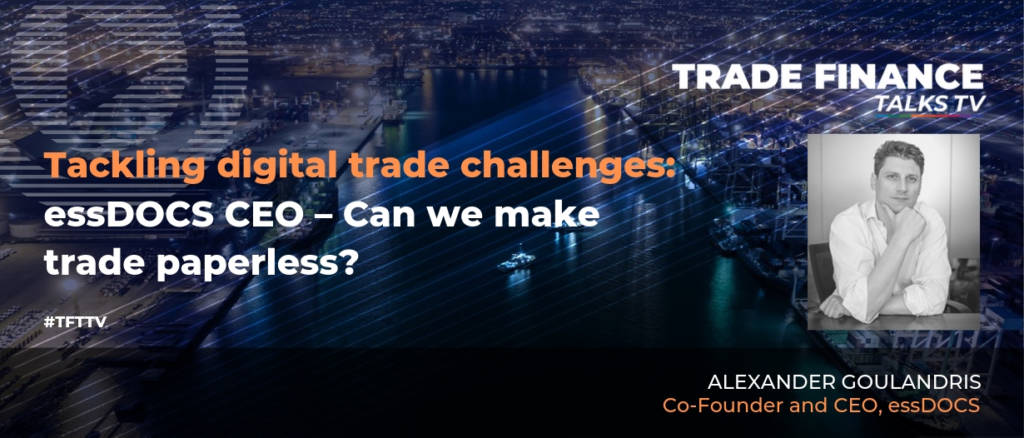 Alexander Goulandris, Co-CEO, essDOCS, said: "The combination of ELCYmbp and CargoDocs crucially provides multinational companies with a complete solution to digitally manage their letters of credit, standby L/Cs, guarantees and export documentation."