Freight Forwarding Explained
What is freight forwarding and how do items get shipped around the world?

Freight forwarding and international logistics are often overlooked as important industries, in part because all the work goes on behind the scenes. Yet look around: It's likely that, no matter where you are sitting right now, every item in your line of sight was at some point transported by a plane, truck, ship, or train. How did all those objects get from where they were made to where they are now? That is the story of international freight forwarding.
Over $1.1 trillion is spent every year on international freight forwarding services. Freight forwarders provide the coordinating layer of global logistics: they manage all the complexity of moving cargo between any two points on the planet, using the best mix of ocean freight, air freight, drayage (trucking), and rail transport providers for that particular shipment.
We spoke to Ryan Peterson at Flexport. Ryan is the founder and CEO of Flexport, a licensed customs brokerage and freight forwarder built around an online dashboard backed by Founders Fund, Google Ventures, and Bloomberg Beta. Before Flexport, Ryan co-founded ImportGenius, the leading provider of business intelligence for the import/export industry. He holds an M.B.A. from Columbia Business School and a bachelor's degree in economics from University of California at Berkeley.
Flexport taking that a step further, by leveraging software and industry expertise to provide more visibility and control, along with lower transaction cost and cheaper prices in order to create the new operating system for global trade. As a tech-enabled freight forwarder, Flexport have increased the volume of goods shipped by 16X year over year, and the company just crossed $1 billion in merchandise moved this year.
Those goods would be worth $2.5 billion at retail. To put this in perspective, check out www.flexport.com/now to see a visual map of all of Flexport's air cargo, ocean freight, and trucking containers around the world right now:
What was the reason you went on to setting up Flexport, and how are you disrupting the freight and logistics industry (we've heard it's a black box, untransparent industry, but what is Flexport doing to challenge this)?
I've been in the import/export business my whole life. When I was a teenager, my brother and I started buying stuff from China and then selling it stateside on the web. I moved to China in 2005 and spent two years in the supply chain trenches. That's where I realized what a mess everything was. Nothing was indexed properly, and there was no software layer to be able to find and sort your stuff.
For retailers, this is a major problem. Say you're Apple and you want to call your manufacturer to find out where you iPhone 7 shipment is. You have to call the manufacturer in Shenzhen, who then looks at his excel spreadsheet to determine he sent it on an ocean carrier to the Port of Los Angeles. So, you hang up the phone and you call port in LA, only to find out it's already in a rail shipment on the way to San Francisco. You have absolutely no idea where your 20 cases of iPhone 7s are until they show up at your store.
Global trade is one of the biggest and oldest industries in the world, that still operates like it's 1970. Flexport is challenging the status quo by applying a modern software layer as part of our freight forwarding service, enabling our team to be efficient and allowing importers to have full visibility and control into their shipments every step of the way.
We've heard people saying that you are aiming for Flexport to be the 'Uber of the Ocean' – is that true? How so?
As flattering as it is to be compared to a company valued at over $60 billion, Uber isn't the right analogy for what we're building. Flexport isn't a consumer app, managing a point-to-point logistics network where a single driver is required for each move. Instead we're coordinating complexity across a range of asset owners to move products across international borders. As with Uber, we are in a highly regulated industry. But complying with Customs and freight regulations is serious business—our borders are the front lines against drugs and terrorism, and freight forwarders who flout the law will be put out of business or worse, locked up.
The complexity of international trade compliance means that every single shipment we manage will always need to have an expert involved. So it's that combination of human and machine intelligence that most sets us apart from Uber and other pure technology companies.
Negotiate standing rates or request market quotes – Request quotes in the app, and receive them instantly or in less than 24 hours. You can compare options on a line-item basis and make bookings online.
See your shipments move across the world – Flexport plots your fulfillment centers, warehouses, factories, etc. on an interactive global map. See all of your shipments move in real-time across each place in your supply chain, and easily manage issues with your logistics manager.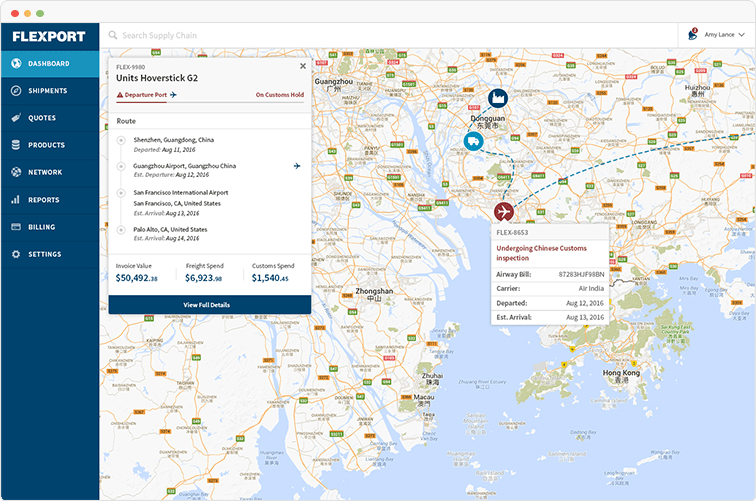 Freight forwarding's significance in Supply Chains
How does freight forwarding work in the current Supply Chain industry?

A freight forwarders job is to coordinate the complexity required to move freight across a diverse network of logistics asset owners. Because no company is big enough to have all the assets required—trucks, container ships, cargo planes, trains, warehouses, and more, in every country on earth—freight forwarders have to use multiple asset owners on any given shipment.

For every piece of international cargo, freight forwarders have to find a truck in both countries, book freight across the ocean, pass through customs on both sides of the ocean, store goods in warehouses, and then arrange final delivery. On top of that, we have to secure competitive rates and clearly communicate that pricing to the end client to make sure it's acceptable. For a traditional freight forwarder, all of that complex coordination is done using phones, emails, fax machines, and physical pieces of paper.
Flexport is replacing those technologies with software, not only automating away transaction costs but also improving the user experience for brands moving freight (e.g., air cargo, FCL, LCL, drayage). We structure all data in your supply chain, reinforcing automation of information as part of our freight service. As a result, our online dashboard gives clients more visibility and control over their supply chain than ever before.
Flexport online dashboard: the web app allows you to request and book shipments, track all your global freight movements in real-time, manage product data, visualize your supply chain, view analytics, and more.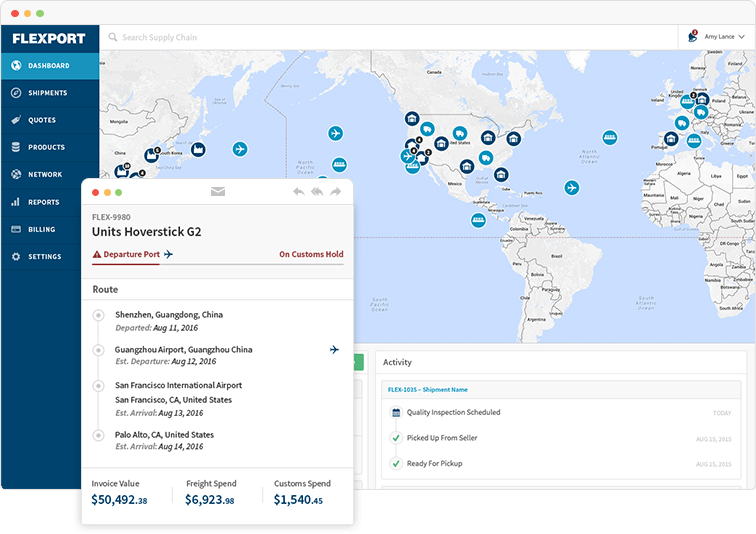 Please give an example of how you help your customers?
Our software enables our team to provide real-time shipment updates. More pointedly, we also provide SKU-level visibility for each of our clients' shipments, which requires a keen eye in data integrity and operations. This kind of transparency helps our customers better understand their supply chain activities (e.g., landed cost of goods) and make even smarter business decisions. However, one of the biggest things we realized early on is that while we can automate transaction costs, we can't automate great customer service.
Most companies have customer support teams that operate in a silo, but we've set up our organization as an autonomous squad, with representation from sales, account management, operations and customs compliance. Each squad owns its client relationships from end-to-end and is empowered to make their own decisions on what is best for the customer and the business without needing to appeal to a higher authority.
We operate in a complex industry, and that means that every shipment we manage will need an expert involved. It's this combination of human expertise and machine intelligence that allows us to provide the most value to our customers and set us apart from our competitors.
So you've just raised $65M, what will you be using it for?
The funding will help us hire and retain more smart, driven people to tackle the many challenges we face. And it will also let us continue our rapid international expansion. In 2016 we opened offices in Amsterdam, New York, and Hong Kong, and already we have more than 30 people working in those locations. Our employees speak more than 35 languages, and helping companies go global is at the very heart of our mission of making free trade accessible through technology.
What's the medium – long term goal and objective for the company?
We want to build the world's best freight forwarder, and move into giving our customers even more visibility and control of their supply chain. The supply chain presents huge problems that keep even the most experienced logistics experts up at night, so we want to become that strategic partner that can add value to our client base.