We.trade is the brainchild of a Blockchain Consortium established in 2017. Since then, they have grown to 14 banks and established themselves as a founding member of INATBA (International Association of Trusted Blockchain Applications).
However, the task they have taken on is not to be underestimated and with the departure of Roberto Mancone – founding Chief Operating Officer – there are significantly more challenges on the road ahead for the blockchain platform.
In 2017, seven banks (Deutche, HSBC, KBC, Natixis, Rabobank, Société Générale and UniCredit) began working alongside IBM on the now-called we.trade network, as a way to digitally connect all parties involved in a transaction – from the supplier right the way through to the transporter on the other side.
The addition of CaixaBank, Eurobank, Erste Group, Nordea, Santander and UBS brings the total number of institutional members to 14. If we look at Nordea alone – the largest financial company in Northern Europe has an incredibly large customer base, and by introducing the blockchain network to trading clients through their bank it creates masses of exposure for the platform.
This being said, the first 7 live trades on the network were completed in July of 2018 and since then the network has grown considerably, but largely delayed the commercialisation phase – Will this expansion prove substantial enough to revolutionise the world of international trade?
What can we.trade facilitate?
The blockchain network allows users to find and trade with trusted parties, all around the globe within the same network. This is a real benefit that in today's world of social media may be underestimated. As more businesses are in contact with more businesses, essentially the entire business ecosystem increases – which leads to an increase in competitiveness. If a trade financier in England now has to compete against Financiers in Canada because we.trade enabled the worldwide connection between business and finance supplier, it would force a restructure within the trade finance industry.
Furthermore, it allows users carry out the following tasks:
to create new trade proposals
request bank payment undertaking
agree payment conditions
request invoice financing
All the while, providing a transparent overview of the complete trade process. Transparency is an essential element in today's trading climate. With so much political and economic instability, the less grey area's or possible confusion the better and an increase in the industry standard of transparency within transactions may well result in a significant increase in engagement, resulting in more businesses receiving funding which would lead to a shortening of the aforementioned gap.
There are multiple other not-so-technical benefits to we.trade also – for example the ability to be designed in multiple different languages. The barriers to trade that communicational difficulties pose is an undeniable truth, and the success and popularity of International Chamber of Commerce's Incoterm rule set is a fine example as to the benefits of addressing communicational barriers.
Addio, Roberto
Roberto Mancone is considered to be one of the key pioneers behind the concept of we.trade. His 25 years of corporate banking experiences enlightened him to the lack of adaption in the modern trading ecosystem to real-world changes in the economy and technologies.
With this new burden of realisation, Mr. Mancone approached Deutche Bank and proposed starting a new digital strategy office – one that focused specifically on AI, Blockchain and the Internet of Things. After a year and a half of trying to get approval, it then took only 8 months of working alongside IBM to implement the concept into the real world.
However, Mancone recently announced his departure from the business. Speaking to CoinDesk he said "I have not yet seen something that shows the ultimate benefit of the technology. We are building solutions that are perceived as valuable by the providers of the solutions, not the users."
Roberto will therefore be exiting the company to explore the next steps of his personal vision that is the advancement of the application of Blockchain technology.
Mr. Mancone's replacement, Ciaran McGowan, assumes the title of General Manager. In their latest publication, we.trade announced the appointment of Ciaran, and expressed their delight at having his "steady hand at the operational helm" as they "continue to expand our network and push into a commercialisation phase".
We spoke to Roberto Mancone just a few weeks ago, hear the podcast here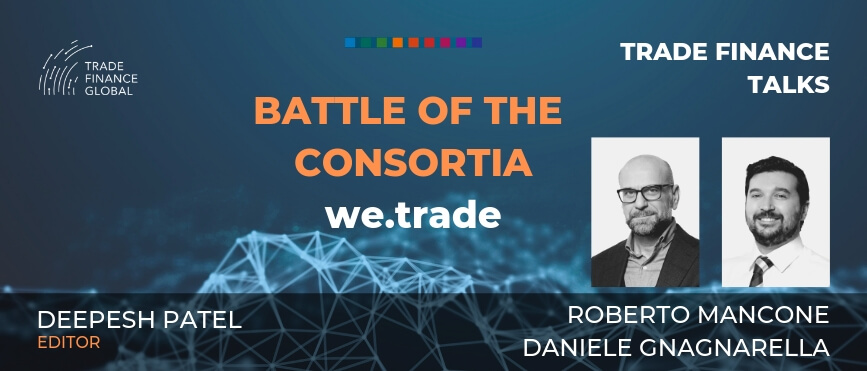 Up and Coming Challenges
Although the incorporation of we.trade as its own legal entity may at first seem like an accomplishment worth commending, it comes with operational difficulties. For instance, initially they were forecasted to commence their commercialisation stage in Q2 of 2018, but many member banks have held off from opening the platform to their clients because of the training required.
As a consortium of banks, we.trade previously benefitted from the IT support of said banks and also other commercial supporting structures. The training of internal teams to adapt to such a new platform takes time and has resulted in a delay of the full roll out to member bank's client base.
There is then the threat of increased competition. Although competition in markets – specifically emerging technology markets – is predominantly good for the consumer, for a relatively new innovative company it can be difficult.
There are other international trading consortia focused around the implementation and integration of blockchain technologies, however the unique difference is the aforementioned legal status of the company. Because we.trade is it's own company, the intellectual property produced by the fintech is owned by them and not the contributing banks – as shareholders, banks may receive dividends of the profits made from the intellectual property, but the IP can be licenced to any other bank without creating an uneven playing ground for member banks.
There is no limit on the number of shareholders – any individual or institution that wishes to invest in we.trade Is free to do so, whilst understanding they will be on a level playing field with no ownership of IP.
Executed Trades
As mentioned, there has been a significant delay in the release of we.trade's platform to member-bank's client bases. However, from what transactions have been completed, the feedback has been respectable.
W41TP, a corporate client of Société Générale has been regularly and more importantly, successfully been using we.trade to benefit from payment deadlines for its purchases of environmental equipment whilst the supplier in Germany obtains fast, efficient financing.
Patrice Schwartz, Financial Director at W41TP verified their attraction to the network "we are fully satisfied with we.trade: an innovative, digital and easy-to-use solution. This platform allows us to significantly reduce the processing time of our orders, while having a high-quality service through the exchange of real-time data."
UniCredit and KBC have joined the relatively short list of firms to trade through this platform. Together, they assisted in the facilitation of tinplate trade through we.trade's blockchain network. This is of course not UniCredit's first experience with we.trade, as back in 2008 together with Banco Santander SA secured a retail order through the DLT.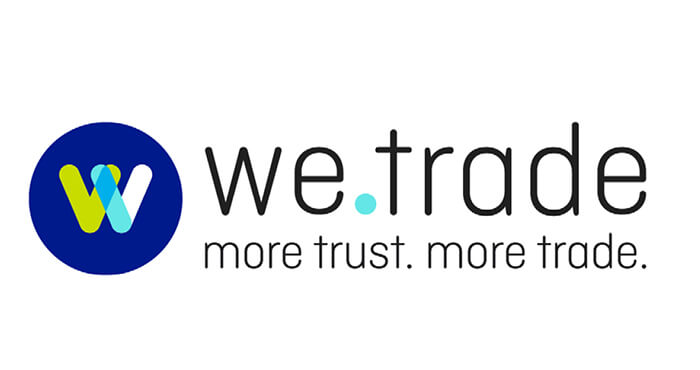 Consortia vs. Company
By offering a single point of contact network, where parties from all sides of the trading transaction process can interact, conduct business and establish meaningful relationships the trading world becomes more connected. Furthermore, by having a legal entity of its own driving this technology forward, there are a number of benefits; firstly that as a company the focus is more on production rather than theorising; secondly that because anyone can become a shareholder it removes the conflict of interest issues faced by IBM and Maersk.
As mentioned, the fact that all investors of we.trade will come in on a level playing field, removing any concerns from potential member banks that they will be essentially aiding their rivals.
IBM and Maersk's distributed ledger technology, Tradelens faced significant issues when they struggled to expand their network. The issue becomes a much larger one when you understand that the strength and quality of a distributed ledger network is dependent on the size of the network and number of nodes operating within it.
When you then attempt to entice shipping organisations to join a platform that is part owned by a significantly large competitor, the result is a lack of interest. Initially announced as a joint venture, IBM and Maersk were set to own the IP (intellectual property) of Tradelens, and so Maersk competitors would essentially be aiding their biggest rival.
Crunch Time
Two years on from the conception of the blockchain consortium, we.trade is now looking to make a substantial dent in the commercialisation process. A number of banks are beginning to introduce the platform to their networks, and the success of the network is largely down to two things; technical performance and general consensus.
If the basic technology, or maintenance of the platform fails to adhere to the standards promised, then there will be little benefit for businesses to adopt the technology through their bank and go through the process of fully integrating it into every-day business.
Furthermore, if the general consensus around we.trade is to fall due to reasons such as the above theoretical performance failure then the number of active users – and thus, nodes – on the network decreases. As previously mentioned, the security and overall credibility of the blockchain network is heavily dependent on the size of the network and number of nodes active within it.
Moving forward, the blockchain trade platform has announced a number of partnerships, such as the joining of the Hyperledger community and the potential to join Tradelens, Tradeshift and B3i.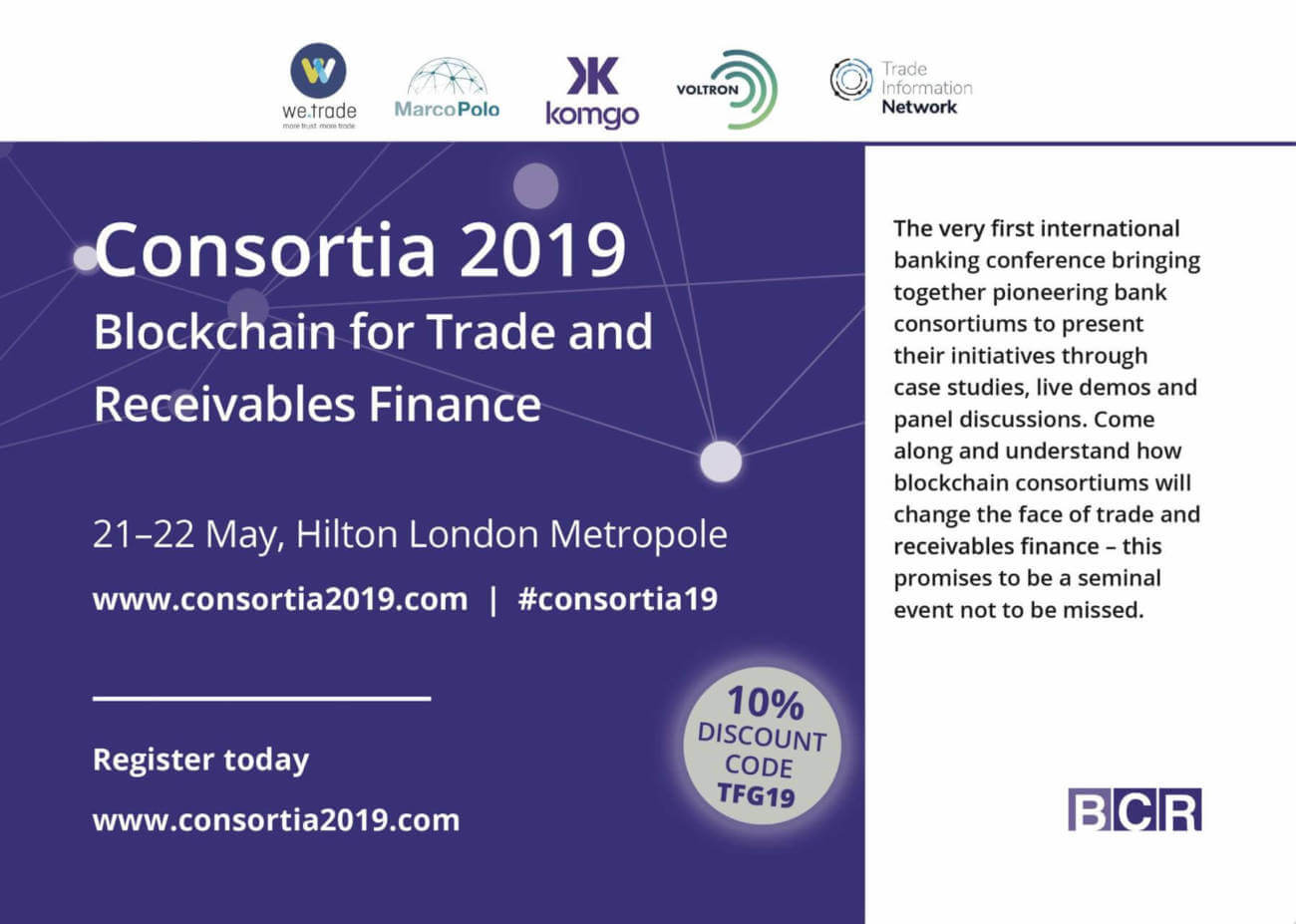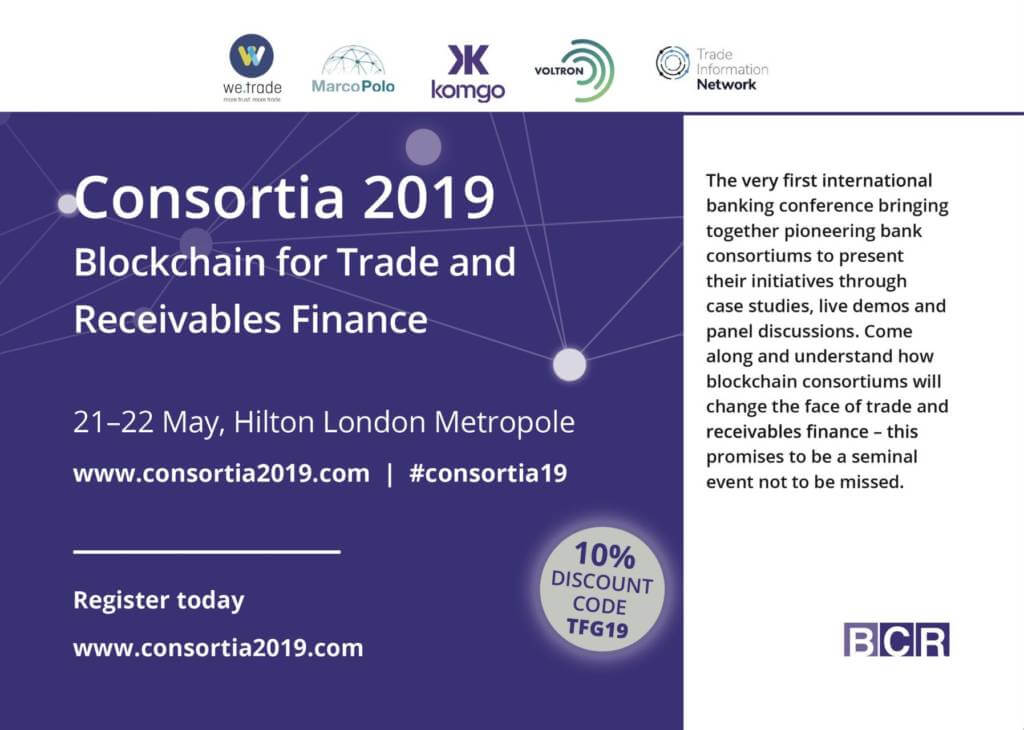 For listeners of this podcast, by using the promo code TFG19 you'll get an exclusive 10% discount at Consortia 2019 in May.
we.trade will be speaking at Consortia 2019 in London which BCR are hosting this May and we'll hear more from Daniela at we.trade then.