Host: Deepesh Patel, Editorial Director, Trade Finance Global
Featuring: Pamela Coke-Hamilton, Executive Director, International Trade Centre
Trade Finance Global's Editor Deepesh Patel heard from Pamela Coke-Hamilton at the launch of Women in Trade 2021 on International Women's Day.
What can women entrepreneurs do themselves to prepare their businesses better to obtain the financing they need?
This can be summarized in 3 strategic steps in order to help women ensure the success of their business:
First of all, better branding and marketing: Create an impactful story around the product or service you're offering, and boost brand recognition to raise awareness amongst potential investors and financiers. Women entrepreneurs are also encouraged to be proactive and seek out opportunities and learn about financiers that are funding women-owned businesses, businesses with a strong track record of employing women, or companies that improve the lives of women and girls with their products and services.
Secondly, getting the business offer to be the best it can be: Throughout the business cycle, ITC tries to help businesses to be as prepared as possible, factoring in the product, scale, quality, business management, business plan and more. So women-owned businesses can ensure they are investment-ready by systematically reviewing their business model, their strategy and their team, before crafting a validated growth and investment plan. And this brings me to my next suggestion…
Thirdly, plug into networks and pursue training opportunities that are available: Investment readiness bootcamps, hubs, training and access to networks can not only prime you for investments but can connect you to investors. For example, programmes such as ITC's SheTrades Invest, which provides technical assistance to improve the investment readiness of women-owned businesses through capacity-building activities, performs due diligence and builds a pipeline of women-owned companies that are credible and robust to de-risk potential capital for our network of 30 impact investors. ITC is also offering an extensive line-up of webinars and training opportunities in the lead-up to SheTrades Global Dubai, which is going to be held in October 2021.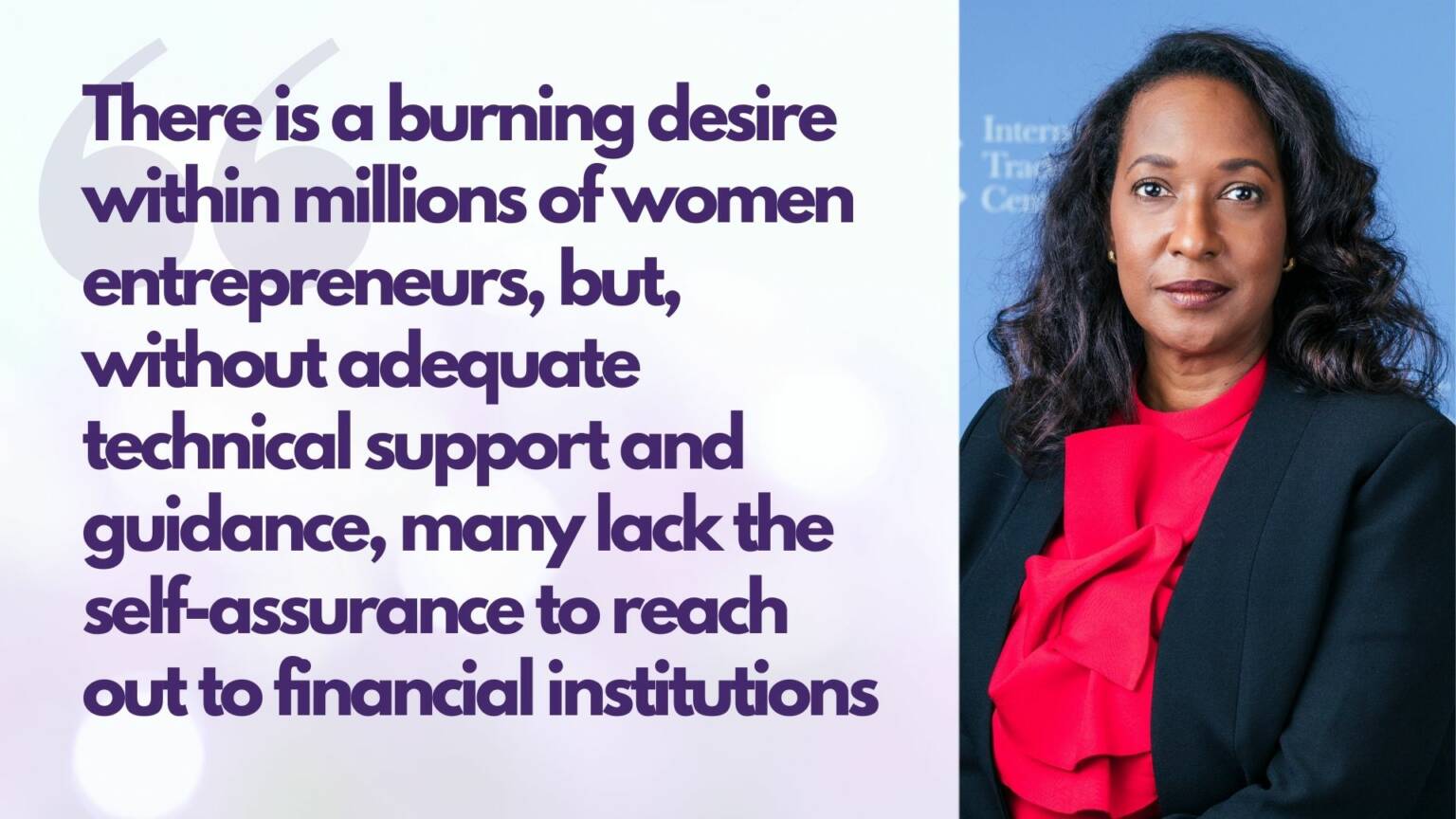 What could women in finance providers (banks and non-banks) do to show solidarity and empower female entrepreneurs to develop products and services?
One of the biggest problems is the way that financing is offered. So the first thing I would suggest is offering financing in smaller chunks and making it available through consortia that cater to MSMEs. It is important for us to recognize that one size does not fit all, especially when it comes to financing. Funders unfortunately continue to use large and traditional measures for financing SMEs, which have worked in the developed world, but do not consider the real needs of SMEs in the developing world. Women entrepreneurs continue to face difficulties in accessing finance because of traditional terms and conditions that are not flexible enough in the current business climate. So for example, the conditions of collateral, strict and inflexible repayment schedules, and high interest rates often force women to turn to their personal networks for funds. So by catering to the unique challenges faced by women-owned MSMEs, you can play an active role in women's economic empowerment.
So investors who are interested in supporting women entrepreneurs should consider partnering with organizations, such as ITC and others, who are already doing the work of de-risking investments through the provision of technical assistance, pipeline and due diligence of women-owned businesses.


Secondly, offer mentorship programmes to support women entrepreneurs: I would really like to encourage women in finance to share their wealth of knowledge with women-owned businesses. Weak financial and business knowledge is a challenge that many women entrepreneurs struggle with on a daily basis. They continuously ask for capacity-building activities and coaching in these areas. Many women entrepreneurs lack knowledge and confidence when it comes to financing procedures, the necessary documentation and pitching their business plan. They often have difficulties identifying the correct financial instruments for their business or understanding the services offered by financial institutions. As a result, they often approach the wrong investor for their business. As I mentioned before with our SheTrades programme, mentorship programmes such as these can be readily built into a company's corporate social responsibility strategy and have a meaningful, positive impact on women-owned businesses in their communities.
Thirdly, make financing opportunities available, accessible and transparent: There is a burning desire within millions of women entrepreneurs, but without adequate technical support and guidance, many lack the self-assurance to reach out to financial institutions. Our SheTrades Invest's results revealed that financial products and ticket sizes provided by financial institutions are discouraging women from even approaching them. While efforts to finance SMEs though priority sector lending targets and credit guarantee schemes have been undertaken, women entrepreneurs are still excluded from mainstream financing efforts. By making these financing opportunities more accessible to women-owned MSMEs, this can have a really positive impact on overall women's economic empowerment.
On International Women's Day, what is the most important message you want to send out to young women thinking about their careers?
I would urge women to believe in themselves. Believe in their innate worth, in their capabilities, their talents and their expertise. Regardless of whatever room you enter, you belong, and you have a voice. So I urge young women to support each other and help pave the way for more to follow. Thanks.