South Africa has been ranked as the number 39 most innovative region within the Sub – Saharan Africa. Cargo handling and marine services in the ports, as well as cargo and other maritime related services provided locally, comprise what is generally now regarded as the maritime transport sector, although port operations are industrial activities rather than transport, while cargo services are rendered within the branch of the services industry that includes freight forwarding and consolidation, procurement, warehousing, distribution, supply chain management and associated tasks as well as the supply of road transport.
Cargo throughput at the ports is an indicator of economic activity because the information comprises tonnages of bulk cargo and numbers of containers expressed in TEUs ("twenty foot equivalent units") in order to allow for the mix of twenty and forty foot long containers. Although empty containers are identified in the data, no allowance is made for containers of other dimensions, e.g. containers of forty-five feet and high cube containers that carry more cargo than containers of the standard sizes.

Furthermore, bulk cargo is often loaded into containers that otherwise would be transported as empty. Consequently, the average weight of a TEU based on a survey in any period does not provide an accurate factor from which to derive the tonnage of containerised cargo in any other period. Nevertheless, such erroneous conversions are often made in order to compare the throughput of cargo between South African ports and over different periods, sometimes without even allowing for empties or seasonal fluctuations in the average weight of the containers.
Statistics on the monetary values of imports and exports are derived from customs declarations and are contained in official publications, but such values vary with exchange rates and are dependent on the correctness of the valuations. Conversion of the values declared for containerised goods into tonnages by using a factor based on sampling is too unreliable for general application.
Small businesses must keep up with the ever changing business environment. These changes include new systems and methods of doing business in order to stay competitive. Lastly, the Enterprise Supplier Development ( ESD) Mentorship amongst other initiatives can make a difference in the transformation of the industry.
International Importance of SMEs
SMEs are important creators of value added employment in economies. Large companies were all once small SMEs (companies like Microsoft, Apple and Vodafone started as small companies). There is sometimes little or no technological dynamism in many poor countries. Due to their crucial importance to the economy, government and international agencies are constantly working to promote and sustain SMEs in a highly competitive environment. According to research, the World Association of Small and Medium-Sized Enterprises (WASME) are extremely active in supporting SMEs, with members in 112 countries promoting cooperation as well as providing enterprises with industrial, technological and trade information, training and research facilities and support for the development of micro and rural enterprises.  
Figure 3 shows the distribution of employment in the manufacturing sector by firm size in selected international economies. In Italy 79.7% of the manufacturing firms employ less than then 500 employees and in the UK 66.3% of the manufacturing firm employ less than 500 employees. In the US, the majority of the manufacturing companies (58.9%) are large companies, employing more than 500 people. Given the dominance of the USA in World's manufacturing as shown in Figure 1, this is expected in a place where most of the small companies could grow into big companies or were taken over or merged with bigger companies. This could also imply that there is some merit in the economies of scale of larger enterprises.   
Figure 3: Distribution of employment in the manufacturing Sector by Firm Size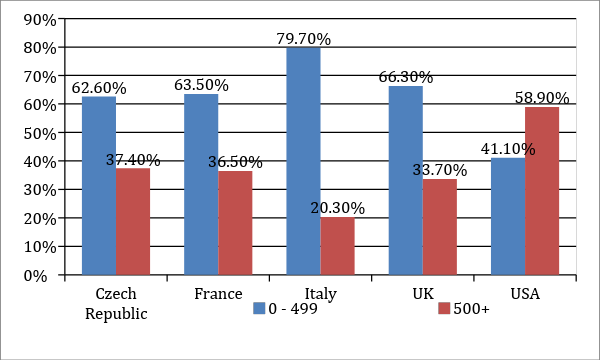 Future of Small Businesses Transformative Capacitation towards Sustainability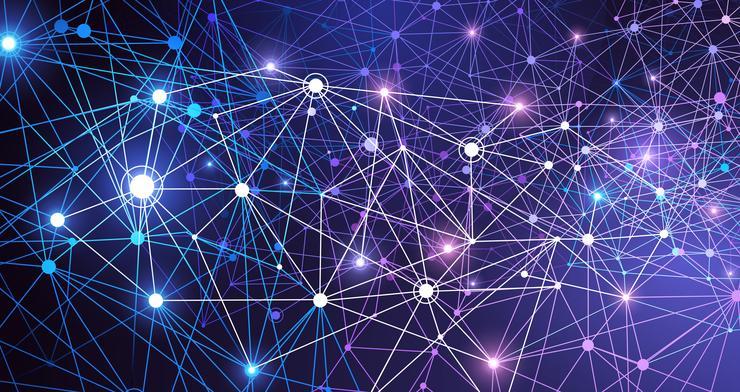 Globalised supply chains have enabled goods and services to be transported across the world to meet the ever-increasing demands of populations. Ports are gateways for 80% of global merchandise trade by volume and 70% by value. Infrastructure Development is crucial for South Africa to participate in this fourth industrial revolution. A huge number of small businesses are excluded due to not having on-time access to information and development initiatives in their country. Government has shown a strong support in policy changes on restrictions to address barriers to entry for small businesses in all sectors.
The African Trade Insurance company expects its annual insured trade to double to $ 7 bn (R92, 5bn) within five years, driven by new members including Ghana and Nigeria. The establishment of African Trade Insurance in 2001 with the World Bank was meant to offer insurance for large investment and financing projects against risks such sovereign default, war and insolvency and to spur investment by African companies and private equity into Africa.   The Africa Intra-Trade agreement signed by the 44 African countries creates enormous opportunities for small and large businesses within the maritime sector. As a sign of progress Egypt will be hosting an Intra-Trade Fair Summit in December 2018 in partnership with the AU creating export market opportunities.
All these government stakeholder initiatives will play a large role to stimulate economic growth, diversify South African and African economies, reduce the inflationary effects of weak transport and logistics infrastructure, become globally competitive, create employment and reduce poverty.
Foreign direct investment is a critical driver of economic growth for both developing and developed economies. It strengthens productive capacity through the transfer of technology and knowledge, the creation of job opportunities, improvements in human capital, and enhanced production processes. South Africa should radically transform its maritime sector for the inclusive economic growth of the country and become a strong fourth participant in the Industrial Revolution.
Many businesses are no longer about shareholder value and profits but rather about the impact that they make on society and their contribution to the triple bottom line. There should be a strong focus on bottom up approaches for the development of Transport Policy focusing on greater participation by Cargo Owners in the transport process. Blue ocean strategy challenges companies to break out of the red ocean of bloody competition by creating uncontested market space that makes the competition irrelevant.
Sources: Dr Wyne Visser, Professor at GIBS – University of Pretoria, Circular Economy, Afro Voice News Paper Article (Gauteng), Intra Africa Trade Fair (www.intrafricantradefair.com), Integrated Maritime Strategy of 2015, Shipping Freight Resource Block.     and Supply Chain Analytics Market – Global Analysis 2018 to 2025.
The manufacturing sector provides an opportunity to significantly accelerate the country's growth and development. The sector accounted for 13% of South Africa's GDP (as at Q3 2017).   
Figure 4: SA sector contribution to GDP in 2010, with a focus on the manufacturing sector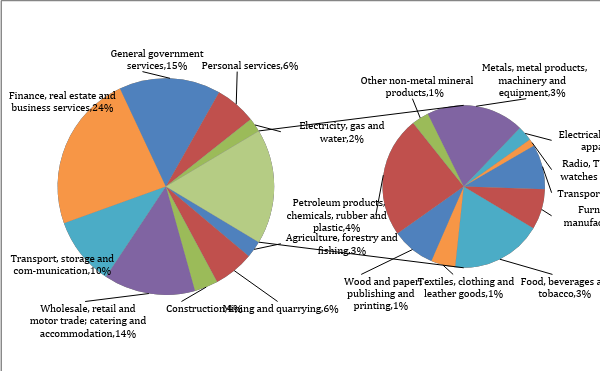 Source: Stats SA