Top Companies to watch out for in 2016
At Trade Finance Global we love talking to and watching companies grow. Every member of the TFG team came up with a list of top companies to watch out for in 2016. As a result of phenomenal growth, creating beautiful products or strong leadership, we've picked our top businesses that we believe will continue to grow and prosper in 2016!
Tradefinanceglobal.com editor James Sinclair, said: "We were really happy to put forward these 8 companies and commend them for an excellent 2015, as well as earmark them for a stellar 2016. Well done to all of our winners."
Hiroki Takeuchi, CEO and co-founder of GoCardless
GoCardless has seen tremendous growth in the last year. GoCardless lets businesses easily process direct debit payments online. Companies can use GoCardless' technology to aggregate payments, which makes accepting direct debits much more affordable. In July last year, GoCardless broke the boundaries, processing over $1bn of payments.
How is your company changing or making a difference in the world?
Since GoCardless was set up in 2011, we have focused on simplifying Direct Debit for all companies, large and small. We've opened up access to companies who could never previously use it and enabled organisations to accept payments in multiple currencies. We already process over $1bn per year for over 13,000 businesses and are looking forward to expanding globally so that companies can quickly and simply start taking payments from anyone, anywhere in the world.
What was your top highlight of 2015?
It would have to be 2. Reaching over $1billion in transactions and launching in 5 new markets.
What are your biggest plans for 2016?
We don't want to spoil the surprise. We'll have some exciting announcements in the next couple of months.
What's your top prediction for 2016?
Further collaboration between Banks and Fintechs with a focus on providing the best solution for the end consumer.
Daniel Gandesha, CEO and founder of Property Partner
Property Partner has allowed many to purchase equity in property, allowing investors to access the buy-to-let market in a heartbeat. We think that this growth will continue to trend in 2016, and believe that Property Partner's strong team will create a dent in the buy-to-let market.
How is your company changing or making a difference in the world?
Property Partner has revolutionised the residential property market by creating a globally-unique "stock exchange" allowing anyone to invest in buy-to-let with none of the hassle, and at the click of a mouse.
What was your top highlight of 2015?
When we broke the world record for the fastest ever equity crowdfunding project by raising £843,100 for a converted mill in Lincolnshire in 10 minutes 43 seconds.
What are your biggest plans for 2016?
We'll be offering multi-million pound, institutional-grade property opportunities to investors here in the UK and around the world.
What's your top prediction for 2016?
The traditional buy-to-let sector will shrink in 2016. The government's planned changes to mortgage interest tax relief and stamp duty will both play their part. Now the Bank of England looks set to wade in by tightening buy-to-let mortgage lending criteria. It's all conspiring to make life very tricky for those amateur landlords who bought into the buy-to-let dream in recent years – borrowing heavily with little equity. I think many will decide the sums no longer add up.
So if there is to be a buy-to-let sell off, who will supply the housing for those who can't afford to buy? Property Partner is helping to bridge the gap, channeling the right investment into the sector, funding good quality residential accommodation available now, and bringing professional standards to the buy-to-let market.
Jeff Lynn, CEO and co-founder of Seedrs
Seedrs is allowing anyone to invest in early stage businesses and we believe that crowdfunding could well overtake venture capital in 2016. Seedrs is set to launch in the US this year, and continue to establish its presence in the UK and Europe.
How is your company changing or making a difference in the world?
We are democratising the early-stage capital markets.
Historically investing in small and growth businesses was the preserve of the rich; Seedrs makes it simple for anyone to buy into businesses they believe in and share in their success
What was your top highlight of 2015?
Raising a £10 million ($15 million) Series A round from two of Europe's leading institutional investors: the Woodford Funds (managed by the UK's top fund manager, Neil Woodford) and Augmentum Capital (wholly backed by Lord Rothschild and his family). This was the largest fundraising ever conducted by a European crowdfunding platform.
What are your biggest plans for 2016?
We're going to continue to grow rapidly as we make early- stage businesses an increasingly mainstream asset class for all types of investors.
What's your top prediction for 2016?
I follow The Economist in saying that 2016 will be the year that crowdfunding overtakes venture capital in size.
Edward Boyes, CEO of HelloFresh UK
HelloFresh provides all the food ingredients you need to make a fresh healthy meal in around 30 minutes. Not only do we believe HelloFresh is disrupting the supermarket industry by providing a convenient product, but it's also encouraging a nation of healthy, busy people to enjoy delicious fresh meals.
How is your company changing or making a difference in the world?
At HelloFresh, our goal is to change the way people cook and eat at home. We make it possible for anyone to cook fresh meals from scratch, by delivering a weekly box of step-by-step recipes and the exact ingredients to their door. In November 2015 we delivered 6.1 million meals globally!
What was your top highlight of 2015?
This has to be our exciting partnership with celebrity chef, Jamie Oliver. From the outset there was a really strong connection between our businesses and a sense of shared mission.
What are your biggest plans for 2016?
Our customers are at the heart of everything we do, and we will continue to use their feedback to develop our product and service. We are especially excited about our partnership with Jamie Oliver as well as bringing more flexibility and customization to our service.
What's your top prediction for 2016?
The 5p carrier bag charge introduced in the UK at the end of 2015 (which has it's most acute impact on supermarkets) will have ripple effects in the food industry beyond the main aim of reducing carrier bag usage. By giving consumers a regular reminder of the wider impact of their grocery shopping habits, it will bring more focus to broader inefficiencies/ waste in the traditional grocery supply chain, and customer's will increasingly switch to innovative new companies like HelloFresh.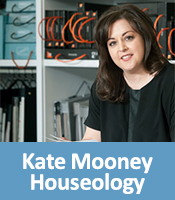 Kate Mooney, CEO of Houseology
Houseology is leading the way for interior designers in the digital space. It's over half way through it's crowdfunding raise on Seedrs, and is set for success and growth in 2016!
How is your company changing or making a difference in the world?
We are changing the world one aspiring interior designer at time!
Houseology.com is a unique combination of art & science, delivering a world class interior design emporium. Our platform delivers an exclusive blend of ecommerce, online media, digital content and social interaction in our concept of empowering customers to unlock their inner designers.
We are delivering a truly unique digital destination where everyone in encouraged to develop their own design style using our professional how to guides, lifestyle looks, dynamic content, insider interviews, videos and innovative design tools, giving our customers a bespoke experience that fills them with inspiration and leaves them feeling confident & excited about their design journey and choices – as we say at Houseology, we're here to make amazing interiors, amazingly simple.
What was your top highlight of 2015?
An amazing weekend in New York with my family to celebrate my first born's 21st – oh, and the small matter of delivering the monumental rebranding of Occa-Home to Houseology.com!
What are your biggest plans for 2016?
To continue to surpass expectations with the Houseology.com platform
What's your top prediction for 2016?
Personalisation and the CX is crucial anyway but will continue to be the big differentiator in 2016 – delivering contextual, customer focussed and personalised experiences will define the online industry this year.
Ed Relf, CEO and founder of Laundrapp
Laundrapp has taken the chore away from laundry and ironing, and we believe that it will rapidly expand in 2016, giving back time to busy people.
How is your company changing or making a difference in the world?
Laundrapp is an entirely revolutionary concept in every possible way. We're taking a century-old industry and bringing it into the digital age, that's not easy! What we've done with Laundrapp is simply to take the smartphone and turn it into a remote control for people's laundry. We're waging war on the washing machine! Laundrapp's vision is to take away the chore of laundry (and dry cleaning) and provide a smart and convenient door to door, on-demand service allowing customers across the country to outsource their laundry needs.
Beyond this we're also changing consumer habit and specifically how people approach doing their weekly laundry. Changing consumer behavior in this way takes time and most importantly trust. The average person spends 3 – 5 hours per week doing their laundry / ironing and now with Laundrapp this can be achieved in as little as a few swipes. It's an entirely revolutionary concept and one that has the potential give back valuable time to the increasingly busy lives of people.
What was your top highlight of 2015?
Laundrapp has numerous highlights of 2015 given that the business only launched at the beginning of last year. In a year Laundrapp has grown to become one of the UK's fastest growing and most exciting startups, we've cleaned over 1 million garments and the service has expanded to more than 25 towns and cities across the UK.
Laundrapp is regularly referred as the "Uber of Laundry" mostly thanks to our innovative on-demand digital service. The speed of growth which has been breathtaking. Laundrapp is now available across London, Bristol, Birmingham, Milton Keynes, Reading to name but a few. What the business has achieved 52 in weeks is almost unheard of and also gives us a hugely successful platform from which to build both nationally and internationally.
What are your biggest plans for 2016?
Quite simply, scale! Laundrapp is a platform business and off the back of an outstanding 2015, the business is ready to scale both nationally and potentially internationally.
Laundrapp truly is a revolutionary concept and with the cutting edge on-demand technology, 2016 will be entirely focused on scaling what is already a successful business whilst bringing it to the remainder of the UK market. There will also be a careful assessment of opportunities to internationalise in the near future.
What's your top prediction for 2016?
We predict that we'll continue to see the growth and prevalence of on-demand digital technology platforms. Thanks largely to the continued growth and usage of services such as Uber, people are changing their behavior by using digital platforms to connect with real world businesses delivering goods and services.
It's doubtful a business such as Laundrapp could have existed even 2 years ago. Thanks to the growing acceptance of these types of on-demand sharing economy businesses, services such as Laundrapp are able to deliver real-world services convenient to customers' needs – a trend that we expect to see continuing through 2016 and beyond.
Mike Laven, CEO of Currency Cloud
Accelerated by a whopping $18m Series C funding round, 2016 will see a huge growth in supporting international payments and payment platforms through Currency Cloud.
How is your company changing or making a difference in the world?
What's interesting about working in the payments industry is that our technology works hard to go under the radar. Payments, although critical to most of our everyday personal and business lives, should be streamlined and non-disruptive. The significance of this process has grown in recent years, with the rise of digital business models, including on-demand services.
With these services promising seamless user experience and maximum convenience, it is crucial that they are based upon robust, forward-thinking payment platforms, or else the model falls apart.
Currency Cloud is driving the transformation of the payments landscape by providing a seamless, instant international payment engine, that van be incorporated smoothly into existing business models via its flexible API.
What was your top highlight of 2015?
This year we've experienced exponential growth, with the volume of transactions processed and client acquisitions both growing by over 100%, meanwhile our staff base has grown by over 50%. Our $18 million Series C funding round, led by high-growth technology fund Sapphire Ventures with support from Rakuten FinTech fund has helped to support this rapid growth.
One of our most surprising highlights was our decision to develop a direct debit product. This time last year, this was not in the pipeline. However, following a request from our client Fidor Bank, our sales, development, marketing and senior team all came together to get the necessary partnerships and agreements in place to get this service off the ground. It really showed us the benefit of having a flexible and dedicated team, who is committed to adapting and improving our business and service to suit the needs of our clients. Thanks to this, Fidor is now one of our biggest clients and the speedy development of this service would not have been possible without the whole team working together to make it happen.
What are your biggest plans for 2016?
Securing investment from US-based Sapphire Ventures and Japan-based Rakuten was a strategic move to support us with our global expansion plans. We've already experienced huge growth in the US and the UK this year and we'll be looking to Asia as our next target for expansion in the next 12 months.
What's your top prediction for 2016?
Start-ups seeking to take advantage of the new wave of globally distributed business models, and a worldwide customer base, will be seeking out "super niches" that they can own. These will be born from ever more specific challenges and frustrations within B2B processes, whether this be related to international money transfer, invoice financing, payroll or foreign exchange.
Venture Capital investors will have their eyes on the huge growth potential in this sector, and will be more than willing to back new entrants to the space in the New Year.
Patrick Pulvermueller, Group CEO of Host Europe Group
Host Europe Group is the parent company who recently acquired intergenia AG, and owns 123-reg, leaders in domain name providers and web hosting. We believe that HEG will continue to grow under the control of Patrick Pulvermueller, making it a top company to watch out for this year.
How is your company changing or making a difference in the world?
HEG is at the forefront of helping small and medium-sized businesses make the most of the online world. Our role in this transformation is to enable businesses to succeed online. We focus on small, medium and enterprise businesses. We know that the companies that put the web at their heart are redefining commercial success. We believe that every company can benefit from harnessing the power of the internet, whoever they are and whatever their needs. Our focus is to empower our customers, in order to get the most out of the web, whether that is through our products, our customer support or our 'how to guides.'
What was your top highlight of 2015?
To name just one highlight in 2015 would be too hard! At the start of the year we completed the acquisition of intergenia AG in Germany, and following this, our collective businesses has grown to become the largest provider of managed hosting services in Germany, and second largest in Europe. In 2015, we reached two highly significant landmarks: registering our 7 millionth domain name and growing our direct customer base past the 1.5m mark. Additionally, we have hired great people, from within and outside of our industry, which helped us to strengthen our enterprise customer base, and focus on delivering industry leading customer support.
What are your biggest plans for 2016?
This year we will perform vital work to develop our great brands across Europe and our teams have been working incredibly hard to deliver this. We will also continue to develop and launch great products to continue to help small businesses make the most of the internet. Added to this, we will continue our focus on improving diversity across the business through engaging in various initiatives which will help us to better support the needs of our employees and the communities that they work in.
What's your top prediction for 2016?
I believe that technology will continue to transform the way we live. I have fully embraced it and so it is really important in my life outside of work. I think that we will see more a lot more with regards to the internet of things. For example, my home is fully connected from the ease of my smartphone – this is a trend that I think will grow and become the 'norm'. Consumers will continue to be on the lookout for new technologies to make their lives easier, and Kickstarter projects will go from strength to strength.
[contact-form-7 id="11950″ title="Trade Finance Form v1.0″]