With the outcome of Brexit negotiations still shrouded in uncertainty, a priority for the UK remains to establish lasting, meaningful trading relationships with key partner states. As Joshua Allsopp of Leumi UK explains, Israel has become an important partner for the UK in several industries.
For the past decade, the UK and Israeli governments have been working on increasing trading levels between the two countries. With a solid diplomatic relationship – which has seen the UK maintain its position as an important political ally since Israel's independence declaration in 1948 – the two countries boast both legal and regulatory compatibility with low levels of state corruption, facilitating business movement and integration. As a result, bilateral trade levels have been rising steadily– reaching a record-breaking £8 billion in 2018 and expected to climb to more than £9 billion by the end of this year.
One industry that is significantly driving this increase in bilateral trade is the hi-tech sector, with the UK-Israel tech hub playing an incredibly important role. Established by the British Embassy in Tel Aviv in 2011 to enable innovative Israeli start-ups to establish a foothold in the UK market, the initiative has already generated an estimated £85 million worth of deals from 175 tech partnerships since its establishment.
The start-up nation
This success is largely down to Israel's support for its start-up businesses. With the highest number of start-ups per capita in the world, the country has become internationally renowned for its prominence in this space. Certainly, its youth and vibrancy resulted in more than US$6 billion in capital being raised for start-ups alone last year – over half of which went to the country's burgeoning tech sector. Of course, Israel is a trailblazer in this space: Tel Aviv is now home to Israel's very own 'Silicon Wadi' – ranking alongside the likes of Silicon Valley in the US and the UK's Silicon Roundabout when it comes to hi-tech growth and innovation.
A world leader in research and development (R&D), and with the highest gross domestic expenditure as a percentage of its GDP dedicated to this space of any country in the world, Israel's success here is hardly surprising. Commenting on what this means for the UK, Leumi's CEO, Gil Karni, observes that "some of the most ground-breaking international tech developments are emanating from Israel. As one of the first to significantly invest in Israel's R&D industry, this gives the UK access to important technologies in a number of key industries".
In the healthcare sector, for instance, digitisation is taking place at an increasingly rapid pace – with hi-tech innovation not only changing the way patients are treated, but also the way in which we handle and process data. Israel has an important advantage here, with breakthrough discoveries in AI, machine learning, diagnostics and medical imaging, as well as fully digital medical systems across the board. To promote the implementation of such technologies, the UK-Israel Dangoor Initiative was established to create a pipeline of up to six technologies per year of the best Israeli healthcare innovations for integration in the UK market. With concerns regarding the UK's dependence on EU-sourced medical supplies, collaborating with Israel's med-tech pioneers could ensure the NHS moves seamlessly out of its previous arrangement while remaining a key industry player.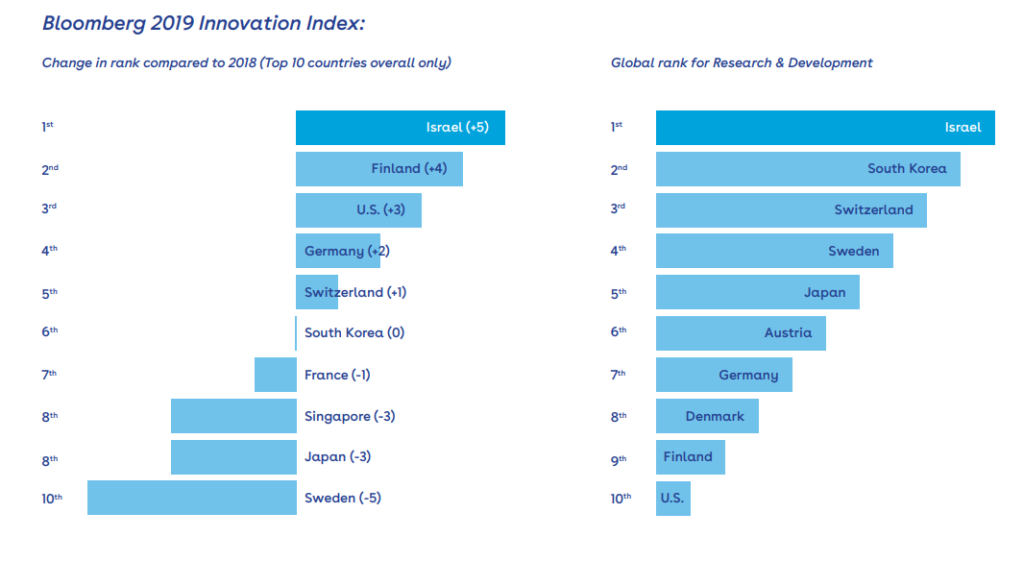 Other industries are also seeing the benefits of such initiatives. The UK-Israel Task Force, for instance, allows ed-tech start-ups from both countries to test their latest innovations on the other's market – the education industry being one that is in desperate need of updating in order to improve both the teaching and learning experiences. At the same time, developing industries such as clean-tech could see Israel's pioneering research in the solar energy space benefit from UK finance – while simultaneously addressing gaps in the UK's clean energy investment. And on an international level, blockchain companies compete to advance the technology to the point of widespread, cross-industry use, so the combination of Israel's advancing research in this space and the UK's flourishing financial market could give both countries an important step forward ahead of their peers.
Of course, when it comes to investment, Israeli companies are faced with a whole range of opportunities. As the world's leading international financial and professional services centre, the UK boasts not only financial clout – generating an industry trade surplus of US$107 billion in 2017 alone – but a young, forward-thinking workforce keen to invest in the latest trends in the tech space. And with its own celebrated start-up culture that is seeing growing activity among large investors, for Israeli businesses looking to expand internationally, London is a logical next step.
Discussing the importance of cultivating this relationship, Karni notes that "while Britain continues to navigate its way through the choppy political situation in which it currently finds itself, Leumi UK is naturally well-placed to support businesses hoping to benefit from increased collaboration between the UK and Israel". Indeed, through our Residency and Networking Programme, we help Israeli start-ups integrate in the UK market by offering them use of our fully-wired offices and giving them access to our extensive network of contacts. Moving forward, we hope to remain at the forefront of this unique trading relationship – helping local and international businesses thrive in both markets.