TFG brings back $1,000 Accelerate Scholarship due to high demand to bridge the trade skills gap
The Accelerate Scholarship was launched by Trade Finance Global (TFG) in 2018 to address the trade finance education gap, due to a shortage of skilled and qualified specialists in the industry.
Amid a challenging time for global trade, and a significant shortfall in skilled entrants to the shipping and trade finance sectors, this student scholarship offers a grant towards academic studies in a trade-related discipline.
Following Brexit, the pandemic, and the lingering global supply chain crisis, TFG believes that educating future leaders in international trade is now more important than ever.
The TFG Accelerate Scholarship offers successful applicants a grant of $1,000 to contribute towards academic studies related to international trade.
The scholarship rewards excellence and originality, and recognises new ideas that have the potential to disrupt and innovate in international trade.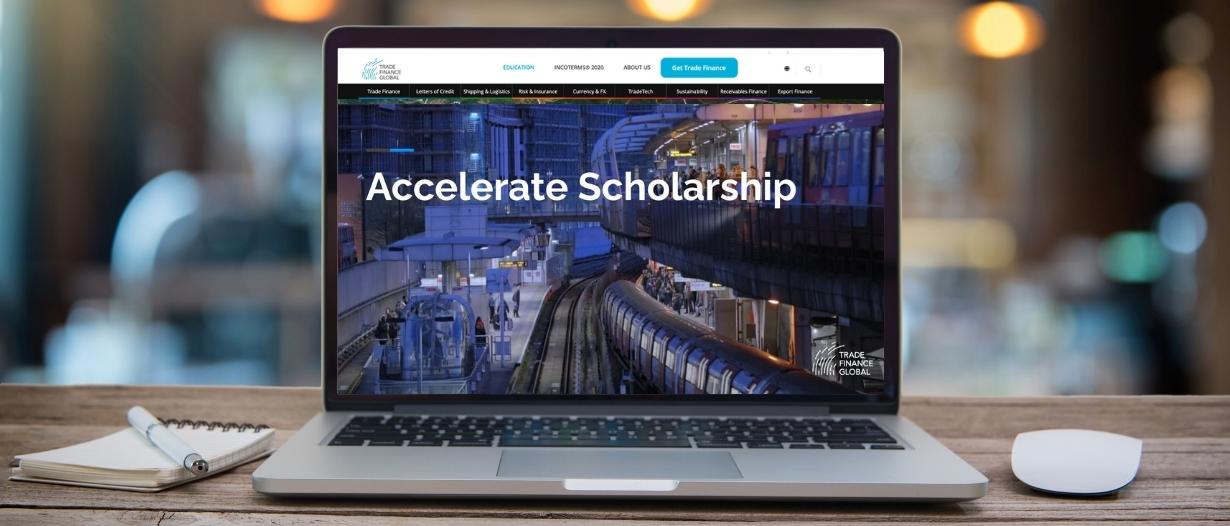 How does it work?
Check you are eligible (age, location, course you are studying)
Apply by submitting an article on a given topic
Receive $1,000 in scholarship funding to contribute towards your studies
Shawn Chow, winner of the 2018 Accelerate Scholarship, said: "Participating in the TFG competition was an immensely fulfilling experience.
"In essence, it was the 'capstone' of my undergraduate stint at the University of Warwick.
"As I delved deeper into the Sino-US trade conflict, I was amazed by the intricate, interwoven nature of geopolitics – particularly the relationship between the political arena and the global economy.
"Having been selected from a global pool of over 2,000 applicants, including several doctoral candidates, I was pleasantly surprised to have won the international competition.
"Indeed, the profound insights I developed through my research served as the kindling of my passion for economics and finance, which guided me to pursue higher education at the Yale School of Management."
Natasha Roston, head of learning and development at TFG, added: "We are excited to hear from the next generation of leaders in international trade. The Accelerate Scholarship is a unique opportunity for students across the globe to diversify the voices in the trade finance community.
"Using their academic knowledge, passion, and curiosity, the Accelerate Scholarship endeavours to challenge students to make their first mark on the industry."
The TFG Accelerate Scholarship is now open for applicants until the 22nd of February.