London, 16th November, 2018. Trade Finance Global (TFG) announces a strategic partnership with the Institute of Export & International Trade (IOE&IT).
Trade Finance Global Announces a Strategic Partnership with the Institute of Export & International Trade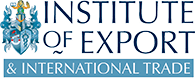 Enhancing export performance and trade finance often work hand in hand to help companies grow their trade lines. As such, the strategic partnership with IOE&IT will help TFG work with IOE&IT members and the export industry to promote trade finance, as well as increasing professional support in education, training and practical business to TFG members.
Trade and export finance is a core focus of IOE&IT. Working closely with industry, policy makers, government and stakeholders, IOE&IT's mission to enhance export performance and share best practice with exporters is aligned with TFG's aims. Joining forces to amplify IOE&IT's education and business support services, the partnership marks the start of an exciting new chapter for TFG. The team at TFG will be working closely with IOE&IT as well as Open to Export, to strengthen its core trade finance education proposition, as well as promote trade and export finance.
"Trade Finance Global has grown to become a thought leader and facilitator of trade finance, one of the most complex areas of commercial finance which accounts for 3% of global GDP" said Deepesh Patel, Partnerships Director at Trade Finance Global.
"I am therefore delighted to announce a strategic partnership with IOE&IT, the UK's only professional body representing international trade. With the current trade finance gap standing at 1.5tn USD, the partnership will help connect exporters and importers at all levels, as well as build out our knowledge portals and maximise our abilities to influence stakeholders to promote our industries. We look forward to a fruitful long-standing relationship with IOE&IT."
About TFG
TFG are experts in structured trade finance, helping companies to trade, import or export goods and services.
We have a network of over 270 banks, funds and alternative lenders across different geographies, allowing us to help almost any trading company to access finance.
About IOE&IT
The Institute of Export & International Trade's mission is to enhance the export performance of the United Kingdom by setting and maintaining professional standards in international trade management and export practice. This is principally achieved by the provision of education, training and practical business support services.
The challenging and often complex trading conditions in international markets mean that our role has never been more vital. The Institute continues to be committed to the belief that real competitive advantage lies in the competence of British businesses. Our future export growth must be underpinned by a sound foundation of knowledge.