Read Trade Finance Talks online (free)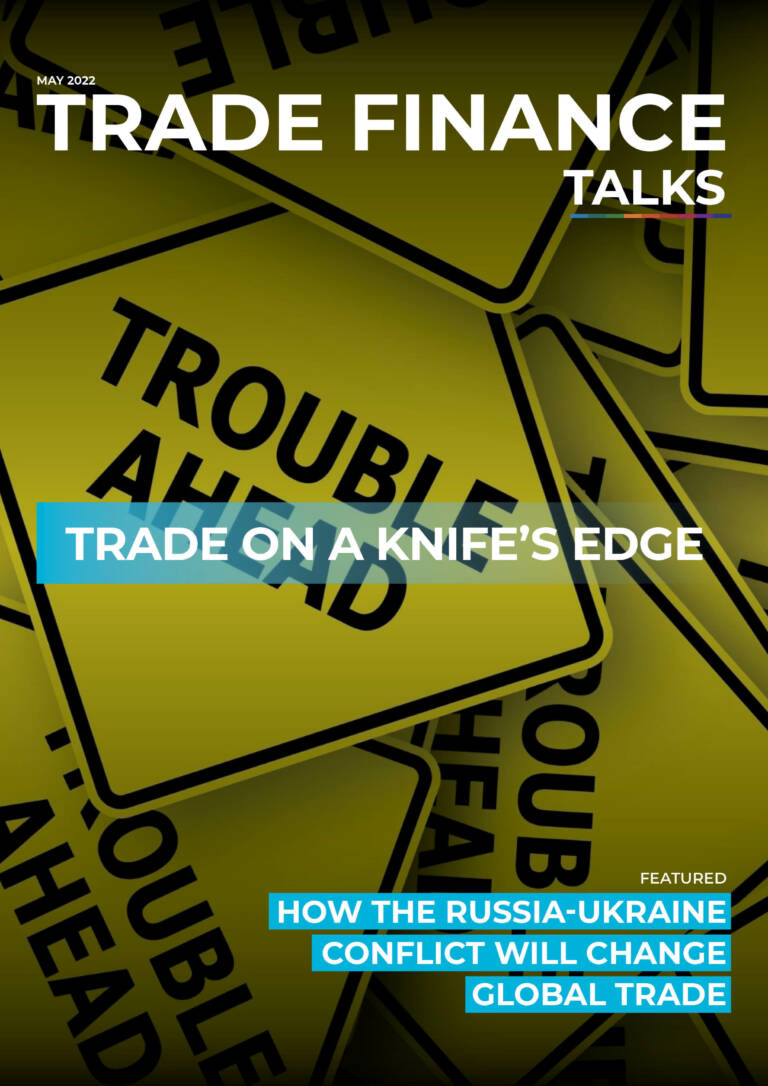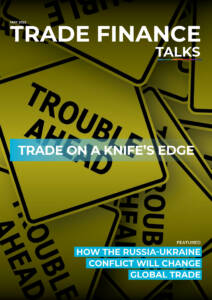 ---
Editor's note
Amidst the turbulence of the BA216 back from BAFT's Global Annual Meeting in Washington DC, I reflect on the key theme of their conference this year: 'Navigating in a changing world'.
It has indeed been an eventful and challenging few months for the trade finance space and the world in general.
The Russian invasion of Ukraine on February 24 has sent shockwaves rippling through the global community.
This devastating humanitarian crisis has torn so many lives apart and no amount of economic fallout should ever overshadow the tangible human suffering of those who have had to endure these events on the ground.
The conflict and ensuing sanctions have also had a huge impact on global markets – from commodity markets to the payments space, which has already faced turbulence over the past 24 months.
Digitalisation remains the hottest topic in trade; bridging the financial and physical supply chains is key to moving forwards, and navigating the uncertainty we currently face.
The gradual shift to digital trade is prompting a rethink around what is possible for global supply chains and financing mechanisms.
These changes will make trade easier to facilitate, but fully implementing them is not going to be so easy.
Interoperability concerns, legal challenges around adopting UNCITRAL's MLETR into common law, and (still) a lack of standardisation are a few of the challenges that remain on the path to a fully digital trade ecosystem.
Hopefully, with the help of the URDTT, the work of the ICC DSI, the recently published standards toolkit by the WTO, and other recent advancements we will be able to put these issues behind us and enjoy the full promise of trade digitalisation.
Of course, the pressure surrounding environmental, social, and corporate governance (ESG) within the trade space has continued to grow.
There is empirical evidence that the global community is running out of time to drastically cut back on our collective carbon emissions to protect our planet.
A business imperative too.
Firms need to educate their stakeholders and take action to combat climate change before global temperatures increase beyond the point of no return.
Financiers have a particularly important role to play in this regard since they will be providing the capital outlay needed to facilitate early transition plans.
Transition is key here, and being honest about what it will take to move from brown to green is a good place to start.
In addition to this, mounting pressure from socially-minded consumers is pushing organisations to scrutinize their own supply chains and ensure that all the actors therein are paid a living wage and treated fairly for the contributions that they make.
Ignorance is simply no longer acceptable.
These are tumultuous times with broader macroeconomic and geopolitical undercurrents impacting the ground-level work of practitioners in new and dynamic ways.
This most recent edition of Trade Finance Talks Magazine dives into many of the key themes facing the industry today.
We will hear from experts and thought leaders and they discuss these and other themes while shaping the conversation surrounding global trade today.
Deepesh Patel
Editorial Director, TFG
---
Welcome to our May Edition of Trade Finance Talks by TFG: Trade on a knife's edge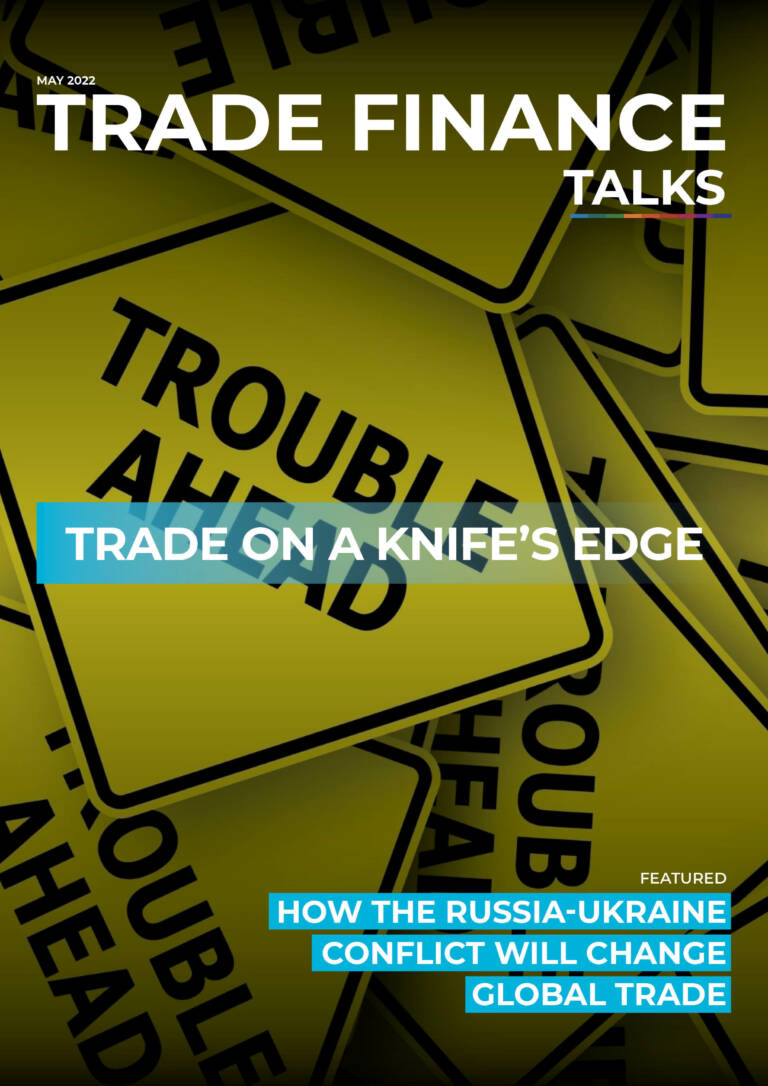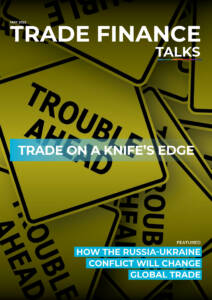 What's inside this Issue?
Introduction
Foreword | A note from the editor – Trade on a knife's edge
Russia-Ukraine Crisis
How the Russia-Ukraine conflict will change global trade
WTO cuts 2022 trade growth outlook amidst lockdown and war concerns
Is the war in Ukraine speeding up the development of alternatives to SWIFT?
Payments prison break: Russian banks turn to China's UnionPay in lieu of Visa, Mastercard, AmEx
China walks diplomatic tightrope after shunning sanctions on Russia, while calling for end to crisis in Ukraine
Oil rallies, gas surges, nickel explodes: How sanctions and Russian aggression are terrorising commodities markets
Black diamond rises: Demand for coal heading to new all-time high despite net-zero targets
Russia-Ukraine crisis impacting payment defaults, commodity finance, and credit insurance
Trade and trade policy
Allianz-Trade on trade confidence following conflict in Ukraine
Explained: What is the International Chamber of Commerce's role in arbitration and trade dispute resolution?
WTO and WEF launch new joint Tradetech report
WTO and WCO on the role of technology in cross-border trade
Technology and digitalisation
Standards for digital trade exist, lack of awareness is the problem
A new rulebook for digital trade: URDTT
How a revolution in stockpile and supply chain monitoring can transform trade finance
Embedded finance: Why banks are moving towards it and its impact on trade finance
The trade digitalisation journey – innovation at Contour
Sustainability and climate
How to make trade fair
The race is on: WWF's Margaret Kuhlow on climate change, green finance
Islamic finance guru Daud Vicary on fintech, sustainability, and other engines of growth
Circle of life – what the circular economy means for greener trade