Private investors and businesses have very different investing goals in comparison to institutional market investors (which include pensions, endowments and foundations). We reviewed investment manager KKR's analysis on current market challenges and opportunities currently facing high net worth private investors. It also surveys high net worth investors across a range of wealth levels to report on variations in asset allocation preferences, specifically noting how these preferences compare for ultra high net worth, high net worth and institutional investors.
Current Economic Outlook
KKR outlined its view of the current economy in January 2017. The investment manager cited four things that it believed would shape markets globally in the near and intermediate terms. These four things included:
Fiscal stimulus over monetary
Domestic agendas over global agendas
Deregulation over reregulation
Broadening of outsized volatility from the currency markets to include global interest rate markets.
The firm said these factors would drive a global paradigm shift also noting that they would cause increased complexity for investors worldwide and private investors specifically.
Investing Landscape
Private investors have significantly different investing goals and objectives also seeing much different investment opportunities as opposed to institutional investors.
KKR believes that as an economic paradigm shift occurs it will cause increased investing complexity, through this shift will also be a number of differentiated investment opportunities for private investors in both the public and private markets.
These complexities add to the already complex structuring of investment by high net worth private investors for themselves and their beneficiaries. KKR believes the investing landscape is also expected to report increasing returns and volatility headwinds. Hedging strategies in particular are expected to see a shift with chief information officers requiring greater latitude in a more complex market to implement their investment objectives.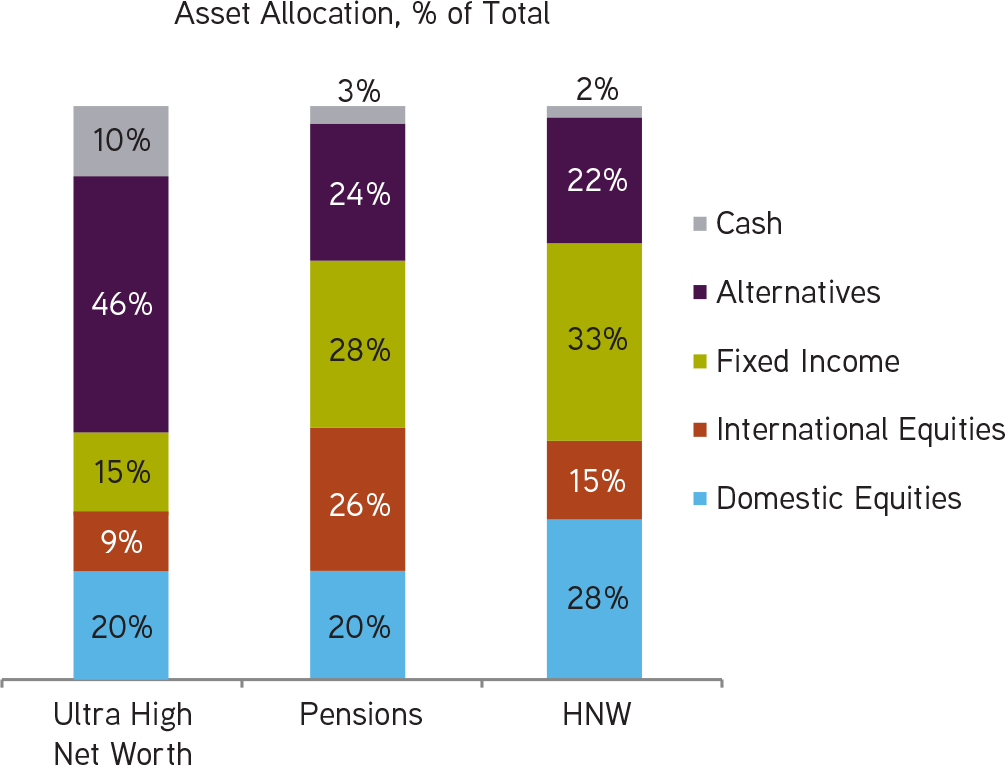 Note: For Ultra High Net Worth, Private Credit is included in the Fixed Income allocation. Data as at March 2017. Source: KKR Global Macro & Asset Allocation analysis, Willis Towers Watson Global Pension Assets Study 2017, publicly available private wealth manager data. 
Private Investor Asset Allocations
KKR's view of the global investing market has long since relied on assessments of asset allocation. To take a deeper dive into the private investor landscape specifically, KKR surveyed over 50 high net worth clients, also interviewing many of the survey participants, to gain a better understanding of the asset allocation preferences of these clients. KKR's results showed segmented preferences for ultra high net worth, high net worth and institutional investors.
From survey results KKR obtained a range of findings, primarily showing that ultra high net worth investors with $30 million or more in investable assets and high net worth investors with $10 to $30 million have very different allocation preferences. Ultra high net worth investors were found to be willing to take on greater risks with a higher willingness for illiquid investments and overall these investors had a greater propensity for alternative investments. In fact, ultra high net worth investors reported an allocation to alternatives of 46% versus high net worth investors at 22%. Alternatives have proven to produce high returns for ultra high net worth investors and the total assets invested have grown to $60 trillion in 2017.
Data as at 2017. Source: Willis Towers Watson Global Pension Assets Study 2017.
What is the Market Outlook for Private Investors?
In analysing the results of the firm's survey findings, it observes that while private investors have enjoyed substantial returns for their risk in recent years, the shifting paradigm could be an issue they have not completely factored in for future investment allocations. Consistent with its views on fiscal stimulus, domestic agendas, deregulation and increased volatility from the currency markets, KKR believes it is not likely that ultra high net worth investors will continue to see the same level of returns if they maintain their current allocation levels to alternatives. KKR believes important counter balances in the near term should focus further on asset allocation as well as diligent manager selection. It also goes on to observe that the ultra high net worth have significantly invested in private equity and hedge funds, two areas where risk reward levels will be challenging to maintain in the shifting paradigm.
At Trade Finance Global, we have also seen the opening up of the alternative finance asset class, whereby private investors can help provide credit for businesses through mezzanine, senior debt or equity solutions, particularly in the receivables finance space.
Overall, the KKR study highlights the currently high level of allocation to alternatives for ultra high net worth investors. It notes that these investors have not yet significantly shifted allocations for a what it believes is the beginning of a changing market cycle. These investors will still likely be able to achieve added premium for their higher illiquidity tolerance however KKR believe a new focus with a high emphasis on manager selection and asset allocation will be needed.
Want more news updates?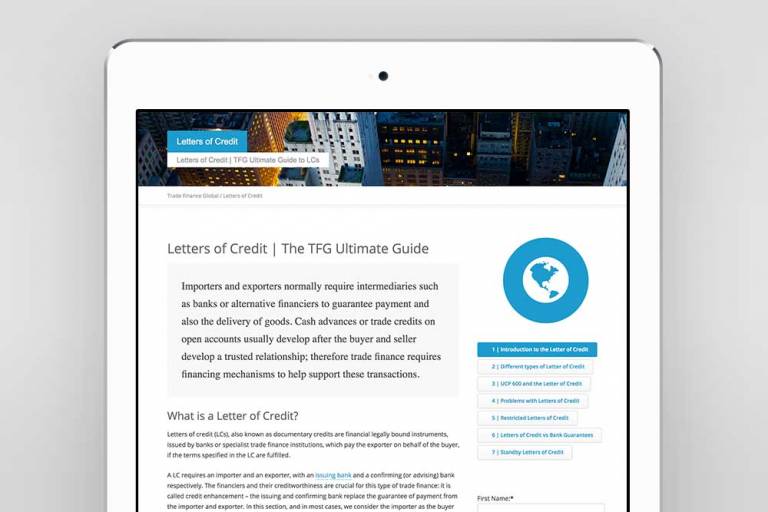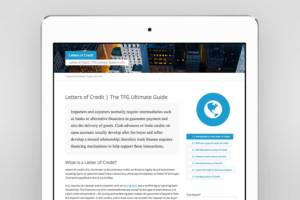 Why not subscribe to our latest news and blogs for free?