1st January 2021 saw the African Continental Free Trade Agreement come into effect. The World Bank's report quotes a combined GDP of $3.4 trillion across its signing members – 2.9% of global GDP and 2.1% of global trade.
The continent is the second largest in the world, with a total population of 1.3 billion across 54 countries, which account for one fifth the world's land mass. AfCFTA therefore represents the world's largest free trade agreement when measured by number of member nations.
However, the signatories also represent a significant portion of the most extreme poverty in the world. The World Bank's Poverty and Shared Prosperity 2020 report indicate that half of the countries in Sub-Saharan Africa have poverty rates higher than 35%, as defined by a $1.9 line, with 18 of the 20 most poverty-impacted nations globally situated in region.
The second largest FTA by the same measurement would be the recently agreed Brexit withdrawal agreement between the European Union and United Kingdom, which accounts for 28 countries. Across the 27 EU member states, as of 1st January 2021, the total population was estimated at 447.7 million – down by 12.8% from 513.5 million, when you account for UK's withdrawal. In contrast to the AfCFTA however, the combined GDP of the EU (including UK) in 2019 was $15.6 trillion.
Another comparable FTA would be the Regional Comprehensive Economic Partnership (RCEP). RCEP includes 15 nations, but includes countries with a total population of 2.2 billion people (almost 30% of the worlds population) and has a collective GDP of $26.2 trillion and 28% of global trade.
The sheer size of Africa, number of independent nations, volume of people and devastating poverty levels mean the commencement of AfCFTA is a monumental step toward improving the standard of living for such a large quantity of the world's population.
"By 2035, we estimate that implementing the agreement would contribute to lifting an additional 30 million people from extreme poverty and 68 million people from moderate poverty"
Key highlights
AfCFTA covers a vast array of economic activity, and covers policy areas that bring the benefits of different preferential trade agreements (PTAs) together to provide a more accessible market.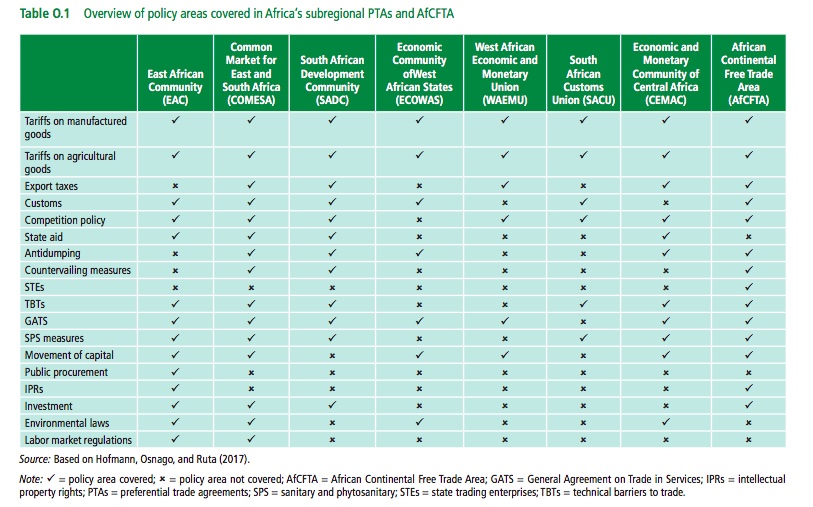 The core component of a free trade agreement is the removal of tariffs on goods being exchanged between nations. As we can see above, all subregional PTAs cover the areas of tariffs on manufactured and agricultural goods, with all but three (EAC, ECOWAS, SACU) also addressing export taxes. There does remain some large tariffs between nations of the region. However, AfCFTA brings all of these subregional trading blocs together, while reducing tariffs and other barriers to trade considerably.
From an economic perspective, this FTA will provide a myriad of positive benefits over the coming decades. By reducing the barriers to trade between nations within Africa, the FTA will promote intraregional trade – a large constraint of overall African economic activity – which would then increase Africa's share in the global trading platform.
By 2035, the members of the agreement estimate the volume of total exports will increase by just under 29% (against BAU levels) – while intracontinental trade would increase by more than 81%, and exports to elsewhere would increase by up to 19%.
By increasing the accessibility of the market, there are broader economic benefits. Real income gains could increase by as much as 7%, translating to US$450bn. A large constraint to intracontinental trade is the associated costs. As such, we can see below the most substantial income gains would stem from the creation of Trade Facilitation and the reduction in Non-Tariff Barriers. Trade facilitation refers to the removal of trading 'red-tape', the simplification of trading administration (customs etc.) and promotion of inclusion in global supply chains. In reality, only 0.2% of income gains will come from the reduction in tariffs – showcasing the true barriers to trade the continent faces.
Interestingly, although the agreement brings with it reductions in trading tariffs, the financial impact on member nation's tariff related income is minimal. For 49 out of the 55 member states, revenue generated from tariffs would reduce by less than 1.5%, and 50 out of 54 are estimated to experience reductions of less than 0.3% in the short term.
The implementation of the TFA within the free trade agreement has further benefits. Overall regional output and productivity are expected to improvements significantly – with an estimated increase of $212bn in total production by 2035.
Most of the vast increases in output and productivity will be sourced from advancements in natural resources and services trade (in percentage terms) from their respective baselines. In monetary terms, the gains between macroeconomic sectors across the continent fall more favourably towards services ($147bn), manufacturing ($56bn) and natural resources ($17bn).
The economic impact is not the only advantage of the agreement. Much needed improvements in social equality are also expected to arise.
These gains in output would result in a higher demand for workers, leading to increases in opportunities and renumeration. It is estimated that compared with a BAU scenario, AfCFTA will lead to an increase in wages of almost 10%, with much of these gains aligning to unskilled workers and women.
Evolutionary, not developing
According to the United Nations Conference on Trade and Development (UNCTAD), out of the 46 countries classified as Least Developed Countries (LDCs), 33 are African, nine are Asian, three are Pacific and one is Caribbean. That translates to 79% of the African continent's total nations. The UN defines LDCs as "low income countries confronting severe structural impediments to sustainable development".
We previously saw that across AfCFTA, income gains would total 7% or $450bn by 2035 as a result of the agreement. According to the World Bank, in 2015 415 million people lived in extreme poverty (defined again by the $1.9 a day line in purchasing power parity). An African FTA stands to deliver a 30 million person reduction in extreme poverty. With the moderate PPP at $5.50 a day, the AfCFTA could see a total 67.9 million people being lifted out of poverty (3.6% of the continent's population)
Through the reductions not only in direct trading tariffs, but other barriers and challenges to trade, the economic opportunity for this FTA's members has the potential to radically change the global trading environment, while also having a huge impact on regional communities.
The facilitation of trade, alongside reduction in tariffs and other barriers, will offer enormous opportunities to members of the agreement. Some of the largest agricultural employment gains in the continent are expected to fall to East Africa and Central Africa, alongside Central Africa and West Africa's increase in energy intensive employment.
The increases in energy-intensive manufacturing will also be significant for East African women, where employment levels in the sector are set to increase by roughly 1.6 million. In North, East, West, and Central Africa, women will also experience the highest proportional increase in wages.
Many of the expected benefits of this agreement will come into effect over next two decades. Although the agreement is now effective, there remains work to be done in terms of national policy reform to achieve its full impact. In a continent rife with intraregional and political challenges, this will be difficult. AfCFTA provides the foundation for which these changes will build upon, and demonstrates a level of trust between member nations required for future economic collaboration.
Aiding the recovery
2020 saw nations fall into the deepest recession seen in decades, as COVID-19 wreaked havoc across the world's economies. Africa was no different, with Sub-Saharan Africa entering its first recession in 25 years.
Africa has seen 3.5 million cases of confirmed coronavirus, and currently 438k active confirmed cases. African economies were predicted to experience a 1.4% fallout by UNCTAD, with some of the smaller economies facing reductions of up to 7.8%. These contractions will see goods exports across the continent fall by an estimated 17%.
The relationship between trade and GDP is dependent on many aspects – the accessibility to other markets being a key driver. If a nation has opportunity to not only buy and sell from other markets and more competitive avenues, but also then specialise in their own comparative advantage then their economic efficiencies will increase.
Through previously inaccessible markets there is an increase in overall demand in economies. Coupled with the ability to increase the input of supply mechanisms alongside (and greater efficiencies in doing so), the result is then greater economic prosperity through higher GDP and trading volumes.
Start as you mean to go on
January 1st 2021 saw trading commence under the new free trade agreement. As quoted by the African Union: "This is a historic milestone for the continent as Africa will really start to trade with Africa".
The substantial increases in economic opportunity and the accompanying efficiency gains will lead to vast improvements in the standard of living for the signatory populations. Through economic opportunity and multilateralism, social equality and the potential for greater individual and national prosperity move ever closer.
The agreement has come when its member nations need it the most. AfCFTA was overdue long before the pandemic, which only exacerbated the economic challenges faced by the continent. However, by providing a platform with which to navigate the political and economic changes ahead, there is a massive potential for improvements in global trading, economic recovery and tackling global poverty.