Companies spend huge amounts of resources to maintain and expand their supply chain every year.
Miscommunications, under-communicated manufacturing & shipping delays, failed negotiations, poor quality management systems, and time-consuming transactions are just a few pain points that importers face when sourcing Personal and Protective Equipment (PPE) from overseas manufacturers.
The upstream supply chain was also severely impacted by COVID-19. Disruptions like lack of domestic truck drivers (at one point estimated to be performing at a 40% capacity), raw material scarcity due to lack of raw materials supplier diversification, and shipping capacity performing at poor levels never before seen.
With that in mind, we heard from Francois Jaffres, Director of Business Development at sourcing solution, Noviland, Inc., who provided some insight into the good, the bad and the ugly of the impact of COVID-19 on PPE supply chains.
Where is the Supply Chain going amid COVID-19?
Deepesh Patel (DP): Thanks for chatting Francois – I know that you've been all hands on deck ensuring that companies/ organizations get the PPE that they have purchased! So tell me about Noviland…
Francois Jaffres (FJ): Noviland is the turnkey solution that mitigates all of these pain points and many more. Putting you in full control of your supply chain through their easy-to-use platform & dedicated customer service.
Rather than a single representative operating alone, Noviland provides you with an entire team of specialists to streamline your entire sourcing process; factory vetting & selection, quotes & negotiation, sampling, quality control management, and logistics.
Desperate times for PPE has caused a surge in poor equipment being produced
DP: There's a global shortage of PPE – how are Chinese manufacturers, arguably the world leaders in PPE, ventilators, thermometers and testing kits, reacting?
JF: Understanding the entire sourcing process is particularly important for companies and organizations that are in desperate need of PPE amid the COVID-19 global pandemic. Thousands of factories have shifted operations to meet the growing global demand – many never having made PPE before and not being able to maintain high-quality assurance standards.
Hundreds, if not thousands, of Chinese Trade Agents also shifted their focus to procuring PPE for their US/EU clients without thoroughly understanding the entire supply chain. From not understanding the quality control measures, to not understanding the compliance requirements for importing medical devices into countries in North America and the EU. They've treated this as any other commodity trade without understanding all of the quality control (QC) measures or the barriers they may face with new daily regulations.
Seizing PPE, strict queuing and delays at Chinese customs
DP: What is the impact of new stringent quality control measures on China's exports of PPE?
FJ: These new regulations have led to millions of poor-quality PPE units being shipped to those in desperate need of them.
It was reported by Chinese Customs statistics that from March 1st, 2020 – April 4th, 2020, China exported over USD$1.44B worth of much-needed pandemic prevention materials which consisted of; 3.86B+ masks, 3.752M+ gowns, 2.41M infrared thermometers, 16,000+ ventilators and over 2.84M testing kits.
As of April 1st, China's Ministry of Commerce (MOFCOM) along with the National Medical Products Administration (NMPA) and the General Administration of Customs (GAC) put their foot down on ensuring the quality of PPE exports, which falls in line with their Made in China 2025 plan. They issued a statement outlining the measures that they will be taking to ensure only quality PPE leaves China, promising to "carefully carry out investigations, and punish any cases we find in accordance with the law with zero tolerance."
As an added measure of protection, the People's Republic of China has mandated that all PPE being exported out of China be routed through Shanghai to have each and every single order be inspected when being shipped express air.
PPE being inspected by Customs at Shanghai Pudong Airport.
This was avoided prior to April 1st by having case-packs broken down into smaller boxes and shipped out via various shipping carriers. This is no longer an option.
In just 4 days time (4/1/20-4/4/20), Chinese Customs has seized 11.205 million medical materials produced by non-listed companies or without medical device product registration certificates in trade, mail, express mail, cross-border e-commerce and other channels. (Source: General Administration of Customs website)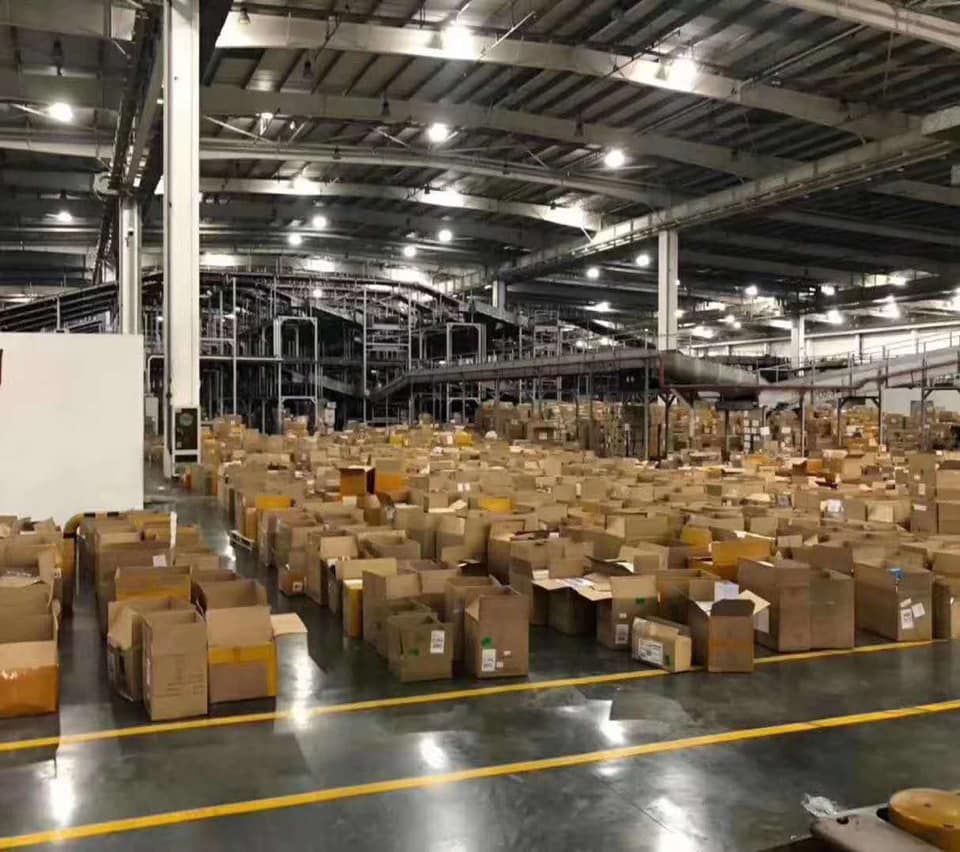 PPE Boxes Opened for Inspection at the Pudong Airport
DP: Where's the bottleneck in the PPE supply chain?
FJ: Although the commitment to quality is outstanding, it poses new challenges in the supply chain. Between a single point of export and the need to inspect each shipment, a bottleneck has been created which has led to weeks of shipping delays.
Noviland's overseas business development team conducted a study led by Howard Cai, VP of Overseas Operations & Business Development, which found that an estimated 80-90% of all pop-up PPE manufacturers cannot export medical devices and about 15-30% can't export any medical or non-medical PPE.
There has been a list developed by China Chamber of Commerce for Import & Export of Medicines and Health Products (CCCMHPIE) which consists of manufacturers of PPE that have been approved by the NMPA. You can access that list here.
Although this is a free directory of suppliers, gaining access to them has been one of the biggest challenges faced by foreign buyers. Many of them have lines of Agents waiting outside their door for the opportunity to purchase as many masks as possible with the purpose of reselling.
PPE payment terms are not buyer-centric
DP: Are manufacturers put into a global position of power here, and how does this impact buyer payment terms?
FJ: This has certainly put these approved manufacturers in a global position of power. Giving them the leverage to arrange their production queue how they see fit and allowing buyers the opportunity to bid on both their place in the queue and price.
Gone are the days that companies, governments, and organizations could leverage Letters of Credit or more favorable payment terms for PPE. They are no longer taking "proof of life" videos for potential clients or sending out samples to be approved for purchase. Approved manufacturers have already gone through the process of being approved by the NMPA which has been a clearinghouse of sorts in the PPE supply chain coming from China.
Noviland's Director of Business Development, Francois Jaffres, has spoken to dozens of Healthcare Providers regarding their PPE needs, with the vast majority of them wanting to conduct business as usual.
Nowadays a quote for PPE is usually valid for less than 24 hours and (certified) factories are only accepting 100% upfront payment terms

Noviland's Director of Business Development, Francois Jaffres
"The majority of them want to get a quote, with their team, review all quotes and certifications, and then propose either Letter of Credit or NET payment terms. The truth is that's just not possible. Nowadays a quote for PPE is usually valid for less than 24 hours and (certified) factories are only accepting 100% upfront payment terms…" says Jaffres.
Global supply chains – turned on their heads
DP: Aside from quality control and payment terms, what are the other issues that have become apparent when it comes to global supply chains?
FJ: This pandemic has made the gaping holes in the global supply chain more visible. Although many believe they have power over their supply chain by finding a manufacturer themselves or with the assistance of a trade agent, that clearly isn't the case.
Understanding the ins and outs of the supply chain, both upstream and downstream is vital in maintaining a healthy supply chain.
A manufacturer understands production and quality management. A trade agent may understand the quality control, exports, and how to coordinate logistics, but oftentimes not the importing process and potential barriers. Importers understand the importing process with the help of their freight forwarders, but are often blind to much of the process before importing.
You can expect to see a rise in sourcing companies like Noviland that understand the entire upstream and downstream supply chain. While sourcing and trade agents are just one person that can miss a key part of the process, having a company on your side that automates a lot of the process and ensures all of the boxes are checked to ensure deliverability of a quality product is going to be key moving forward.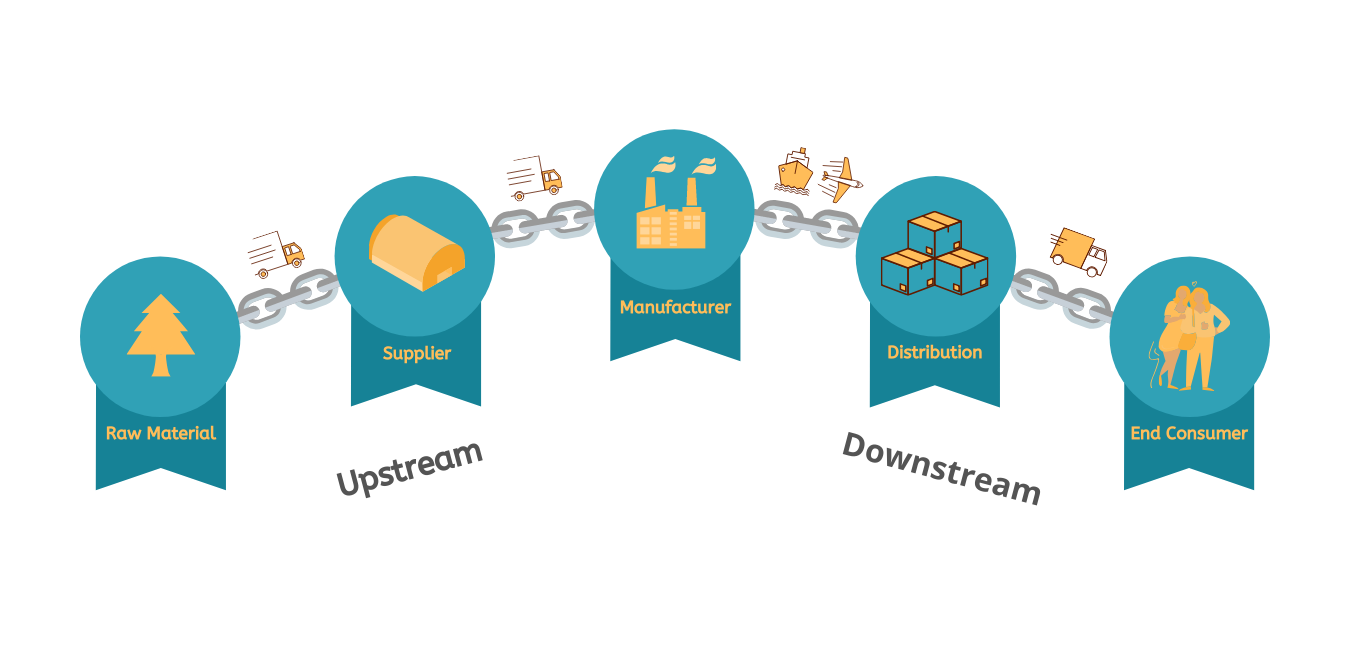 Technology to the rescue?
DP: How can technologies such as Noviland help alleviate some of these supply chain issues?
FJ: Technology is going to help alleviate many of the pain points that often aren't brought up until it's too late. For example; ensuring the factory & their raw material suppliers holds all proper certifications and having them centralized in a database to present to customs when they're being exported, and ensuring that the supplier holds all proper documentation and certifications to import into the purchasing country. Keeping this information paired with all product specifications and packaging markings to easily present to customs is key in moments like these.
In the months to come, you'll see more companies rushing to diversify their supply chain. Spreading their POs amongst several manufacturers rather than running the risk of their single supplier not being able to produce.