Optimism that the US and China could be edging towards an agreement over trade has grown in recent weeks.
Since April last year, US President Trump has announced a wide range of tariffs on Chinese goods, most notably a 10% tariff on $200bn worth of Chinese goods, with the hopes of narrowing the US's ballooning trade deficit.
The trade deficit of the world's largest economy leapt to a 10-year high $621bn in 2018. This has been due, in large part, to a significant external imbalance with China, of which accounts for around 22% of the US's overall import demand totalling approximately $477bn. The deficit with China has grown at a considerably faster rate than any other of the US's major trading partners in the past few decades (Figure 1).
Figure 1: US Visible Trade Balances [12-month MA] (1990 – 2019)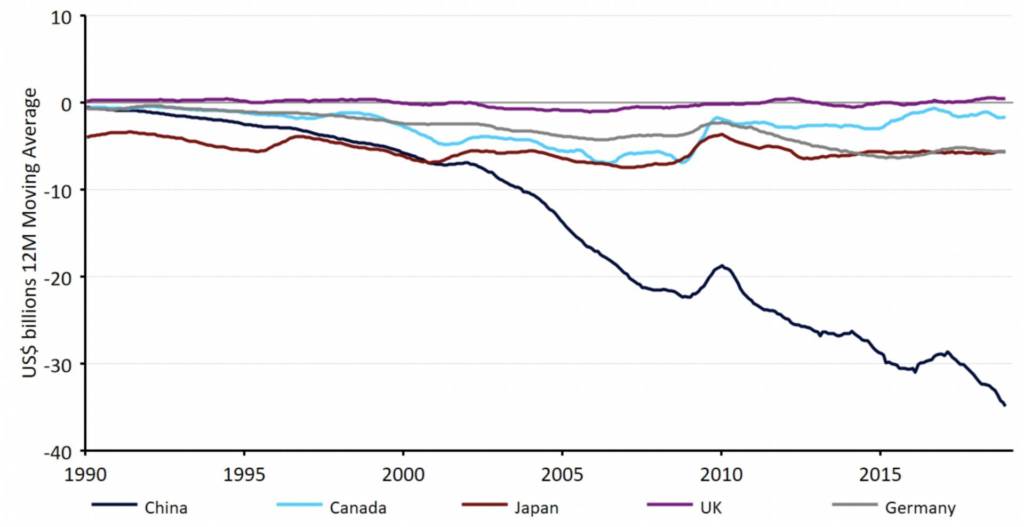 Source: Thomson Reuters Datastream Date: 14/03/2019
We have reiterated all along, however, that we do not believe that the Trump administration is fundamentally serious about disturbing trade patterns, with the President's protectionist rhetoric largely a negotiating tactic, in our view, more than anything else. Our view that trade tensions were set to diescalate, which our Chief Risk Officer Enrique Diaz-Alvarez noted on Bloomberg Daybreak Asia back in early-December, was fairly contrarian at the time compared to the general market consensus. This opinion does, however, appear to have been vindicated in recent weeks following comments from a number of senior officials across both sides of the negotiations.
Chief trade negotiator Robert Lighthizer has claimed that talks were in the 'final weeks', while President Trump himself has spoken positively about the prospect of a deal of late. Trump said earlier this week that he thought there was a 'good chance' of a deal being agreed to. He then followed this up during a television appearance on Thursday by stating that talks with China were going 'very well'.
Former Director of the National Economic Council and close ally of Trump, Gary Cohen, also suggested this week that a deal could be in the offing. Speaking in a radio interview, Cohen slammed the imposition of said tariffs, highlighting their negative impact on the US economy. He also noted that the President was in need of a 'win' and that a resolution with China would provide such an opportunity.
Trump's next meeting with Chinese President Xi, initially set to take place this month, looks set to be delayed, although a number of major media outlets are reporting that these talks could take place at the end of April. Sticking points to negotiations remain, predominately the inclusion of protection for intellectual property rights in the trade deal. That being said, signs are encouraging and the apparent willingness shown by both sides to reach an accord suggests that a deal is more likely to be forced over the line than not.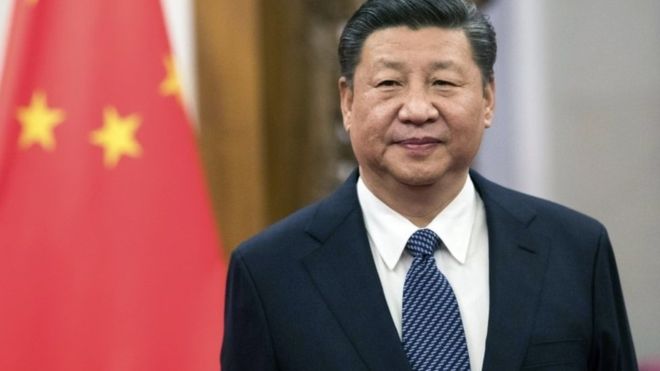 We remain as confident as ever that an agreement between the US and China over trade will be struck at some point in the not too distant future, possibly when Trump and Xi next meet in late-April. The threat of an escalation in the trade conflict has suppressed appetite for emerging market assets and, somewhat paradoxically, led to broad strength in the US Dollar. The latter has been due to the currency's safe-haven status and the US's domestically demand driven economy.
A resolution to the trade conflict, and subsequent alleviation of the uncertainty that it has created would, in our view, therefore lead to a broad recovery in those higher risk, emerging market currencies, particularly those most exposed to demand from China.
Brought to you by: