Pliny the Elder (23CE – 79CE), a Roman author, naturalist as well as a commander in the Roman army, wrote a book, NaturalisHistoria. The book says that Roman senators complained that their women used too many Indian spices and luxuries, which drained the Roman Empire of gold. The quantum of the Indo-Roman trade was so much that Pliny had, in 77 CE, called India "the sink of the world's gold!" An interesting fact worth noting here is, that a large part of this gold was recycled by the Kushanas (the coin minters in ancient India) for minting their own coins.
This signifies that recycling as a concept in the context of metal imports is not new to India. However, the features and characteristics of Indian metal imports has undergone a drastic makeover since ancient times. The purpose of the imports has changed, the quantum has increased exponentially and many other factors have changed.
Currently, the metal industry in India is booming, and it is an active exporter and importer of metals like lead, aluminum, zinc and copper. India ranks 3rd and 10th in order of the quantum of production of Zinc (slab) and copper respectively.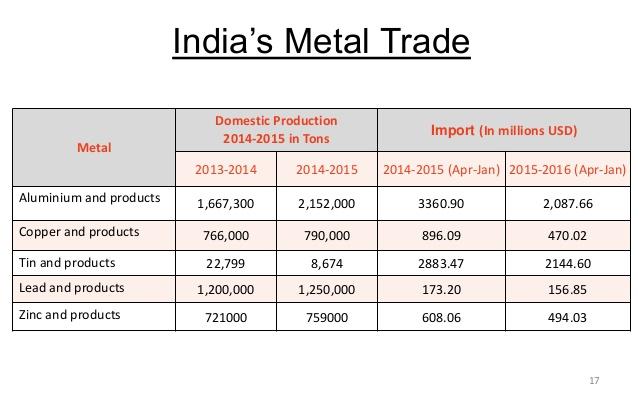 Fig: Table showing domestic production and import of various metals
              Source: Metal Bulletin                               
A Changing World
Globalization has scaled up economic activities (in terms of both production and consumption) and this increasing innovation of new technologies has led to the piling up of the old ones adding to the volume of the debris. The rapid growth in the international movement of wastes has given rise to many controversies and environmental safety concerns.
The tightening of environmental laws in industrialized countries, as well as the cost of waste management and disposal, has escalated issues in the developed economies. Therefore, shipping their wastes to countries characterized by lower disposal costs is a profitable option for the developed nations. Over the last few years transboundary movement of wastes from developed to developing countries has increased remarkably.
Apart from this, the world witnessed a downturn in the Chinese economy, which claimed another unwitting victim – the scrap metal industry. Thus, the US started looking for new markets for their scrap metal, as iron ore prices were falling continuously. As China's demand fell, its eyes turned to the one place with enough population and development to fill  that gap-India.
Till 2016, India was one of the largest importers among the developing countries, importing 3.77 million tons in the very same year. But the recent effects of demonetization and GST has hit the metal scrap industry in India as the shipment volumes of ferrous scrap in India dropped by 31.56% to 2.58 million tonnes.
Though the after effects of GST and demonetization took a toll on the percentage of imports of scrap metal, India remains third-largest importer of scrap metals among the developing countries. One example is mentioned below.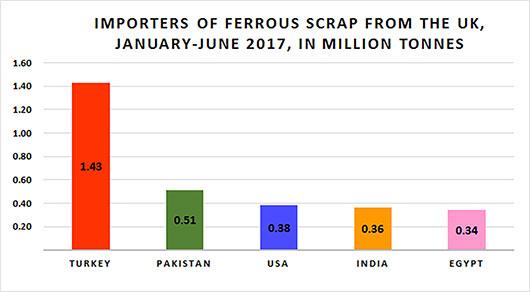 Fig: graph showing importers of ferrous scrap in 2017
Source: Engineering Export Promotion Council (EEPC)
It is interesting to note that during 02-Dec-2017 to 31-Dec-2017, India imported Metal-Scrap worth USD 147,612.11. United Arab Emirates is one of the largest suppliers of Metal-Scrap accounting for imports worth USD 119,022.36. The other big suppliers of Metal-Scrap are United Kingdom and France which export Metal-Scrap worth USD 24,667.81 and USD 3921.94 respectively.
Vizag Sea SEZ, Kandla SEZ, Madras EPZ SEZ are the main ports where bulk of Metal-Scrap is received and then supplied across the country.

Fig: graph showing value of metal-scrap import shipments during 2017
The HS Codes for Various Product Variants of Metal-Scrap imported are as follows:
The HS Code for MIXED METAL SCRAP is 72044900

The HS Code for MIXED METAL SCRAP is 72044900

The HS Code for HEAVY MIXED METAL SCRAP. HIGH SEA SALE INVOICE NO:ETC-HI/002/2017-18/DT.18.11.2017. is 72044900
The current foreign trade policy governing India's exim trade is for the period of 2015-2020, and the government has brought this sector 'Metals' under the purview of its MEIS Scheme (Merchandise Exports from India Scheme), where it is provides an incentive on the FOB (free on board incoterm) value ranging anywhere between 2%-5%.
Metals Trade Organizations
The concerned Export promotion council for Metals is the Engineering export promotion council (EEPC) which undertakes the export and import of automobiles, ferrous and nonferrous metals, metal scrap, industrial machinery.
EEPC India is the premier trade and investment promotion organization. It is sponsored by the Ministry of Commerce & Industry, and the Government of India and caters to the Indian engineering sector. As an advisory body it actively contributes to the policies of the Government of India and acts as an interface between the engineering industry and the Government.
The strategies and activities by which they support the metal scrap exporters are:
The Engineering Export Promotion Council (EEPC), in a recent collaboration with the National Institute of Design (NID), and the assistance of the Ministry of Micro, Small and Medium Enterprises (MSMEs), is to further innovate the product designs of the engineering goods made in the country.
In order to further promote India's exports of metals; it also assists exporters in participation of trade fairs and exhibitions worldwide at affordable rates; sometimes minimizing their expenses through self-financing as EEPC comes under the commerce ministry.
The Metal Recycling Association of India has arranged many successful International Indian Metals Recycling conferences in the last 5 to 6 years at Delhi, Mumbai, and Jaipur etc. One such recent conference was held in the month of January, 2018. This conference delivered comprehensive market-driven information on metal recycling in India. It also helped to connect with high-level decision makers and find solutions available to the Metal Recycling Industry. The event focused on various aspects of Scrap Trade (Ferrous & Non-Ferrous) in India. The conference also held discussions on government policies that influence the trade of scrap metal in India and also on quality standards. It also had discussions and panel discussions on the issues that affect metal scrap like the customs duty, shipping lines etc. The conference is basically an opportunity for individuals to showcase their products to the international market.
Another important metal and metal scrap related trade show was organized by the Indian Foundry Organization.
Policy
According to the Business Standard, the present foreign trade policy is to allow the import of any form of metallic waste or scrap, as long as it doesn't contain any hazardous material, toxic waste, radioactive contaminated waste or scrap containing radioactive material, any type of arms, ammunition, mines, shells, live or used cartridges or any other explosive material in any form.
India has signed a Free Trade Agreement with ASEAN. Imports of aluminum products which includes scrap today stand around 19,000,000 MT. Also, 69% of imports of major primary aluminum products like billet and wire today come through the FTA route, which translates into imports from Malaysia, Vietnam, Thailand and South Korea, which are parties to the ASEAN-India Free Trade Area (AIFTA).
ASEAN's main exports to India include non-ferrous metals, metalliferous ores and metal scrap. Additional regulations on import of unshredded scrap metal imports have been notified by the Director General of Foreign Trade. This public notice was released in 2017.
The notice states that by the end of the first quarter of 2017 all unshredded scrap metal imports must be shipped to designated ports equipped with radiation detection equipment and container scanners.
The DGFT has made it mandatory to have radiation portal monitors and container scanners installed and operational in all the major ports: Chennai, Cochin, Ennore, JNPT (Navi Mumbai), Kandla, Mormugao, Mumbai, New Mangalore, Paradip, Tuticorin, Visakhapatnam, Pipavav, Mundra and Kolkata.
The notice also says that any inland container depots (ICD) can manage the clearing process of the unshredded scrap metal, provided the metal passes through the list of designated sea ports where radiation detectors and container scanners are in operation.
Imports permitted in shredded form without license: In the case of waste or scrap of certain metals (brass, copper, iron, nickel, tin, aluminum, zinc, magnesium, and steel) coming under specified entries in the ITC (HS) classification, imports are permitted in shredded form through all ports without any license. Such freely importable processed metallic scrap is allowed against the presentation of a bank guarantee of Rs 10 lakh (US$15,000) by the importer.
SWOT Analysis
Summary of SWOT Analysis is mentioned with regards to overall metal and metal scrap:
| | |
| --- | --- |
| Strengths | Weakness |
| Opportunities | Threats |
Strengths:
1.Today, India's annual scrap consumption is INR 750 billion (20.40 million tonnes) and it imports 6.48 million tonnes of scrap at an estimated value of INR 390 billion to become the world's third largest importer of scrap.
2.To ensure the fast-track growth of the industry, the Metal Industry Association of India has sought a framing and implementation for Metal Recycling Policy duly supported by an 'industry-status' recognition. Metal Recycling contributes about two to three per cent of the Indian GDP. As the industry opens up and grows at a CAGR of 11.4 per cent, this will increase the contribution of Metals Recycling to the Indian GDP and ensure sustainable growth coupled with preservation of natural resources," said Sanjay Mehta, President, Metal Recycling Association of India.
The government is considering setting up over 20 scrap yards across the country to produce steel from scrap as part of its overall steel scrap policy. The steel scrap policy will be based on the vehicle scrappage policy and will lay down the rules and regulations on how scrap will be aggregated and recycled into steel.

The government has been pushing newer infrastructure projects. The government has also set a target of producing 300 million tonnes of steel by the end of 2030-31, including both from scrap and iron ore. Domestic steel production is currently at 100 million tonnes. Scrap metal can play an important role in meeting the overall target.
Weakness:
The inability of most Indian mills to pay competitive prices has resulted in a significant drop in scrap imports to the country this year.

India's basic materials and recycling market offer tremendous opportunities, but expressed frustration with several challenges. Those challenges include complex customs procedures; lack of digital processing; complicated import duty procedure; and red-tapism and corruption.
Opportunities:
India's steel sector is expected to grow from 89 million metric tons per year of output currently to as much as 300 million metric tons by 2030. Imagine the amount of scrap required in a decade or so.

India now has some 200 million vehicles on the road, and as they turn 10 and then 15 years old, "sooner or later these will come for shredding. If India reaches 300 million metric tons per year of steel output, Singh estimated that some 150 million metric tons of it would consist of scrap-intensive electric arc furnace (EAF) or induction steelmaking methods.

Steel from scrap requires 74% less energy than that produced from iron ore or coal.

Benefits of every 1 ton of recycled steel include; helps reduce CO2 emissions by 58%, saves 1.1 ton of iron ore and 0.5 ton of coal. This will help in curbing India's carbon footprint.

The metal processing industry consists of two sectors; recycling and reprocessing. The recycling industry is of particular use to India because it is highly labour intensive and India has an abundance of labour. Currently, the recycling industry employs 6-7 lakh people, this number has a lot of potential for growth.
Threat:
The United States' imposition of import tariffs on primary metals including steel and aluminium is likely to hit India's 10 million tonnes of metallic scrap import annually. This imposition of a tariff is likely to have a cascading effect across the global scrap industry and therefore could prove harmful for its financial health.

The environmental legislation in India is lax. This means that metallic waste from the developed country coming to India is likely to have an adverse impact on India's environmental health.




This also means that it is difficult to understand whether the huge demand for the metallic scrap is primarily because India wants to extract metals from scraps or is it because India has lax environmental laws and hence it is a safe haven for dumping metallic waste.
Conclusion: India is an active country for both the Export and Import of Metals and Metal scrap, and each year is growing in quantum leaps for its imports of metal scraps
with the intent to recycle that is not only profitable but sustainable too.
As this is a product that has both an export market and an import requirement, it is very interesting for study.
Trade experts are of the view that India by 2020 will have an import demand of around 10 million tons per annum which is literally double the current import rate. Therefore this sector is worth noting. 2020 is the exact year when India's current foreign trade policies will be looking forward to framing of the new foreign trade policies of 2021-2025; time will tell how much more thrust the government will lay on the Exim policies of this very interesting sector- Metals and Metal scrap.
Anyone looking for a start up in recycling should consider scrap metal recycling!