To oil or not to oil? How is the UAE diversifying its economy to attract investment?
As oversupply concerns curtail the global oil price's trudge back upwards following its flirtation with the underbelly of the $50 mark late last year, it is easy to imagine an oil-reliant United Arab Emirates (UAE) quivering at the thought of such a glut. However, this is simply not the case anymore.
Evolving with the times
The UAE has been undergoing somewhat of a macroeconomic revolution in recent years, fuelled by a desire to transition from the one commodity economy it was once so well known for. The introduction of a 5% VAT in 2018, heavy, initiative-driven investments into infrastructure, education, healthcare and renewables among other sectors, have all contributed to the UAE's increased diversity. This has, in turn, enabled the UAE to stand the test of sharp fluctuations in oil and gas prices.
As prices plummeted in the latest 'black gold' saga in 2018 (prices fell 30% in November), the UAE was able to use its generous fiscal surplus to absorb the large part of the shock.
Its path to diversification is not over though; oil is still its biggest income generator by far. And in an effort to reduce this reliance further, it is continuing its push to re-define itself as a city of the future by building a "vibrant, sustainable and secure business environment" according to Chairman of the Dubai Chamber of Commerce, Majid Saif Al Ghurair.
2019's federal budget is the artery funding this year's change, with planned spending growth accelerating to 17.3% in 2019 from 5.5% in 2018. The focus of this spending is introverted, with just over 40% of the budget allocated for 'community development', covering sectors such as infrastructure, education and healthcare.
With over 70% of the federal government's income deriving from non-oil industries and numerous government initiatives intended to extend this figure currently underway, the signs for economic diversification are promising.
Although government-led investments and an increase in hydrocarbon projects in Abu Dhabi are expected to boost the oil sector, it is hard to ignore the impact lower oil revenues will have on the nation's rate of growth. The onus is therefore on the government to consolidate spending and stimulate private-public partnerships to facilitate non-oil sector growth.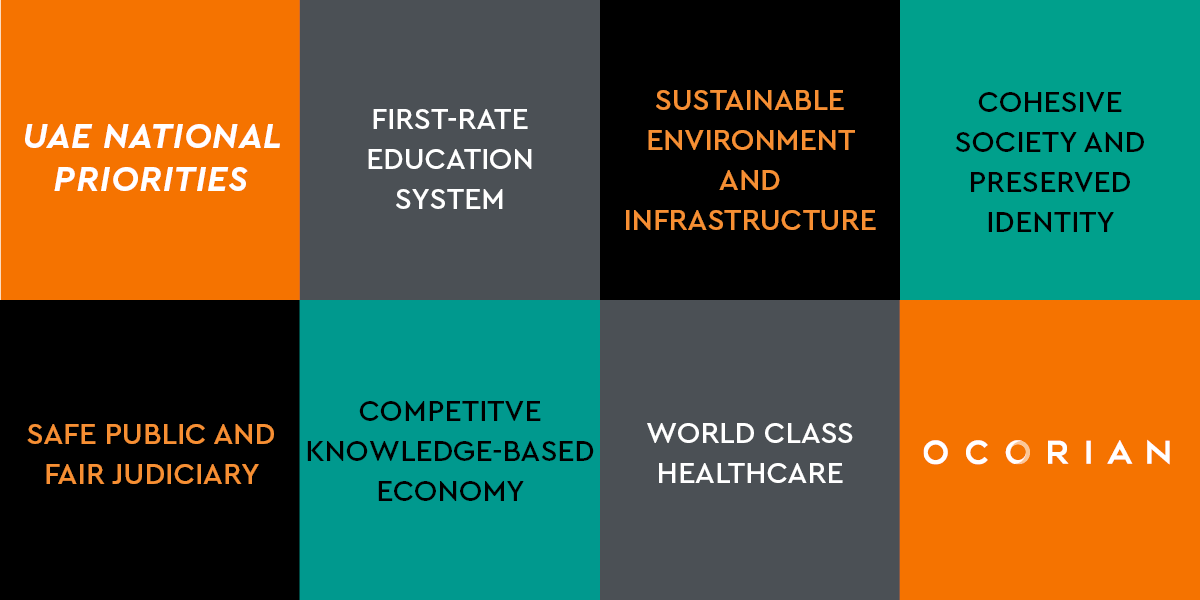 Taking the initiative
Ideally situated within an eight hour flight of over two thirds of the world's population, the UAE aims to utilise its strategic location between the east and west to become the 'Capital of the Islamic Economy' and a vital trade gateway into Africa, Asia and Europe. (You can read our article 'Why do business in the UAE?' here.) Dubai's 'Silk Road' strategy hopes to catalyse this ambition, boosting Dubai's capabilities in trade and logistics by orchestrating collaboration between emirates, free zones and transport authorities.
This progress was recognised in 2016's World Trade Organisation Trade Policy Review of the UAE, which identified the UAE government's flexibility in adopting new economic models and capitalising on global economic partnerships to guarantee long-term prosperity. However, it also identified that it must invest in expanding new strategic industries and services to build a long-term competitive advantage.
To exercise this planned diversification, state sponsored initiatives such as the 'UAE Vision 2021' and the 'National Innovation Strategy' have been introduced. These strategies are underpinned by a desire to transition to a knowledge-based economy, with the 'Vision 2021' attaining excellence in these six national priority areas:
First-rate education system
Sustainable environment and infrastructure
Cohesive society and preserved identity
Safe public and fair judiciary

Competitive knowledge-based economy
To catalyse the evolution of these sectors, the UAE government has been encouraging banks to increase credit activity in non-oil sectors whilst strengthening the regulatory frameworks of each key industry. Both of these strategies are hoped to increase business competition and attract investment.
Building for the future
As a fundamental pillar contributing to the diversification the UAE economy, fiscal policy has spent big on infrastructure, largely due to Dubai's hosting of the Expo 2020.
The spending for the 'festival of human ingenuity' made up 43% of the Dubai government's spending in 2018 and it is easy to see why. With over 25 million people expected to visit during the six month period in which the Expo runs, the event is set to create 277,000 new jobs and demand not just adequate tourism infrastructure in the shape of, among other things, hotels, but also test existing port, road and aviation infrastructure. Dubai in particular, already has an average of 4.8 visitors per resident, the highest figure in the world.
In order to cater for the huge footfall and in an effort to attract investment into various sectors, Dubai's 2018 infrastructure budget ballooned by 46.5% over 2017 figures, whilst public-private partnerships have also been encouraged. This has allowed for new large scale builds such as the residential Dubai Creek Harbour and Dubai metro route to be constructed (read our article 'Why is now the time to invest in Dubai real estate?'). Leisure and entertainment parks are also under construction as the UAE aims to establish itself as a leading tourism destination, boosted by its second place in Which? Travel's 2018 safest tourist destinations list.
According to a United Arab Emirates Infrastructure Report conducted by BMI Research, the UAE is expected to spend $89.93 billion on infrastructure by 2026. The mega projects have also been catalysed by the UAE-wide easing of regulations that previously limited lending from banks to real estate companies.
The city getting smarter
The UAE is also placing a priority on their technological infrastructure. In particular, Dubai's government are pursuing a Smart Dubai 2021 initiative. Smart Dubai, which is now also a dedicated government office, is partnering academia with private and public sectors to 'empower, deliver and promote an efficient, seamless, safe and impactful city experience for residents and visitors.'
A notable goal of the initiative is an ambitious strategy to become the first government in the world to process all of its services through blockchain technology. If successful, the blockchain system is likely to transform the efficiency of how real estate, banking and trade are conducted.
Artificial intelligence (AI) technology is also high on the priority list for the UAE, advocating itself as an AI hub. A report conducted by Accenture in 2018 predicted that AI could boost the UAE's economy by 1.6% and add $182 billion to its economy by 2035. Research suggests that smart tech could therefore augment a number of integral industries in the UAE. This would contribute to a 'sandbox' environment, encouraging technological advancement and attracting both foreign money and tech businesses.
Powering the future
In keeping with the UAE's initiative driven spending, its Energy Strategy 2050 aims to power the nation and reach its environmental goals through a combination of clean energy, gas, nuclear and clean coal sources. To do this, the UAE government aims to invest AED 600 billion by 2050 to 'meet the growing energy demand and ensure sustainable growth for the country's economy.'
Nuclear energy is a particular priority in the UAE. The government have identified it as the main future source of non-hydrocarbon electricity. It is hoped that its four South Korean designed nuclear reactors – which should be operational by 2020 – will generate around 25% of the UAE's required electricity.
Projects such as the production of nuclear power plants have not solely been the government's responsibility however. Joint-venture arrangements have been actively promoted by the government to foreign investors in order to support and operate projects such as power plants, solar farms, potable water stations and clean energy research and development labs.
Investing in knowledge
With education and healthcare focal to engineering a knowledge-based economy, the UAE has placed its inhabitants at its core, with over 50% of its 2019 federal budget allocated to education and social development.
Over the last ten years, its 'Education 2020' strategy has aimed to 'bring significant qualitative improvement in the education system' and develop students so they are 'fully prepared to attend universities around the world and compete in the global marketplace.' This dedication is also evident on an emirate level; with Abu Dhabi's 'Tomorrow 2021' plan containing 50 initiatives to stimulate job creation and investment in the knowledge sector.
With over AED 10bn allocated to education spending in 2019, the UAE's investment in skills and training aims to provide employment opportunities and boost overall competitiveness. This domino effect is also hoped to attract investment to the area and consequently, develop the UAE's social environment, making it an enticing place to live.
Just what the doctor ordered
With an expanding and ageing population, healthcare is also one of the six pillars on the 'UAE Vision 2021' for the UAE government. In 2018, it allocated AED 4.5bn of the federal budget specifically for healthcare and social protection. Its concerted efforts to improve healthcare were recognised in Bloomberg's 2018 healthcare efficiency report, in which the UAE ranked 10th globally.
As a key priority, the government has rolled out a number of incentives to encourage an influx of private sector investments. On average, Alpen Capital's GCC Healthcare Industry Report 2018 expects healthcare investments in the UAE to see steady growth over the coming years.
Relaxing foreign investment
As you would expect owing to the upcoming Expo and numerous initiatives, the government's 2019 fiscal budget was its highest yet. But as oil prices linger around the $60 per barrel region and with the 'UAE Vision 2021' just two years away, the UAE has realised the added value of attracting further foreign investment into the region.
The UAE prides itself on the efficiency and attractive nature of its industry-specific free zones. The zones permit 100% foreign ownership and provide legislation and regulatory frameworks specifically designed to attract inward investment (in 2017 free zones made up 33% of non-oil foreign trade in Dubai). In an effort to increase this figure, the UAE has sought to liberalise existing domestic ownership restrictions 'onshore' (outside of free zones) in the UAE. Labelled the Foreign Direct Investment Law (FDI Law), it is hoped to attract further foreign investment into the country, helping it to achieve even and sustainable development.
Looking to the future
Already a hub for technological innovation and small to medium-sized companies (SMEs), the UAE appears to be in the midst of a promising trajectory. It may still be laying the physical foundations for the future in parts, but its combination of progressive, government-led socioeconomic initiatives, record fiscal budgets, enticing foreign investment opportunities and its increasingly hospitable business environment, suggest the UAE is doing all it can to diversify away from its reliance on oil.  
Ocorian Dubai is a fully-fledged operational office with services ranging from corporate structuring advice to company formation, secretarial services and fund administration (regulated by the DFSA). They are also licensed in the Abu Dhabi Global Market (ADGM) to deliver a full suite of corporate, management consultancy, accounting and tax consultancy services. Ocorian have also developed specialist expertise for a host of support services, including visa services and administration services in connection with running a UAE-based business. You can learn more about Ocorian's UAE offering here.