Growing a business can happen in numerous ways, and financing this can help accelerate plans, increase revenues and finance up front capital expenditure to take advantage of opportunities to grow.
Why do businesses need funding?
Moving to New Offices or Opening in New Markets
Businesses might look to expand geographically as part of their growth strategy, so that they can reach new customers and increase their presence. In turn, opening new offices could mean new business through the door, and by sharing best practice in the main office and using economies of scale, this could shave margins and increase profits for the company.
Moving offices however can be costly and time consuming. Stamp duty, service charge, refurb costs and fit out costs, as well as legal fees, insurance and VAT can lead to insurmountable costs which would hit the balance sheet.
Growing Market Share Quickly
Many SMEs might have a 'break even' run rate – which means their revenues equal their costs.
Looking at the below chart from Startupde.com, you can see that the investment helps finance the gap between cash flow and expenditure (in this case, 'Total Cash from Ops'. Investment can help accelerate the red line (Cash Flow) whilst allowing the business to grow quickly.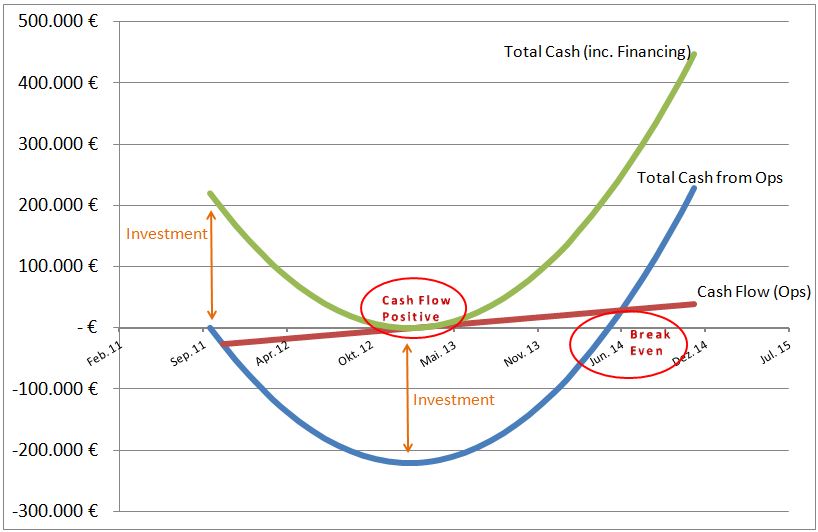 Why do businesses want to grow market share at a loss?
In the case of Uber versus Hailo back in 2016, Uber needed to 'unprofitably' acquire customers in order to grow market share and prevent competitors such as Hailo or Addisson Lee taking share. Over time (when the blue line exceeds the red line), the company would be at a break even point.
Many businesses might not be able to fulfil large orders from clients or end-suppliers. As an example, Corrboard UK, a corrugated cardboard manufacturer based in Scunthorpe needed to finance three million square metres of product orders for customers each week, who expected a 2-3 day turnaround, yet suppliers took 7-8 days to produce the goods, so they would need to buy in advance and hold the stock.
Fulfilling large orders can be a blessing and a curse for businesses, given the immediate up front cash required to complete the order, and the promise of significant revenues from the customer later on.
What types of funding are available for businesses who want to grow?
Working Capital Finance
Working capital is crucial in order to pay for staff and operating costs. By measuring the turnover (cash coming into the business), net of liabilities such as expenses and costs, the amount of 'liquid capital' in a business might be small. A working capital loan is a short term type of business finance which can help finance a business in the short term. Often security is required for business loans, and for unsecured business loans, a good credit rating and personal or directors guarantee might be necessary.
Ease of access for this type of finance (5/10)
Time taken to access this finance (3/10)
Relative cost / interest (8/10)
Property Finance
Commercial property can be complex and tricky for business owners. If a business embarks on a new office build, or refurbish an existing property, they might look at development or construction finance to help fund this for 1-2 years.
Commercial mortgages are also available for those looking to purchase property for up to 30 years, where a financier looks at affordability on profits and ability to make repayments every month to fund around 70% of the purchase costs of an office.
Moving property or setting up in a new location can be rewarding for businesses looking to grow, such as WH Ireland's move to Manchester in June 2017, where Manchester and other Northern Cities have been a hotspot for new business and centres of new finance in the UK.
Ease of access for this type of finance (9/10)
Time taken to access this finance (7/10)
Relative cost / interest (3/10)
Invoice Finance
For those that offer some form of extended credit for end customers (e.g. Invoices), invoice finance is a type of working capital finance which allows you sell your invoices or your entire debtor book to a financier, receiving a percentage of the total value up front, and the remainder (less interest and fees) once payment has been done. There are several types of invoice finance – factoring and discounting, which have different use cases depending on what's best for the business.
Ease of access for this type of finance (1/10)
Time taken to access this finance (3/10)
Relative cost / interest (6/10)
Equity Investment
Some business owners may choose external venture capital or angel investment (in return for giving a percentage of their business away) as a way of getting up front cash without putting down security.
Equity investment has been a popular type of alternative finance recently, with the rise of innovative financing such as Crowdfunding to help fund growth. A great example of this was GoHenry, raising a staggering £4m on Crowdcube. GoHenry is a pocket money management app for young people to learn how to manage their money.
Ease of access for this type of finance (9/10)
Time taken to access this finance (9/10)
Relative cost / interest (0/10)